The Bulldogs gymnastics' team ended their season on Saturday, taking sixth place out of eight teams at the Section 6A meet at Long Prairie.

State-rated Melrose dominated the meet, winning the team title and placing the top four in every event, except the bars, and in the all around. Besides Melrose, only one gymnast from Benson/KMS earned a trip to the state competition.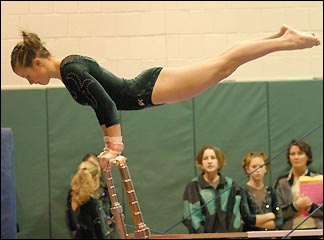 Ninth grader Kacy Nehowig, pictured at right, missed qualifying for state on the uneven bars by 0.15 points. She took sixth on the bars with a score of 8.5; fourth place was 8.65.
Nehowig was also seventh on the vault, missing state qualification by 0.25 points on that event. She took tenth in the all around in the eight-team meet.
"It was an exciting meet knowing we had a gymnast with possibilities of moving on," said coach Deb Nehowig, Kacy's mother. "That's about as nervous as I've seen Kacy during any competition."
Since Paynesville was the seventh team to compete on bars, they knew before Nehowig competed that she needed an 8.65 to advance to state.
As a team, the Dogs finished sixth out of eight teams, topping Morris Area and Ortonville. The Dogs did not reach their goal of scoring 116, earning a score of 113.175.
The Bulldogs' best event was the vault, where they scored 34.3, fourth among the eight teams. In addition to Nehowig, junior Ashley Spanier (16th with a score of 8.575) and ninth grader Brittney Spanier (18th with a score of 8.525) placed in the top 20.
The Bulldogs were sixth on the uneven bars, with Nehowig placing sixth individually and seventh grader Anna Kotten placing 20th.
The Dogs finished seventh on both the balance beam and the floor exercise. No one placed in the top 20 on the balance beam for Paynesville, and only Nehowig placed in the top 20 on the floor.
Nehowig was 10th in the all around, and Kotten was 15th.
With no one advancing to state, the Bulldogs completed their 2003-04 gymnastics season.
Team Scores
1. Melrose 146.125
2. Benson/KMS 134.25
3. Prairie Centre Area 128.7
4. Litchfield 122.9
5. New London-Spicer 119.275
6. Paynesville 113.175
7. Morris Area 111.85
8. Ortonville 104.875
Individual Results
Vault: Kacy Nehowig (7) 8.8; Ashley Spanier (16) 8.575; Brittney Spanier (18) 8.525; Anna Kotten (23) 8.4; Abby Lindeman 7.6; TOTAL: Pay - 34.3; Rank (4th);
Uneven bars: Nehowig (6) 8.5; Kotten (20) 7.3; Brittney Spanier (27) 6.25; Lindeman (36) 4.05; Celia Frieler 3.65; TOTAL: Pay - 26.1; Rank (6th);
Balance beam: Nehowig (22) 7.15; Kotten (25) 6.3; Frieler (30) 5.95; Christine Spanier (35) 5.3; Lindeman 4.8; TOTAL: Pay - 24.7; Rank (7th);
Floor: Nehowig (17) 7.875; Ashley Spanier (25) 7.15; Kotten (28) 6.825; Katie Nelson (36) 6.225; Frieler 6.2; TOTAL: Pay - 28.075; Rank (7th);
All around: Nehowig (10) 32.325; Kotten (15) 28.825.
Correction
The cutline for ninth grader Kacy Nehowig last week contained an error. Nehowig has earned All Conference honors in seven of eight varsity sports seasons so far, not all 11 as stated in the cutline.
---
Contact the author at editor@paynesvillepress.com • Return to Sports
Home | Marketplace | Community
---