Squirts hockey team wins tournament
This article submitted by Linda Stelling on 2/23/99.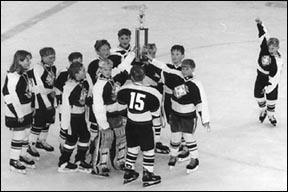 With a 6-2 win over New Richmond, Wis., on Sunday, Feb. 21, the Paynesville-New London-Spicer Squirts took home the championship trophy at the Litchfield Fire and Ice Hockey Tournament.

In the first game on Saturday, Feb. 20, the Squirts fought off a determined Benson team that they had beaten twice before. Jamie Paul led the scoring with three goals, assisted twice by Max Lahr and one by Ross Barten. Alex Naujokas scored twice assisted by Barten and once by Patrick Roers, to clinch the 5-4 victory over Benson.

In the second game, PNLS outgunned Osseo-Maple Grove 6-0 with 41 total shots on goal. Danny Lien recorded the shutout in goal for PNLS.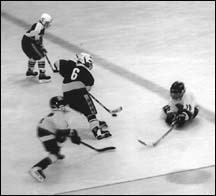 Paul scored four times, Naujokas once, and Barten once. Naujokas, Lahr, Shannon Smith, and Paul had an assist each.
PNLS struck first in the championship game against New Richmond, Wis. with Paul scoring in the first period assisted by Joseph Jacklitch. New Richmond then tied the game 1-1 on goal with 2:16 left in the period. Just over halfway into the second period, PNLS went back on top with two unassisted goals by Paul. New Richmond scored what was to be their final goal of the game with 3:59 left in the period. The Squirts took control of the game in the third period with Naujokas scoring twice, assisted by Justin Bork and Lahr. Paul notched the final goal of the game assisted by Roers and Barten. PNLS goalie Matt Schoen played an outstanding game, blocking 20 shots.
The PNLS season record is now 23-1.

---