Six Bulldog wrestlers placed first or second at the Section 6A tourney over the weekend and qualified for the state tournament this week.

Ninth grader Jordan Christian (103), junior Joe Sheridan (112), junior Joel Kerzman (135), junior Keith Klein (140), junior Sean Glenz (145), and senior Jack Mueller (152) will wrestle at the Xcel Energy Center in St. Paul on Thursday morning at 8 a.m. when the state tournament starts with Class A individual action.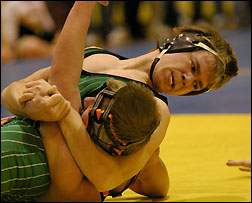 Christian, Sheridan, Kerzman, and Glenz won Section 6A titles in Braham on Saturday. Mueller reached the final but lost, and then had to win a true-second match to secure his runner-up finish and state trip. Klein won his third-place match, got a chance for true-second, and won that match, too, to earn a state trip.
Junior Joel Kerzman won the 135-pound title in Section 6A, pinning Ogilvie senior Josh Golden in the final.
Christian, Kerzman, Klein, and Mueller are all making their first trips to state individually. Sheridan will make his second, having qualified last year at 112, too.
Glenz ties a school record by making his fourth trip to state individually, matching the mark set by Tim Roberg ('94, '95, '96, and '97) and David Kerzman ('98, '99, '00, and '01).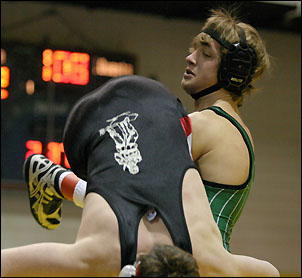 Glenz, rated first in Class A at 145, won his second consecutive Section 6A title. The top seed, he won his first two matches at the section tournament, held on Friday and Satruday in Braham, and then defeated Joe Hyatt, a senior from Pierz, 8-7 in the final. Glenz never trailed in the match but held a one-point lead for most of the third period as both wrestlers tried for another takedown.
Junior Sean Glenz - rated #1 in Class A at 145 - won the section title and earned his fourth trip to state as an individual, tying the school record for most state tournament trips.
Sheridan scored an upset in the final to win the 112-pound title and qualify for state for a second straight year. Matched against the top seed, sophomore Hank Virnig of Pierz, who is rated third in Class A in the state and who pinned Sheridan in the Section 6A team final, Sheridan set a different tone with the first takedown of the match in the first period, nearly adding near-fall points. After Virnig took a 4-3 lead, Sheridan hit a five-point move to retake the lead and won 8-6.
Kerzman, who finished third at sections last year, losing a true-second match that would have sent him to state, got two pins and a technical fall to win the 135-pound title this year. In the finals against Josh Golden, a senior from Ogilvie, Kerzman scored a four-point move and a five-point move in the first period to take a commanding lead. He led 14-3 when he got the pin with four seconds to go in the match. Kerzman is ranked third in Class A at 135.
Christian, ranked ninth in Class A at 103, defeated another state-rated wrestler to win the Section 6A title, topping Tyler Rath, a junior from BBE, 3-2 in the final. Rath, rated seventh in Class A, scored a takedown in the last seconds of the first period and rode Christian for most of the second period. But Christian escaped with less than ten seconds to go in the period and scored a takedown, too. He would have added back points, but time in the period ran out. Christian rode Rath for the entire third period and won 3-2.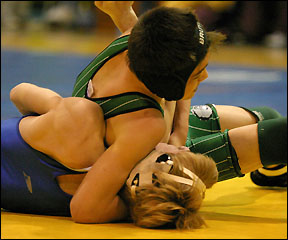 Mueller reached the finals at 152 with a pair of decisions, but lost to state-rated Nathan Britz of Pierz in the finals. (Britz also beat Mueller in the team finals.) Mueller, though, dominated his true-second match, leading 7-0 when he got the pin in the second period, earning his first individual trip to state.
Ninth grader Jordan Christian defeated state-rated Tyler Rath of BBE in the 103-pound finals 3-2 on Saturday evening in Braham.
Klein lost to the eventual champ at 140, Nick Gruber of Pierz, one of seven section champs for the Pioneers, in the semifinals, but rebounded to win two straight matches and forced a true-second match against Tim Allerton of Rush City. Klein scored a takedown in the first period, but Allerton tied the match with an escape later in the period and another in the second period. Klein got an escape to take a one-point lead in the third period, and after both wrestlers were awarded a point for stalling, Klein scored a late takedown to win 6-3, taking second place at 140.
Eighth grader Jon Kerzman also placed third for the Dogs and forced a true-second match but lost his chance to go to state 13-2 to a junior from Braham.
Senior Josh Tebben also placed third for Paynesville. He lost a one-point decision in the semifinals and took third.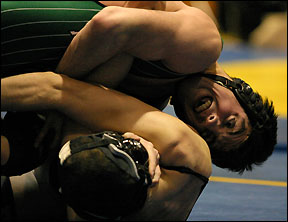 Junior A.J. Christian (130), ninth grader Kevin Klein (171), and ninth grader Jordan Spaeth (189) all placed fourth for Paynesville. Senior Jimmy Jansen (275) placed fifth for the Dogs.
Junior Keith Klein scores a takedown, but could not hold his opponent for back points, on his way to a runner-up finish at 140 in Section 6A.
The Dogs' six state entrants and four champions were second most in the section, behind Pierz with seven champs and 11 entrants. Mille Lacs had two champs, and Braham had one.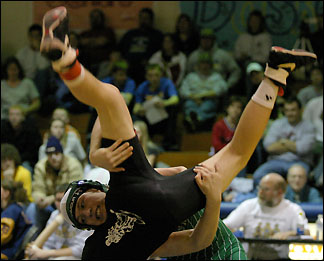 All six state entrants for Paynes-ville will wrestle on Thursday morning at 8 a.m. at the Xcel Energy Center in St. Paul as Class A individuals start the state tourney. Quarterfinal matches will be held at 10 a.m. on Thursday.
Junior Joe Sheridan lifts state-rated Hank Virnig of Pierz in the final at 112. Sheridan avenged an earlier loss to Virnig by beating him 8-6 on Saturday.
On Friday, Class A wrestlebacks will be held at 8 a.m. while semifinals and consolation quarter-finals will be held at 4:30 p.m.
On Saturday, the state tourney will be run differently with team third place and consolation matches (for all classes) starting at 9 a.m. Then individual third- and fifth-place matches will be held (again for all classes), starting around 10:30 a.m. Individual championship matches for all classes will be held next, following the awards for third and fifth, followed by the team championships for all classes.
Paynesville 38, Paynesville 26
103-Jordan Christian (P) pinned Tommy Fleming (Rush City), 1:43...dec. Colton Johnston (Ogilvie), 6-2...dec. Tyler Rath (BBE), 3-2...First Place;
112-Joe Sheridan (P) tech. falled Noah Reichert (RC), 3:50...dec. Rob Olson (Mille Lacs), 4-1...dec. Hank Virnig (Pierz), 8-6...First Place;
119-Jon Kerzman (P) pinned Pat Sullivan (ML), 1:45...pinned Chris Arnold (O), 2:39...lost to Kyle Bednar (Pz), 12-3...pinned Hunter Guerard (Royalton/Upsala), 4:29...lost to Brad Hale (Braham), 13-2...Third Place;
125-Open;
130-A.J. Christian (P) maj. dec. William Ellies (ML), 15-2... pinned by Jon Andres (Pz), 1:40...defeated Brook Hackett (R/U) by default...lost to Matt Wuorinen (RC), 6-2...Fourth Place;
135-Joel Kerzman (P) pinned Aaron Roney (BBE), 3:08... tech. falled Kyle Prickett (ML), 6:00...pinned Josh Golden (O), 5:56...First Place;
140-Keith Klein (P) dec. Ben Pladsen (O), 10-4...lost to Nick Gruber (Pz), 5-0...tech. falled Tom Schneider (R/U), 3:53...defeated Dustin Nelson (Hinckley-Finlayson) by default...dec. Tim Allerton (RC), 6-3...Second Place;
145-Sean Glenz (P) pinned Dustin Anderson (BBE), 0:59...pinned Nathanial Vrudny (H-F), 5:11...dec. Joe Hyatt (Pz), 8-7...First Place;
152-Jack Mueller (P) dec. Tim Gruenes (Holdingford), 7-1...dec. Joe Odle (ML), 9-5...pinned by Nathan Britz (Pz), 2:40...pinned Jason Slama (H-F), 3:17...Second Place;
160-Brad Torborg (P) pinned by Kyle Girtz (Pz), 2:39...pinned by Alex Huls (Hold), 4:23...Did Not Place;
171-Kevin Klein (P) pinned Tony Selle (O), 1:24... lost to Tyler Walters (ML), 5-0...defeated Calvin Becker (Hold) by default... lost to Gary Borash (R/U), 3-1...Fourth Place;
189-Jordan Spaeth (P) lost to Pat Stradal (H-F), 7-1...dec. Lewis Becker (Hold), 5-2...lost to Stradal (H-F), 5-0...Fourth Place;
215-Josh Tebben (P) dec. Mackenzie Johnston (RC), 10-7...lost to Charles Schiller (Hold), 7-6...pinned Jericho Burk (O), 2:22...pinned Johnston (RC), 3:55...Third Place;
275-Jimmy Jansen (P) pinned by Jon Odle (ML), 0:39...pinned by John Kent (BBE), 1:38...pinned Curtis Holm (O), 0:14 ...Fifth Place.
---
Contact the author at editor@paynesvillepress.com • Return to Sports
Home | Marketplace | Community
---