Sophomore Kacy Nehowig became the third Bulldog gymnast to qualify for the state tournament on Saturday by placing fourth on the uneven bars at the Section 6A meet at New London-Spicer.

Nehowig, who won the conference title on the uneven bars earlier this month, needed to place in the top four at the section meet to advance to state. She scored 8.85 on the bars on Saturday, not as high as she had at conference, when she set a new school record of 9.3, but 8.85 broke her previous school record.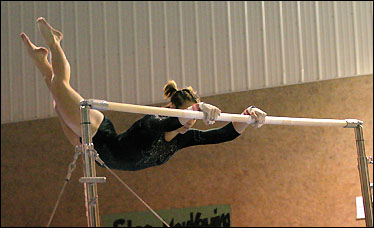 Nehowig had the high score at that time, but Paynesville was the fifth team to compete on the bars, leaving a number of top teams to complete this rotation. Four other top bar girls had yet to compete, said coach Deb Nehowig.
Sophomore Kacy Nehowig placed fourth at sections on Saturday on the uneven bars, becoming the third PAHS gymnast to advance to state.
Prairie Centre was next and their top bar girl scored 8.7, good for fifth place in the end. Nehowig was passed by Dana Dierkhising of Melrose (9.1), Carrie Hanson of Benson/KMS (9.025), and Kati Berscheit of Melrose (8.95).
Morris was the last team on the bars, and when their final gymnast had not surpassed Nehowig's score, her state trip was assured.
"The waiting and watching to see if Kacy's score would hang in there was nerve-racking," said her coach and mother, Deb. "After that last score was flashed, it was just such a relief and a wave of emotions among teammates and fans and, of course, coaches. We could finally celebrate."
Nehowig will become the third Bulldog gymnast to compete at state this weekend, joining Louise Mueller (uneven bars, 1982) and Lisa Schmidt (vault, 1988).
The Class A individual gymnastics competition will be held at the Roy Wilkins Auditorium at RiverCentre in St. Paul on Saturday, starting at 11 a.m.
The Bulldogs, as a team, placed seventh at the Section 6A meet on Saturday. The team's best event was the uneven bars, where they placed fifth as a team. On the beam, floor, and vault, the Dogs placed seventh.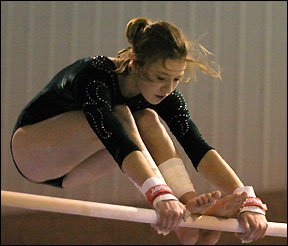 In addition to Nehowig, eighth grader Anna Kotten scored a personal best 8.2 on the bars, placing 12th, and sophomore Brittney Spanier had a personal best of 7.375 on the bars, placing 24th. Sophomore Tanis Beireis completed the Dogs' scoring with a 5.5, with sophomore Celia Frieler right behind her at 5.225, getting her long-hang kips for the first time.
Eighth grader Anna Kotten scored a personal best 8.2 on the bars at the section meet on Saturday and also had a personal best on vault.
As a team, the Dogs scored 29.925 on the uneven bars. "We wanted to break 30 on bars as a team," said Nehowig, "but just missed it. It's been a long time since Paynesville has broken 30 on bars. Next year! As we have all five girls back again."
Nehowig placed 11th in the all around for the Dogs, scoring 33.4, and Kotten placed 18th, scoring 31.675. Kotten also had a personal best on the vault, scoring 8.55.
Team Scores
1. Melrose 142.225
2. Benson/KMS 141.375
3. Prairie Centre 130.175
4. New London-Spicer 129.325
5. Morris Area 125.825
6. Litchfield 125.75
7. Paynesville 118.425
8. Ortonville 103.0
Individual Results
Vault: Kacy Nehowig (18) 8.7; Anna Kotten (23) 8.55; Brittney Spanier (35) 7.6; Tanis Beireis (37) 7.425; Cassey Lund (39) 7.325; TOTAL: Pay - 32.275 (7th);
Uneven bars: Nehowig (4) 8.85; Kotten (12) 8.2; Spanier (24) 7.375; Beireis (33) 5.5; Celia Frieler (34) 5.225; TOTAL: Pay - 29.925 (5th);
Balance beam: Nehowig (21) 7.5; Kotten (27) 6.975; Christine Spanier (30) 6.55; Frieler (37) 5.8; Lund (38) 5.8; TOTAL: Pay - 26.825 (7th);
Floor: Nehowig (17) 8.35; Kotten (20) 7.95; Christine Spanier (33) 6.825; Lund (39) 6.275; Abby Lindeman (40) 6.0; TOTAL: Pay - 29.4 (7th);
All around: Nehowig (11) 33.4; Kotten (18) 31.675.
---
Contact the author at editor@paynesvillepress.com • Return to Sports
Home | Marketplace | Community
---