Bulldogs earn return trip to state
with 39-24 victory over Pierz
This article submitted by Michael Jacobson on 2/23/00.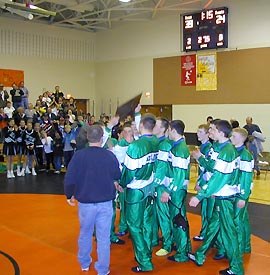 The Bulldogs qualified for a return trip to the state wrestling tournament in convincing fashion Friday night in Ogilvie. The Paynesville wrestlers avenged a one-point loss to Pierz in January by defeating them 39-24 in the team finals for Section 6A.

"It's a big thrill," said head coach Virg Vagle after the match. The Bulldogs will be making their 16th trip to state in the past 24 years. Return trips to state, according to Vagle, are always exciting because every year the team has new wrestlers.

Against Pierz, who moved ahead of the Bulldogs in the state rankings after beating the Bulldogs on Jan. 25, Paynesville won just seven matches, but six of their wins were by fall.

After Pierz, ranked third in Class A, opened the match with a pin at 103, the Bulldogs, ranked fifth, got two third-period pins in a row at 112 and 119. Nathan Glenz, wrestling at 112 for Paynesville, was on his way to a possible technical fall when he pinned his opponent with a minute left.

At 119, the Bulldogs' Jeremy Sogge trailed the Pioneers' Aaron Kloss, a state place winner last year individually, 8-4 in the third period. Sogge scored a takedown and turned Kloss to his back in a cradle in the last seconds of the match. The pin came with seven seconds remaining in the match.

It looked like Paynesville might completely dominate the Pioneers when David Kerzman opened an early lead against Joe Kloss at 125, a state runner-up last year. Kerzman had three quick takedowns against Kloss, who rallied to hand Kerzman just his second loss of the season.

Pierz took a 13-12 lead when Shawn Janson, a state entrant last year, narrowly decisioned Jeremy Fuchs 7-6 at 130.

"The next two really put us in control," said Vagle, "when we got two pins in a row." Both Chris Welle at 135 and Joe Hiltner at 140 recorded falls for the Bulldogs. Welle pinned Mark Andres 14 seconds into the second period. Andres, a state entrant last year, got his 100th career win in Pierz's semifinal match against Royalton earlier Friday night. Hiltner needed just 42 seconds to pin Steve Andres.

Those pins gave the Bulldogs a 24-13 lead. Pierz cut that by three when Sam Kasper got a late takedown to beat the Bulldogs' Josh Schreifels 5-4 at 145, but that disappointment was quickly forgotten by the Paynesville faithful when Chris Sogge recorded another pin for the Bulldogs at 152 moments later. He pinned Dan Britz in 40 seconds to give Paynesville a 30-13 lead with four matches to go.

Pierz's Chris Young, who has finished second and third individually in the last two state meets, is pretty close to a sure thing. The Bulldogs' Scott Braun drew the assignment against the undefeated senior. Despite Braun's defensive prowess, Paynesville was glad to yield only five points for a technical fall.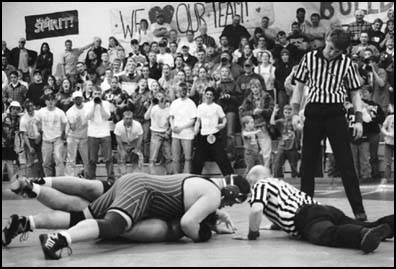 Leading 30-21, the Bulldogs' Shaun Fleischhacker nearly sealed the match with a first-period pin at 171. The Pierz wrestler spent most of that period on his back, but escaped. Fleischhacker won a 9-4 decision, which gave the Bulldogs a 33-21 lead, meaning Pierz could still tie and advance on criteria with pins in the final two matches.
The Bulldogs' return trip was assured when Josh Bork yielded just a 6-4 decision at 189, leaving Paynesville with a nine-point lead at 33-24 with one match to go.
Heavyweight Matt Brauchler (pictured here pinning his Pierz opponent), who has been battling a shoulder injury, looked in top form in recording a pin in 45 seconds to end the match.
Vagle said it was a shame that two strong teams were in the same section. "I really feel for Pierz. They're an outstanding team," he said. "We were fortunate to wrestle well," he added.
The Bulldogs, now 28-3, will get a chance to avenge another loss in the first round at state on Thursday, March 2, at 8 p.m. They will face Canby, to whom they lost 30-29 on Feb. 3.
This week, though, team members will compete for trips to state individually. Individual sections will be held at BBE on Friday starting at 4 p.m. and Saturday starting at 1 p.m.
Paynesville 39, Pierz 24
103: Craig Lubberts (PZ) pinned Adam Christian, 3:15;
112: Nathan Glenz (P) pinned Elder Carmona, 4:59;
119: Jeremy Sogge (P) pinned Aaron Kloss, 5:53;
125: Joe Kloss (PZ) maj. dec. David Kerzman, 16-8;
130: Shawn Jansen (PZ) dec. Jeremy Fuchs, 7-6;
135: Chris Welle (P) pinned Mark Andres, 2:14;
140: Joe Hiltner (P) pinned Steve Andres, 0:42;
145: Sam Kasper (PZ) dec. Josh Schreifels, 5-4;
152: Chris Sogge (P) pinned Dan Britz, 0:40;
160: Chris Young (PZ) tech. fall Scott Braun, 16-0;
171: Shaun Fleischhacker (P) dec. Kevin Schude, 9-4;
189: Tom Britz (PZ) dec. Josh Bork, 6-4;
Hwt: Matt Brauchler (P) pinned Osse Stumpf, 0:45.
Paynesville 38, Braham 18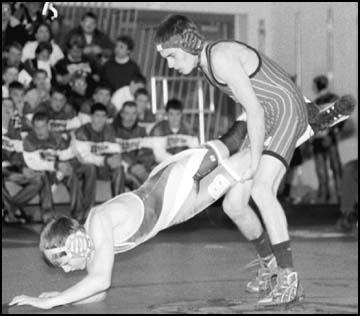 In the semifinals on Friday night, the Bulldogs beat Braham 38-18 while Pierz defeated Royalton 52-12.
The Bulldogs built a 30-3 lead after eight weight classes. After Adam Christian lost a close 6-5 decision at 103, Paynesville won the next six matches. The Bulldogs had four consecutive pins by Jeremy Sogge (119) (pictured at right), David Kerzman (125), Jeremy Fuchs (130), and Chris Welle (135). Nathan Glenz and Joe Hiltner added decisions in that stretch.
Chris Sogge sealed the match with a 9-2 decision at 152, giving the Bulldogs a 33-6 lead with four matches to go.
Shaun Fleischhacker added a technical fall at 171.
The Bulldogs lost several close matches in the late stages of the match. At 189, Josh Bork lost 3-0 to Joe Compton, a state entrant last year.
At heavyweight, Matt Brauchler started to wrestle but defaulted in the first period to protect his injured shoulder.
Paynesville 38, Braham 18
103: Matt Morgan (B) dec. Adam Christian, 6-5;
112: Nathan Glenz (P) dec. David Shockman, 6-0;
119: Jeremy Sogge (P) pinned Ernie Loerzel, 2:41;
125: David Kerzman (P) pinned Craig Birkaker, 3:51;
130: Jeremy Fuchs (P) pinned Ashley Szczech, 0:46;
135: Chris Welle (P) pinned Craig Lucht, 3:19;
140: Joe Hiltner (P) dec. Dan Kelling, 4-3;
145: Christopher Betsinger (B) dec. Josh Schreifels, 6-3;
152: Chris Sogge (P) dec. Jake Shockman, 9-2;
160: Greg Bengtson (B) dec. Scott Braun, 4-1;
171: Shaun Fleischhacker (P) tech. fall Drake Lagasse, 18-2;
189: Joe Compton (B) dec. Josh Bork, 3-0;
Hwt: Al Cameron (B) won by injury default over Matt Brauchler.
Paynesville 55, Rush City 9
The Bulldogs opened the sectionals with an easy win over Rush City on Thursday. The match was originally scheduled for Tuesday, Feb. 15, but was postponed due to the snowy weather.
Rush City, seeded seventh in the eight-team section, had only eight wrestlers and had to forfeit at five weights. The Tigers did win decisions at 103, 112, and 125 to take an early 9-3 lead.
Paynesville's first points came on decisions from Jeremy Sogge (119) and Kerzman (130). After Kerzman's major decision, the Bulldogs trailed 9-7, but Rush City forfeited at 135 and Joe Hiltner and Max Meagher had first-period pins at 140 and 145.
Rush City forfeited four straight weights from 152 to 189, and Josh Bork recorded a final pin for Paynesville at heavyweight, in 35 seconds, to make the final 55-9.
Paynesville 55, Rush City 9
103: Garrett Sowman (RC) dec. Adam Christian, 13-6;
112: Gabe Koepp (RC) dec. Nathan Glenz, 3-2;
119: Jeremy Sogge (P) dec. Peter Umbreit, 14-11;
125: Dan Sowman (RC) dec. Brad Schultz, 5-1;
130: Dave Kerzman (P) maj. dec. Mike Fox, 16-4;
135: Chris Welle (P) won by forfeit;
140: Joe Hiltner (P) pinned Sam Umbreit, 1:54;
145: Max Meagher (P) pinned Mike Wuorinen, 1:59;
152: Josh Schreifels (P) won by forfeit;
160: Chris Sogge (P) won by forfeit;
171: Scott Braun (P) won by forfeit;
189: Shaun Fleischhacker (P) won by forfeit;
Hwt: Josh Bork (P) pinned Charlie Todd, 0:35.
---