Eden Valley-Watkins defeated the Bulldog wrestling team for the second time this season, ending the Dogs' season in the Section 5A semifinals on Friday in Norwood Young America.

The second-seeded Eagles, who beat the third-seeded Dogs 50-17 in December, won this time 32-21.

The Dogs led for much of the match and still clung to an 18-14 lead with five weights to go, but the Eagles then won four straight weights from 160 to 215, including two pins, to clinch the match with a 32-18 lead going into 275.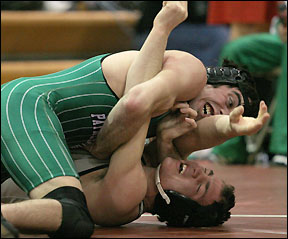 Sophomore Luke Frank won a decision at 275 for Paynesville to make the final score 32-21.

Sophomore Jordan Christian gave the Dogs an early lead with their only pin at 112, putting the Dogs ahead 6-3. This was not only the Dogs' only pin, but these were the only bonus points they scored.

Senior Keith Klein threw EV-W's Nick Peterson to his back twice in the first period on his way to an 8-1 decision on saturday in teh section semifinals.

Senior Joe Sheridan followed with a hard-fought decision at 119, using a reversal in the last 30 seconds to win 7-5, extending the Dogs' lead to 9-3.

The Eagles then won two straight matches to take their second lead of the night at 11-9 (they also had lead briefly at 3-0).

The Dogs won three of four weights from 135 to 152 to build that 18-14 lead. Senior Keith Klein (135), senior Joel Kerzman (140), and senior Sean Glenz (152) all won decisions for the Dogs, with Glenz's coming against a state-rated foe.

But EV-W(ranked #10 in Class A), which has five seniors from 171 to 275, won four of the last five weights to win the section semifinal 32-21.

The Dogs failed to reach the section final for the first time in 11 years. The last time the Dogs did not reach the section final was 1995. The Dogs had lost in the section final the last four years, twice to Litchfield and twice to Pierz.

In the 30 years since the Dogs made their first trip to state in wrestling in 1977, they have reached the section final 26 times, winning and advancing to state 17 times. The four times they have not reached the section finals in that span are 1984, 1985, 1995, and 2006.

The Dogs, who won six of 14 weights against the Eagles, would have needed to reverse two decisions into wins to have won the match and advanced to the section final against ACGC. They lost several close decisions, including two by a point (125 and 145) and two by two points (103 and 160).

Senior Aaron Bachman, at 160, scored a five-point move in the waning seconds of his match and might have recorded a pin with more time, which would have been a nine-point swing.

EV-W (ranked #10 in Class A), though, had more takedowns than the Dogs 23-16, more near falls 8-6, and more pins 2-1.

The Dogs, who lost to EV-W in December while missing both Christian and Kerzman to injuries, wrestled on Friday without junior Aaron Burris and sophomore Kevin Klein. The Eagles, however, did not use senior Phillip Magedanz, one of its three state-rated wrestlers, against the Dogs.

ACGC (ranked #4 in Class A and the top seed in Section 5A) then beat EV-W 39-15 in the final, meaning the Falcons will make their third straight trip to state under coach Tim Roberg, a 1997 PAHS grad and Paynesville resident. (ACGC beat the Dogs 48-13 early in February.)

The Dogs (ranked #13 in Class A) finished their team season with a record of 21-10. It was the first time in three years that the team has won 20 matches, but the third in a row that it has had double-digit losses. Eight of their ten losses, though, have come to state-rated teams, though only two wins have been against state-rated foes.

This week, the Dogs will battle for individual trips to state at the Section 5A individual tournament at Kimball on Friday and Saturday. Action is scheduled to start at 3 p.m. on Friday and at 10 a.m. on Saturday.

SECTION 5A FINALS
ACGC 39, EV-W 15

SEMIFINALS
ACGC 62, BBE 3

EV-W 32, Paynesville 21


103-Jacob Forcier (EV-W) dec. Jeff Albright, 6-4; 112-Jordan Christian (P) pinned Tyler Magedanz, 3:36; 119-Joe Sheridan (P) dec. Ryan Sullivan, 7-5; 125-Mike Sullivan (EV-W) dec. Jon Kerzman, 2-1; 130-Chris Faber (EV-W) tech. falled Justin Wendlandt, 4:09; 135-Keith Klein (P) dec. Nick Peterson, 8-1; 140-Joel Kerzman (P) dec. Dustin Kramer, 9-3; 145-Darren Berg (EV-W) dec. Ryan Gale, 7-6; 152-Sean Glenz (P) dec. Adam Hiltner, 6-1; 160-Paul Stommes (EV-W) dec. Aaron Bachman, 16-14; 171-Luke Stommes (EV-W) dec. Dustin Utsch, 8-2; 189-Mike Berg (EV-W) pinned Brad Torborg, 5:14; 215-Rayman Rice (EV-W) pinned Joe Fry, 0:27; 275-Luke Frank (P) dec. Heath Kramer, 8-4.

Dogs 57, St. Croix Lutheran 15
The third-seeded Dogs easily ousted sixth-seeded St. Croix Lutheran from the Section 5A playoffs on Tuesday, Feb. 14, at PAHS, winning 11 of the 14 matches and triumphing 57-15.

The Dogs built leads of 21-3 and 57-9 and never trailed against the Crusaders. Recording first-period pins for the Dogs were sophomore Jeff Albright (103) in just over a minute; senior Joel Kerzman (145) in 23 seconds; and junior Brad Torborg (189) in 15 seconds.

Sophomore Luke Frank (215) added a second-period pin, and sophomore Cody Fuchs (125) added a third-period pin.

Ninth grader Jon Kerzman (130) won by technical fall, and sophomore Jordan Christian (112) and seniors Keith Klein (140), Sean Glenz (152), and Dustin Utsch (171) won major decisions.

St. Croix Lutheran, which forfeited one weight, won two pins and a decision for 15 points.

QUARTERFINALS
ACGC 72, Trinity School 6
EV-W 51, Norwood Young America 18
BBE 35, Meadow Creek 31
Paynesville 57, St. Croix Lutheran 15
103-Jeff Albright (P) pinned Bill Hansen, 1:03; 112-Jordan Christian (P) maj. dec. Ben Wales, 15-5; 119-Marlon Rott (SCL) dec. Joe Sheridan, 13-9; 125-Cody Fuchs (P) pinned Elmar Rott, 5:38; 130-Jon Kerzman (P) tech. falled Jon Scislow, 16-0; 135-Ricky Hoffman (SCL) pinned Justin Wendlandt, 3:09; 140-Keith Klein (P) maj. dec. David Wrightsman, 16-8; 145-Joel Kerzman (P) pinned Andy Korn, 0:23; 152-Sean Glenz (P) maj. dec. Jake Kassulke, 24-11; 160-Aaron Bachman (P) won by forfeit; 171-Dustin Utsch (P) maj. dec. Shem Beibert, 10-1; 189-Brad Torborg (P) pinned Sean Herbison, 0:15; 215-Luke Frank (P) pinned Kyle Monjeau, 2:23; 275-Jordan Fox (SCL) pinned Joe Fry, 0:47.

FIRST ROUND
Trinity School 40, Kimball 24
---
Contact the author at editor@paynesvillepress.com • Return to Sports
Home | Marketplace | Community
---