Sauk Rapids completed a season sweep of the River Lakes Stars boys' hockey team on Thursday, defeating the Stars 8-1 at the River Lakes Arena in Richmond.

The Storm took a 2-0 lead in the first period and then added four goals in the second period to lead 6-0 before junior Alex Naujokas tipped a shot into the net for the Stars with a minute left in the second period.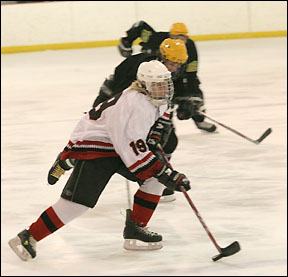 His goal was assisted by senior Jamie Paul and sophomore Brett Savelkoul, all of Paynesville. After Paul dug the puck out of the corner, Savelkoul shot from the point, which Naujokas tipped past the Storm goalie for the Stars' only goal of the night.
Junior Alex Naujokas scored the only goal for the Stars last week, tipping a shot from the point, in their 8-1 loss to Sauk Rapids on Thursday.
Sauk Rapids, which controlled long stretches of play in the Stars' zone, scored the only two goals of the third period, including a goal with one second left.
With the loss, the Stars ended their regular season with a record of 7-18, including 3-12 in the Central Lakes Conference.
Sauk Rapids (20-6) also beat the Stars 6-0 in January. The Storm finished second in the Central Lakes Conference this year.
The Stars began the Section 8AA hockey tournament on Tuesday with a game at Roseau at 7 p.m. The Stars were seeded seventh in Section 8AA, and the Rams second.
The full section seedings were: (1) Moorhead; (2) Roseau; (3) St. Cloud Tech; (4) Buffalo; (5) Bemidji; (6) St. Cloud Apollo; (7) River Lakes; (8) Monticello/Annandale/Maple Lake; and (9) Becker/Big Lake.
If the Stars upset Roseau, they would advance to the section semifinals on Friday, Feb. 24, at the MAC in St. Cloud at 7:30 p.m.
| | | | | |
| --- | --- | --- | --- | --- |
| Sauk Rapids-- | 2 | 4 | 2 | - 8 |
| River Lakes-- | 0 | 1 | 0 | - 1 |
Scoring Summary
First Period: SR-Jeremy Streit (Robby Dahl, Brett Ogg), 10:12; SR-Travis Peckskamp, 1:33;
Second Period: SR-Peckskamp (Tommy Wippler, Streit), 12:20 (pp); SR-Streit (Kyle Henkemeyer, Dahl), 10:19; SR-Streit (Peckskamp), 9:01 (pp); SR-Wippler (Henkemeyer), 4:06; RL-Alex Naujokas (Brett Savelkoul, Jamie Paul), 1:15;
Third Period: SR-Streit (Wippler), 10:20; SR-Brad Phenow (Wippler), 0:01.
---
Contact the author at editor@paynesvillepress.com • Return to Sports
Home | Marketplace | Community
---