Wrestlers earn return trip to state
This article submitted by Michael Jacobson on 2/21/01.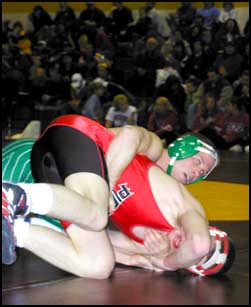 The match didn't go exactly as planned, but the result was what Paynesville expected. The Bulldogs earned their third consecutive trip to the state wrestling tournament with a 34-21 victory over Pierz in the Section 6A finals in Royalton on Friday night.

The Bulldogs beat Pierz in January by a score of 35-21. The score ended up being similar, though the match was completely different.

Joe Hiltner won a 21-10 major decision at 152 to give Paynesville a 30-12 lead over Pierz in the section final.

"Four of the first five weights probably went differently than expected," said coach Virg Vagle, the day after his 17th team in the past quarter century earned a state tourney berth.

Pierz won the first two matches by decision. The 9-4 decision at 112 in favor of Pierz's Tony Andres was considered an upset because Paynesville's Adam Christian had beaten him three times previously.

But the Bulldogs' Nathan Glenz repaired the damage with a key victory at 119. Wrestling Craig Luberts - who is ranked second in state and who had won their previous three match-ups - Glenz prevailed 3-0.

The duo battled on their feet throughout the first and third periods, with Glenz riding Luberts for the entire second period. Glenz's grip on Luberts appeared to be slipping midway through the second, but Glenz drove Luberts to his back, kept him there for the rest of the period, and needed just those three near-fall points to win.

"Nathan's win was a real big one for us," said Vagle.

Paynesville won the coin flip to start the match and elected to have the choice on the even weights (112, 125, 135, etc.), allowing them to match defending state champion David Kerzman with Pierz senior Shawn Janson, ranked seventh in state. Janson though, who has been hampered by a shoulder injury all year, did not wrestle against the Bulldogs after reinjuring his shoulder in the semifinals.

With Pierz getting to choose a wrestler last at 119, this set up the match between Nathan Glenz and Luberts, which also turned out in Paynesville's favor when Glenz won.

The next two matches ended up as injury defaults, with one giving six points to Paynesville and the other giving six to Pierz.

At 125, ninth grader Matt Kerzman - in his first varsity match - had his Pierz opponent on his back when the match was stopped for a shoulder injury to the Pierz wrestler. When the Pierz wrestler couldn't continue, Kerzman earned six points for Paynesville, giving the Bulldogs a 9-6 lead.

"It very likely would have been a pin," Vagle said of Kerzman's win. "Matt really had him trapped."

The result of the next match caused some anxious moments for Paynesville. Jeremy Sogge led 10-2 at the start of the second period, apparently on his way to at least a technical fall. But Sogge was penalized for unnecessary rough-ness as he tried for an inside cradle.

When the Pierz wrestler couldn't continue, a seemingly sure win for Paynesville turned into six points for Pierz, which took a 12-9 lead.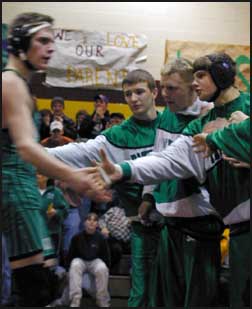 Paynesville's middle weights responded with a run of five consecutive victories to seal the win and a return trip to state. "After things settled down," said Vagle, "our strength through the middle took over."
Jeremy Fuchs, at 135, and Josh Schreifels, at 145, got the only pins in the stretch, but Paynesville got bonus points in all their victories. David Kerzman won by technical fall at 140, and Joe Hiltner and Max Meagher won major decisions at 152 and 160 to clinch the victory, as Paynesville led 34-12 with only three weights to go.
Josh Schreifels is congratulated by teammates Justin Reeck, Chris Rohe, and Ryan Glenz after delivering a pin at 145 giving the Bulldogs a 26-12 lead on their way to a 34-21 victory.
Pierz won the last three weights, but Paynesville only gave up decisions.
Vagle noted that Paynesville won only seven matches to Pierz's six, but the Bulldogs earned 13 bonus points to Pierz's three. In fact, Pierz's only bonus points came on the injury default.
(A decision yields three team points while a victory by major, technical fall or pin yields four, five or six team points. The points earned beyond the three points for a decision are considered bonus points.)
The Bulldogs will have a chance to defend their state team title when they open the state tournament on Thursday, March 1, at 10 a.m. against Sibley East. Sibley East defeated Eden Valley-Watkins and Atwater-Cosmos-Grove City on Friday to win Section 5A.
This week, the Bulldogs will wrestle for individual trips to the state tournament at the section individual tournament, which will be held in Braham. The tourney starts on Friday at 4 p.m. and continues on Saturday at noon.
Paynesville 34, Pierz 21
103-Joe Hyatt (Pz) dec. Sean Glenz, 10-3; 112-Tony Andres (Pz) dec. Adam Christian, 9-4; 119-Nathan Glenz (Pay) dec. Craig Luberts, 3-0; 125-Matt Kerzman (Pay) won by injury default over Anthony St. Sauver; 130-Gene Hyatt (Pz) won by injury default over Jeremy Sogge; 135-Jeremy Fuchs (Pay) pinned Tim Young, 1:27; 140-David Kerzman (Pay) tech. falled Zach Salinger, 2:34; 145-Josh Schreifels (Pay) pinned Keith Janson, 2:51; 152-Joe Hiltner (Pay) maj. dec. Steve Andres, 21-10; 160-Max Meagher (Pay) maj. dec. T.J. Marshik, 11-1; 171-Dan Britz (Pz) dec. Ryan Glenz, 8-2; 189-Kevin Smude (Pz) dec. Chris Rohe, 7-1; HWT-Treg Swanson (Pz) dec. Brad Person, 5-0.
Paynesville 50, BBE 18
The Bulldogs won nine of the first ten matches, including seven pins, against Belgrade-Brooten-Elrosa in the semifinals on Friday, building a 50-3 lead and winning 50-18.
Pat Noonan (112), Christian (119), Sogge (130), David Kerzman (135), Schreifels (145), Hiltner (152), and Ryan Glenz (160) provided pins for Paynesville. Kerzman pinned the tenth-ranked wrestler in state, and Schreifels, who missed time due to a knee injury, returned to action with pins in both of his matches on Friday.
Nathan Glenz (125) added a technical fall in that stretch, and Jeremy Fuchs won 4-3 at 140.
BBE got narrow decisions at 103 and 160, where Meagher lost 10-9 on a third-period escape.
Paynesville 50, BBE 18
103-Dusty Baker (BBE) dec. Sean Glenz, 7-4; 112-Pat Noonan (P) pinned Jesse Mithaugen, 3:17; 119-Adam Christian (P) pinned Jake Loomis, 1:49; 125-Nathan Glenz (P) tech. falled Brandon Sonstegard, 16-0; 130- Jeremy Sogge (P) pinned Jon Marquardt, 1:41; 135-David Kerzman (P) pinned Adam Marks, 1:00; 140-Jeremy Fuchs (P) dec. Mike Felling, 4-3; 145-Josh Schreifels (P) pinned Jason Schrantz, 3:43; 152-Joe Hiltner (P) pinned Travis Henry, 2:32; 160-Ryan Glenz (P) pinned Jesse TeBrake, 1:32; 171-Martin Engen (BBE) dec. Max Meagher, 10-9; 189-Darren Lieser (BBE) pinned Chris Rohe, 2:40; HWT-Andy Larson (BBE) pinned Brad Person, 3:50.
Paynesville 60, Ogilvie 6
The Bulldogs cruised to an opening playoff victory against Ogilvie at home on Tuesday, Feb. 13. Paynesville, the #1 seed, won 11 matches and lost only two decisions to Ogilvie, the #8 seed.
Paynesville had eight pins and won another match by forfeit. Recording pins for the Bulldogs were Nathan Glenz (125), Jeremy Sogge (130), David Kerzman (135), Joe Hiltner (145), Ryan Glenz (152), Josh Kerzman (171), Chris Rohe (189), and Brad Person (HWT).
Seven of these pins came in the first period. The fastest ones took 11 seconds by Nathan Glenz and 21 seconds by Ryan Glenz.
The two teams split the four close matches, with Pat Noonan winning 10-4 at 119 and Max Meagher 4-2 at 160 for the Bulldogs. Meagher's opponent was ranked fifth in the state, and Meagher won with a two-point near fall and a reversal in the third period.
Paynesville 60, Ogilvie 6
103-Josh Golden (O) dec. Sean Glenz, 10-6; 112-Adam Christian (P) won by forfeit; 119-Pat Noonan (P) dec. Mark Schafer, 10-4; 125-Nathan Glenz (P) pinned Dwight Johnson, 0:11; 130-Jeremy Sogge (P) pinned Steve Towle, 1:17; 135-David Kerzman (P) pinned Thomas Michad, 1:22; 140-Matt Huntsmen (O) dec. Jeremy Fuchs, 7-4; 145-Joe Hiltner (P) pinned Paul Wicklund, 1:58; 152-Ryan Glenz (P) pinned Kendall Hartfiel, 0:21; 160-Max Meagher (P) dec. Adam Stenstrom, 4-2; 171-Josh Kerzman (P) pinned Russ Berg, 2:28; 189-Chris Rohe (P) pinned Brandon Alley, 0:42; HWT-Brad Person (P) pinned Dale Eberly, 1:43.
---