Danceline takes fifth in section
This article submitted by Cyndi Bollman on 2/21/01.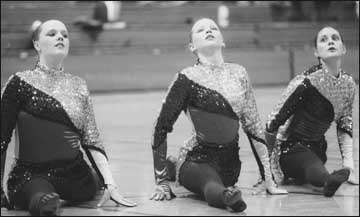 Paynesville's danceline, the Pirouettes, lost on Thursday to Melrose, but finished fifth in the section on Saturday.

The Pirouettes competed against Melrose at halftime of the boys' basketball game on Thursday night and didn't do as well as they had hoped. Nerves on Parent's Night may have affected the dancers.

The Pirouettes decided that they needed a new dance, with new music, and new attitudes about a month ago. They worked nonstop choreographing and learning the new steps. They didn't get to have a lot of practices due to bad weather.

Shelly Schoenberg, Cyndi Bollman, and Theresa Christian do the splits before a home crowd last week.

The lack of practice really scared coach Becky Hoey and the captains Cyndi Bollman and Lindsey Savage. "We needed every second of practice that we could get. Learning a new dance is really tough, and in a limited amount of time it makes it even harder," commented Savage.

When Thursday, Feb. 15 finally rolled around, the Pirouettes felt much more comfortable with their dance.

Since it was Parent's Night, the dancers wanted to do their very best and felt some pre-dance jitters. "I could tell when we were out there that we weren't doing as well as we wanted. Our focus wasn't on our dance, it was on impressing our parents and fans," said Bollman.

Melrose's danceline won the competition by outscoring the Pirouettes by almost 20 points.

Saturday was a completely different story. "You wouldn't have even known it was the same team dancing," Hoey said, as she jumped up and down with excitement.

The dancers left for Granite Falls at 8 a.m., stretched and practiced, and then sat and waited for over four hours for their turn to dance.

At 2 p.m., as their turn grew near, the Pirouettes were all calm and cool. They sat around and stretched while other teams nervously practiced their moves.

"We have nothing to lose. We have no reason to be nervous," Mesa Frenchick told her teammates over and over to the team.

She couldn't have been more right. After Thursday's performance, the Pirouettes had nowhere to go but up in the scoring.

The Pirouettes were the last team to dance, and because of their placement they had an advantage over all others. The dancers had the support of all the other teams watching.

The dance went well and all the Pirouettes seemed to be glowing with excitement. The dancers knew that they wouldn't go to state, but they were hoping not to get last.

The Pirouettes had come closer to a state berth than they thought possible. The top four teams advanced to the state tournament, and the Pirouettes took fifth out of the ten teams.

This is the second year in a row that the Paynesville Pirouettes have taken fifth at sections.

The season is officially over for the Pirouettes, but they hope to have another team next year. Next year's captains and other awards for this season will be announced at an awards ceremony. The time and place of the banquet have not been announced yet.
---