Dogs get first conference win
This article submitted by Andy Jones on 2/21/01.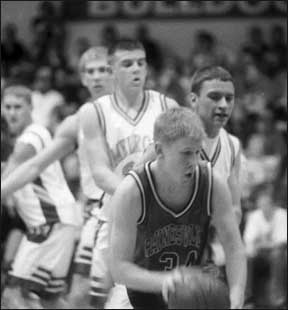 The Bulldogs boys' basketball team picked up their second win in a row on Thursday night against Melrose. Parent's Night had the gym rocking, and the Bulldogs responded with a 29-27 victory.

The Bulldogs' coaching staff decided to go with a starting line-up that featured four seniors: J.T. Koehn, Nate Martinson, Logan Louis, and Davis Hoekstra, along with freshman Adam Kampsen.

This proved to be a worthy lineup, as the Bulldogs scored over a third of their points in the first two minutes of play, jumping to a 10-4 lead.

The game turned ugly. Both teams shot woefully from the field and the charity stripe. The Bulldogs made just a quarter of their shots.

Paynesville players did, however, manage to grab 12 offensive rebounds to help their cause.

With two minutes left in the game, the score was tied at 27. The Dogs took a timeout and set up a special play to get senior captain J.T. Koehn the ball in the low post.

But Melrose's defense changed the plan. Louis got the ball to Aaron Lang (pictured at left), who was immediately double-teamed but was able to make a gorgeous pass to a wide open Andy Jones right underneath the hoop. Jones scored to put Paynesville up by two.

Melrose had the ball for the last minute, but was unable to score. Koehn blocked a shot on Melrose's best opportunity to score, and a hustling Bulldog defense didn't give the Dutchmen any other opportu-nities to score.

The win was the Bulldogs' first in the West Central Conference North and their third of the year.

Koehn led the Bulldogs with seven points, seven rebounds, and five blocked shots. Lang also scored seven points for Paynesville.

The Bulldogs hosted New London-Spicer on Monday in a make-up game and won 48-41. On Tuesday, they played at Maple Lake. The Bulldogs also play at Albany on Friday night.

Melrose 6 8 9 4 - 27 Paynesville 10 6 8 5 - 29

SCORING: (FG-FT/FTA-PTS)
Melrose 27 - Eric Marthaler 6; Paul Overman 4; Karl Schmiesing 4; Isaak Jansen-Hinnenkamp 4; Chad Thielen 3; Keith Frieler 3; Ryan Osendorf 2; Chris Moscho 1; TOTALS: FG 10, FT 5/9, 3's 2 Marthaler, Frieler.

Paynesville 29 - Logan Louis 2-1/3-5; J.T. Koehn 3-1/5-7; Nate Martinson 1-0/0-2; Andy Jones 2-0/0-4; Aaron Lang 2-3/7-7; Adam Kampsen 1-0/0-2; Kevin Mehr 0-2/2-2; TOTALS: FG 11/40, FT 7/17.

STATISTICS: Rebounds - 34 Koehn 7; Louis 6; Wes Lieser 6; Assists - 4 Steals - 7 Blocks - 5 Koehn 5.
---