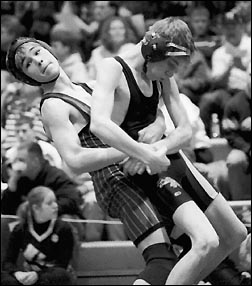 The Litchfield Dragons upended the Bulldog wrestling team in the Section 5AA finals on Friday night in Watertown, winning 30-19 and earning their first trip to state.

The loss prevented Paynesville from earning a fourth consecutive trip to the state tournament.

The Bulldogs, rated #2 in state, were the top seed in Section 5AA. They beat New London-Spicer 43-19 in the semifinals on Friday at Watertown-Mayer High School, but were outwrestled in the finals by Litch. The third-seeded Dragons, rated #7 in state, beat second-seeded Dassel-Cokato, rated fourth in the state, in the semifinals, 27-26.

The Bulldogs won only five matches in the finals compared with eight for the Dragons. Litch jumped to a 16-0 lead, winning the first four weights, getting an upset at 125 where ninth grader A.J. Werner (20-11) decisioned Adam Christian (at left taking down a NLS wrestler) of Paynesville 9-6.

"Litchfield wrestled really well and got off to a good lead," said Bulldogs head coach Virg Vagle. After that they won a couple close matches, that proved decisive, he added.

Senior Jeremy Sogge scored Paynesville's first points with a hard-fought decision at 130, and then senior Nathan Glenz recorded the Bulldogs' only fall at 135, cutting the deficit to 16-9.

But Litchfield won the next three matches, including another upset at 145, where Dragons senior Joel Werner (8-7) narrowly defeated Paynesville senior Jeremy Fuchs (27-9) by decision 3-2.

Trailing 27-9 with four matches to go, the Bulldogs needed four victories, plus bonus points, to win. The Dogs did get three straight wins, from 160 to 189, as senior Max Meagher won a major decision and juniors Ryan Glenz and Marty Engen won decisions.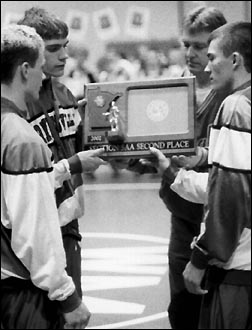 But the Dogs needed more bonus points, and Litch sealed the victory after 189, leading 27-19. The Dragons got a hard-fought decision at heavyweight to make the final score 30-19.
Though the final margin was 11 points, the real difference was a couple takedowns in a few close matches, said Vagle. Had the Bulldogs won two of the close matches that went Litchfield's way, it would have meant a 12-point swing in the team score and a Bulldog victory by a single point.
Paynesville and Litchfield wrestled in January in a conference dual match, with the Dogs winning 33-20 at Litch. The result this time, though, was quite different. Only four pairs of wrestlers faced each other again on Friday.
A number of Litchfield wrestlers were at lower weights in the rematch, a point of contention before the match. For instance, the Dragons' Matt Forster, a state runner-up a year ago, dropped down to 112 from 119, helping Litch sweep the first four weights.
Paynesville had protested to the Minnesota State High School League before the match because Litch did not have official weigh-ins from a conference match with LPGE in late January. Depending on what they weighed against LPGE, at least three Dragons might not have been able to wrestle at lower weights against the Dogs, due to a rule whereby wrestlers must weigh-in at their playoff weight at half their matches after Jan. 15.
Forster, for instance, would not have been eligible to wrestle at 112 against Paynesville on Friday if he wrestled against LPGE but did not make weight at 112.
Another point in the protest was Litchfield's failure to count losses by default on their season records, leading to several teams complaining that some of their wrestlers had exceeded the 36-match limit for the season, said Vagle.
Paynesville, however, withdrew their protest on Saturday, insuring Litchfield its first ever trip to the state wrestling tournament as a team. Vagle said there are still a lot of unanswered questions about these points, but without due diligence and investigation by the Minnesota State High School League pushing forward seemed to have little chance for MSHSL action while risking increased bitterness in the rivalry between Paynesville and Litchfield.
Against NL-S, the Bulldogs rebounded from a 12-3 deficit by getting four pins and two technical falls in the next seven matches. Christian won by technical fall at 125, followed by pins from Sogge at 130, Nathan Glenz at 135, and Fuchs at 140.
Junior Josh Kerzman added a pin at 152 and Meagher won by technical fall at 160. Ryan Glenz and Engen added decisions at 171 and 189, as the Dogs won eight of the final ten matches and nine of 11 total. Eighth grader Sean Glenz started the Dogs' scoring with a decision at 112.
This week, the Bulldogs will attempt to qualify individually for state. The individual section tournament will be held at New London-Spicer High School on Friday and Saturday, starting at 4 p.m. on Friday and at noon on Saturday.
Litchfield 30, Paynesville 19
103-Seth Hansvick (L) pinned Cory Christensen, 5:24; 112-Matt Forster (L) maj. dec. Sean Glenz, 20-12; 119-Jake Ziegler (L) dec. Pat Noonan, 4-2; 125-A.J. Werner (L) dec. Adam Christian, 9-6; 130-Jeremy Sogge (P) dec. Joe Buschette, 13-10; 135-Nathan Glenz (P) pinned Dan Smith, 2:26; 140-Erik Flowers (L) tech. falled Justin Reeck, 23-8; 145-Joel Werner (L) dec. Jeremy Fuchs, 3-2; 152-Travis Gottschalk (L) dec. Josh Kerzman, 5-0; 160-Max Meagher (P) maj. dec. Cory Schlack, 13-1; 171-Ryan Glenz (P) dec. Dan Herbst, 5-4 (OT); 189-Marty Engen (P) dec. Bryar Johnson, 8-2; HWT-Jake Carr (L) dec. Brad Person, 3-1.
Paynesville 43, NL-S 19
103-Adam Luberts (NL-S) pinned Cory Christensen, 3:12; 112-Sean Glenz (P) dec. Trevor Roediger, 8-3; 119-Tony Noyes (NL-S) maj. dec. Pat Noonan, 10-0; 125-Adam Christian (P) tech. falled John Peterson, 21-6; 130-Jeremy Sogge (P) pinned Tanner Krueger, 3:07 135-Nathan Glenz (P) pinned Brandon Christensen, 0:22; 140-Jeremy Fuchs (P) pinned Travis Roediger, 1:38; 145-Skip Toops (NL-S) maj. dec. Justin Reeck, 15-2; 152-Josh Kerzman (P) pinned Bob Gorecki, 3:32; 160-Max Meagher (P) tech. falled Kyle Hillenbrand, 15-0; 171-Ryan Glenz (P) dec. Sam Tait, 4-2; 189-Marty Engen (P) dec. Adam Westby, 6-3; HWT-Luke Buffington (NL-S) dec. Brad Person, 12-6.
Paynesville 55, Glencoe-Silver Lake 6
The Bulldogs cruised to a 55-6 victory in the sectional quarterfinals against Glencoe-Silver Lake on Tuesday, Feb. 12.
The Bulldogs won 11 matches against G-SL, including pins by Sean Glenz (112), Pat Noonan (119), Jeremy Sogge (135), Nathan Glenz (140), Ryan Glenz (171), and Marty Engen (189). Other winners for Paynesville were Adam Christian at 125 by technical fall, Matt Kerzman at 130 and Josh Kerzman at 152 with major decisions, and Max Meagher at 160 and Brad Person at heavy-weight with decisions.
G-SL got two victories, including one by undefeated, state-rated ninth grader Nate Matousek, who placed fifth in state last year as an eighth grader.
The Bulldogs also beat G-SL 61-9 in December.
As the top seed, the Bulldogs received a first-round bye on Tuesday, while #9 G-SL beat #8 Melrose 31-25. In other sectional action at PAHS, Rocori beat Rockford 60-18 in the first round and New London-Spicer beat Rocori 36-22 in the quarterfinals, setting up the semifinal match between NL-S and Paynesville.
Paynesville 38, Paynesville 26
Paynesville 55, G-SL 6 103-Tyler Polzin (G-SL) dec. Cory Christensen, 7-3; 112-Sean Glenz (P) pinned Ryan Kriesch, 2:16; 119-Pat Noonan (P) pinned Brandon Alsleben, 2:43; 125-Adam Christian (P) tech. falled Josh Jenson, 2:23; 130-Matt Kerzman (P) maj. dec. Craig Matthews, 12-2; 135-Jeremy Sogge (P) pinned Nate Bunch, 1:15; 140-Nathan Glenz (P) pinned Jeremy Schuch, 0:32; 145-Nate Matousek (G-SL) dec. Jeremy Fuchs, 7-1; 152-Josh Kerzman (P) maj. dec. Eric Vasko, 9-1; 160-Max Meagher (P) dec. Brent Morris, 8-2; 171-Ryan Glenz (P) pinned Dean Hallett, 1:15; 189-Marty Engen (P) pinned Joe Maresh, 1:33; HWT-Brad Person (P) dec. Steve Mickolicek, 4-2.
---
Contact the author at paypress@lkdllink.net • Return to Sports
Home | Marketplace | Community
---