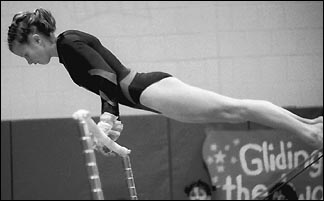 The Bulldogs hosted the Section 6A meet on Saturday with nine schools attending. Paynesville finished fifth out of the nine teams.

"I was pleased to take fifth," said coach Deb Nehowig. "It was a great ending to a great season."

Seventh grader Kacy Nehowig placed fourth on the bars at conference with an 8.5, must missing a school record, and 10th at sections.

Mueller earned ninth place in the vault competition, 12th place on the floor exercise, and 16th place on the balance beam.

Nehowig was 10th on the uneven bars, 16th on the balance beam, and 19th on the floor.

Mueller missed going to state by 0.6 on the vault, and Nehowig missed a state trip by 0.45 on the bars.

Senior Rachel Koehn placed 18th on both the balance beam and the uneven bars.

Melrose won the Section 5A team title and also dominated the individual events, claiming 11 of the top four spots in the four individual events.

Team Scores
Melrose 143.85
Benson/KMS 131.85
NL-S 129.225
Litchfield 124.375
Paynesville 122.875
Sauk Centre 121.625
Morris 121.15
Ortonville 109.15
Kimball-EVW 103.425

Individual Results
Vault: Amy Mueller (9) 8.6; Kacy Nehowig (16) 8.3; Tessa Miller (35) 7.75; Rachel Koehn (38) 7.6; TOTAL 32.25.
Uneven bars: Nehowig (10) 8.05; Koehn (18) 7.55; Miller (26) 7.1; Mandy Mayer (28) 7.1; TOTAL 29.8.
Balance beam: Mueller (16) 7.55; Koehn (18) 7.3; Nehowig (20) 7.15; Mayer (26) 6.8; TOTAL 28.8.
Floor: Mueller (12) 8.5; Nehowig (19) 8.15; Koehn (21) 7.975; Miller (29) 7.4; TOTAL 32.025.

WCC Meet
The Bulldog gymnasts competed in the West Central Conference meet on Monday, Feb. 11, at Melrose.

The Dogs had their season high in points with 123.5, but ended up taking seventh place out of eight teams.

Senior Amy Mueller had an awesome night on vault with a score of 8.975. It was her career high score on vault, but with all of the great competition she ended up in ninth place.

On the uneven bars, seventh grader Kacy Nehowig placed fourth with a great routine. Her score was 8.5, which was her season high and almost broke the school record. The record for bars is 8.55 from 1989.

No Bulldogs were able to place on the balance beam or the floor exercise, even with good routines.

Nehowig earned All-Conference honors at the meet, and Mueller earned honorable mention.

Team Scores
Melrose 144.05
Benson/KMS 135.30
NL-S 134.725
Sauk Centre 126.10
LPGE 124.20
Litchfield 123.80
Paynesville 123.50
Morris Area 121.0

Individual Results
Vault: Ashley Karger 7.9; Mandy Mayer 7.9; Kacy Nehowig 8.85; Amy Mueller 8.975; TOTAL 33.625.
Uneven bars: Rachel Koehn 7.1; Tessa Miller 7.15; Mayer 7.45; Nehowig 8.5 (4); TOTAL 30.2.
Balance beam: Mayer 6.9; Nehowig 7.05; Mueller 7.2; Koehn 7.7; TOTAL 28.85.
Floor: Miller 7.15; Nehowig 7.675; Mueller 7.9; Koehn 8.1; TOTAL 30.825.
---
Contact the author at paypress@lkdllink.net • Return to Sports
Home | Marketplace | Community
---