Litchfield won the sequel easily, defeating the Bulldogs 48-18 in the Section 5AA final on Friday at Dassel-Cokato and earning their second straight state berth.

Two weeks ago, the two teams wrestled to a 30-30 draw in Paynesville, but on Friday the Dragons - who had two regulars back in their lineup - jumped to a 43-0 lead by winning the first ten weight classes and had the victory sealed before the Bulldogs scored a team point.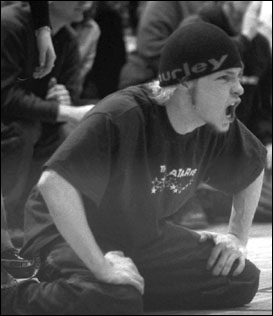 Except for escapes, in those first ten matches the Bulldogs scored only seven match points, getting their only takedown from sophomore Cory Christensen at 112 gettung a reversal and near fall from senior Josh Johnson at 130, and a penalty point from senior Adam Christian at 135.
Coach Virg Vagle said Litchfield had more talent and presented the Bulldogs with match-up problems due to their lineup of outstanding wrestlers. "We knew they'd be very tough for us to beat," he said.
Jake Johnson yells encouragement during the Bulldogs' hard-fought match against Dassel-Cokato on Friday night.
Not only did the Dragons win the first ten matches, but they got bonus points in six of them, including three technical falls and two pins.
The closest the Dogs came to winning a match was with Johnson, who lost by a point at 130, and Christian, who lost by a point to state-rated Joe Buschette at 135. Johnson nearly tied the match with a near fall in the third period, but could hold it long enough to score only two points not the three he needed to tie.
Vagle said the matches from 125 to 135 were the Dogs' best chances for wins in the early weights. In fact, the Bulldogs had gotten pins at 125 and 130 when the teams wrestled the first time.
When Litchfield swept those weights, the Dogs knew they were in trouble, said Vagle. "They just got on a roll. When a team is that deep and talented, it's tough to overcome," he continued.
The Bulldogs (22-9-1) won three of the last four weights by pin, but the Dragons (27-2-1) had a state trip secured by then.
Senior Ryan Glenz scored the first points for the Dogs with a pin at 171. Senior Marty Engen and senior Brad Person had back-to-back pins at 215 and 275 to end the match.
The Dragons, who finished second in Class AA at state a year ago, started the season ranked #1 in Class AA, but slipped in the rankings during the season. On Friday night, they got wins from all five of their state-rated wrestlers: senior Jake Ziegler at 119, senior Joe Buschette at 135, sophomore Devin Blom at 145, senior Travis Gottschalk at 160, and senior Bryar Johnson at 189. Gottschalk and sophomore 125-pounder Joe Schoolmeesters missed the first match with Paynesville, but got a technical fall and pin respectively in the section finals.
The Bulldogs, rated as high as #3 in Class AA, lost to Litchfield in the section finals for the second straight year. Vagle noted that the Bulldogs fared well against teams that qualified for the state tournament in Class AA, losing to Becker, Litch, and Scott West, but tying Litch once, and beating Hibbing, LPGE, and St. Michael-Albertville. As such, the Dogs' final ranking of fifth in Class AA is well deserved, according to Vagle.
The Bulldogs will seek individual berths to the state tournament this weekend during the section individual tournament at Albany. The first round of wrestling starts on Friday at 4:30 p.m. On Saturday, the semifinals start at 12 noon, and the championship matches are scheduled for 6 p.m.
Litchfield 48, Paynesville 18
103-David Malepsy (L) tech. falled Joey Sheridan, 17-2; 112-Seth Hansvick (L) dec. Cory Christensen, 6-2; 119-Jake Ziegler (L) maj. dec. Pat Noonan, 10-1; 125-Joe Schoolmeesters (L) pinned Sean Glenz, 1:20; 130-Chase Piepenburg (L) dec. Josh Johnson, 5-4; 135-Joe Buschette (L) dec. Adam Christian, 6-5; 140-A.J. Werner (L) pinned Justin Reeck, 5:46; 145-Devin Blom (L) tech. falled Matt Kerzman, 18-1; 152-Dan Herbst (L) dec. Josh Kerzman, 8-2; 160-Travis Gottschalk (L) tech. falled Joel Kerzman, 15-0; 171-Ryan Glenz (P) pinned Terry Staton, 4:58; 189-Bryar Johnson (L) tech. falled Pat Utsch, 18-3; 215-Marty Engen (P) pinned Aaron Kromann, 1:27; 275-Brad Person (P) pinned Louie Riehle, 1:37.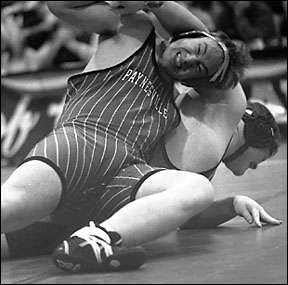 Paynesville 25, DC 22
The Bulldogs won a hard-fought 25-22 victory over Dassel-Cokato in the Section 5AA semifinals on Friday night. Both teams won seven matches, with the difference being the sole pin of the match, by Paynesville junior Pat Utsch, at 189.
"We needed a big win to get us some bonus points," said Vagle of Utsch's pin, which provided the winning margin for the Bulldogs.
Senior Brad Person turns his Litchfield opponent on the way to recording a pin against the Dragons at 275. Person sealed the Dogs' semifinal win over D-C by yielding only a decision in the final match.
The first nine weights were all decisions. The largest lead of the match was nine points, which the Chargers took right away by winning the first three weights. The Dogs then won the next three weights, getting decisions from sophomore Sean Glenz, Johnson, and Christian. Glenz scored a five-point headlock with seconds to go to win, and Johnson scored a four-point move and a five-point move in the third period to win.
After D-C regained the lead, junior Matt Kerzman tied the score again with a 7-4 decision at 145. Then the Chargers took a seven-point lead with a decision and a major decision, the first bonus point of the match.
Trailing 19-12, the Dogs won the next three weights to advance to the section finals. Ryan Glenz won a major decision at 171, scoring four takedowns in 20 seconds in the third period of his match. Utsch got the only pin of the match in the second period at 189 to give the Dogs a 22-19 lead. And Engen won 4-3 over state-rated Nick Philipi to give the Dogs a 25-19 lead with one match to go.
The Chargers got a decision at 275 but needed a pin to tie the score. The Chargers then would have won and advanced to the section final on the basis of the sixth criteria, most near fall points.
Both teams wrestled very well, according to Vagle. "All 28 wrestlers did a very good job," he said.
Paynesville 25, Dassel-Cokato 22
103-Kurt Salmen (DC) dec. Joey Sheridan, 17-10; 112-Nels Anderson (DC) dec. Cory Christensen, 6-2; 119-Matt Hohenstein (DC) dec. Pat Noonan, 8-7; 125-Sean Glenz (P) dec. Dan Nyquist, 7-5; 130-Josh Johnson (P) dec. Marshall Sager, 17-12; 135-Adam Christian (P) dec. Shane Salmen, 8-6; 140-Nels Benda (DC) dec. Justin Reeck, 5-0; 145-Matt Kerzman (P) dec. Mike Lundeen, 7-4; 152-Vinnie Pokornowski (DC) dec. Josh Kerzman, 8-3; 160-David Halonen (DC) maj. dec. Joel Kerzman, 12-3; 171-Ryan Glenz (P) maj. dec. Mike Kisner, 16-7; 189-Pat Utsch (P) pinned Orrin Polzin, 3:13; 215-Marty Engen (P) dec. Nick Philippi, 4-3; 275-Pete Philippi (DC) dec. Brad Person, 5-2.
Paynesville 45, Rocori 18
The Bulldogs defeated Rocori in the sectional quarterfinals on Wednesday, Feb. 12, at Dassel-Cokato. This match was moved from Tuesday, Feb. 11, to Wednesday due to the weather.
The two teams split the first six weights, with each team winning three and scoring 15 points. Senior Adam Christian gave the Bulldogs the lead for good with a major decision at 140. Rocori won the next match, but the Dogs swept the final six weights to win 45-18.
Ninth grader Joel Kerzman started this closing winning streak for the Bulldogs with an overtime decision at 152. He beat a wrestler who had majored him when the two teams wrestled in January, which the Bulldogs won 51-14.
Senior Josh Kerzman continued the win streak with a decision at 160, senior Ryan Glenz added a pin at 171, senior Marty Engen and junior Pat Utsch had back-to-back major decisions at 189 and 215, and senior Brad Person ended the match with a pin at 275.
In the light weights, ninth grader Joey Sheridan started the match with a pin for the Bulldogs at 103. Ninth grader Sean Glenz won by fall at 125, and senior Josh Johnson tied the score at 15-15 with a decision at 135.
Paynesville 45, Rocori 18
103-Joey Sheridan (P) pinned Travis Scherer, 4:37; 112-Sam Howe (R) pinned Cory Christensen, 3:22; 119-Darren Nathan (R) dec. Pat Noonan, 6-4 (OT); 125-Sean Glenz (P) pinned Grant Jakeson, 3:55; 130-Joey Howe (R) pinned Jack Mueller, 1:40; 135-Josh Johnson (P) dec. Nate Klein, 9-4; 140-Adam Christian (P) maj. dec. Dean Demarais, 11-3; 145-Max Johannes (R) dec. Matt Kerzman, 10-4; 152-Joel Kerzman (P) dec. Ben Johnson, 6-4 (OT); 160-Josh Kerzman (P) dec. Ian Schorn, 9-6; 171-Ryan Glenz (P) pinned Jeff Tragenson, 1:21; 189-Marty Engen (P) maj. dec. Lee Kollar, 16-5; 215-Pat Utsch (P) maj. dec. Matt Hesse, 9-0; 275-Brad Person (P) pinned Justin Heurung, 5:17.
---
Contact the author at editor@paynesvillepress.com • Return to Sports
Home | Marketplace | Community
---