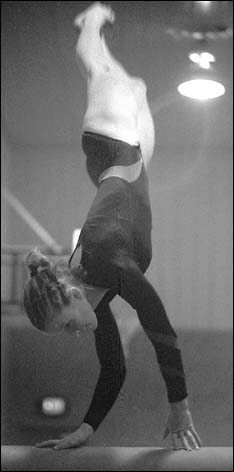 The Paynesville gymnasts finished their season at the section meet on Saturday, without several teammates who were lost this year to injury.

The Bulldogs finished eighth out of nine teams at sections at Melrose. The Bulldogs had great routines the whole night, but their scores just didn't match the superior scores of the Melrose Dutchmen, who earned another state trip.

As a team, the Bulldogs were seventh on the vault, seventh on the bars, seventh on the balance beam, and eighth on the floor exercise.

Eighth grader Kacy Nehowig was the only Paynesville gymnast to place at sections. She took tenth in the vault, scoring 8.6.

They trailed Ortonville, whom they beat in January, by less than a point. They beat Ortonville on three events - vault, bars, and beam - but trailed Ortonville by over four points on the floor exercise, enabling Ortonville to edge the Dogs for seventh.

Eighth grader Kacy Nehowig was the only Paynesville gymnast to place. She finished tenth in the vault competition, scoring 8.6.

The gymnastics season is now officially over for the Bulldogs. The team still will hold a minicamp, where they will help younger girls learn new skills. And they will also have a banquet, but the time has not been decided yet.

Team scores
1. Melrose - 142.925
2. Benson/KMS - 133.0
3. New London-Spicer - 127.875
4. Sauk Centre - 120.7
5. Litchfield - 118.975
6. Morris - 113.525
7. Ortonville - 106.7
8. Paynesville - 106.625
9. Kimball - 96.5

Individual Results
Vault: Kacy Nehowig, tenth, 8.6; Mandy Mayer, 7.9; Ashley Spanier, 7.85; Brittney Spanier, 7.35; TOTAL: Pay - 31.7;
Uneven bars: Nehowig, 7.8; Mayer, 6.35; Abby Lindeman, 5.3; Kristina Stuckel, 4.4; TOTAL: Pay - 23.85;
Balance beam: Nehowig, 6.925; Mayer, 6.7; Kayla Nelson, 6.05; Celia Frieler, 5.6; TOTAL: Pay - 25.275;
Floor: Nehowig, 7.25; Lindeman, 6.7; Ashley Spanier, 6.0; Nelson, 5.85; TOTAL: Pay - 25.8;
All around: Nehowig, 30.575.
---
Contact the author at editor@paynesvillepress.com • Return to Sports
Home | Marketplace | Community
---