Snowmobile enthusiasts tour local plant
This article submitted by Linda Stelling on 2/16/99.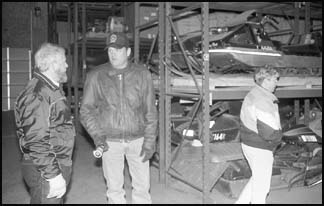 Snowmobilers from across the state gathered in Central Minnesota for the Governorís Snowmobile Ride on Thursday and Friday, Feb. 11 and 12.

Due to the warm weather conditions and deteriorating trail conditions, the riding portion of the Minnesota United Snowmobile Associationís annual convention was cancelled. However, all other events took place as scheduled.

More than 300 snowmobilers met for a reception Thursday night in Willmar. On Friday morning, the group boarded buses and headed out to Paynesville, New London, Spicer, and Atwater.

In Paynesville, the group toured Koronis Parts/Snow Stuff . They saw the various stages of making snowmobile parts from wear rods, ski skins, and cylinder sleeves. The group also saw a portion of Ed Webbís antique snowmobile collection (pictured here). Machines in his collection dated back to 1960 and included a wide variety of machines. Visitors commented on the wide variety of machines in the collection and reminisced about the first machines they had owned.

Those attending the convention also sat in on snowmobile safety presentations and got a look at the DNR ďcrash sled.Ē

The Koronis Hills Snowmobile Club organized the local tour for the convention.

---