PHS wrestling team qualifies for state
This article submitted by Zac Spates on 2/16/99.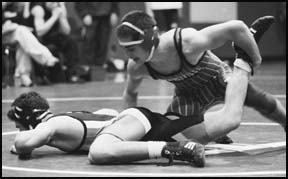 Paynesvilleís wrestling team had an exciting week culminating in a win over last yearís AA state champions, Dassel-Cokato. This win earned Paynesville the right to advance to the state tournament, Feb. 25-27, at the Target Center, downtown Minneapolis.

Watch this website for all the state tournament scores and updates hours only after they happen.

Delano
On Tuesday night, Feb. 9, the Paynesville wrestling team hosted the first round of the section team wrestling tournament. Paynesville had a bye the first round, so they got to scope out the competition for their first match.

As the first round came to a close, Paynesville saw that they would be wrestling Delano.

Paynesville started out the match with four big wins. Nate Glenz, Jeremy Sogge, Ryan Glenz, and Brandon Wendlandt all recorded pins for the Bulldogs.

At 130, David Kerzman kept it going with a decision over his opponent, and at 135 Justin Mueller (picture at right) recorded a major.

Joe Hiltner, Chris Sogge, Shawn Fleischhacker, and Josh Bork all pinned their opponents. Karl Sanborn and Chris Welle both recorded technical falls in their matches also.

With 12 of the matches in Paynesvilleís favor, it was down to the last match. Matt Brauchler went out at heavyweight and wrestled a great match against a very good wrestler and only let Delano receive four points for the match. The final score of the match was 65-4.

With the win over Delano, Paynesville advanced to the section semifinals in Delano on Friday.

Section finals
Rocori
On Friday, Feb. 12, the Bulldogs traveled to Delano to take part in the section semifinals and finals. With four teams left, Paynesville had to step it up if they wanted to advance to state.

In the first round, Paynesville faced Rocori, coming out on top 33-27.

At 103, Nate started it off again, and wrestled a great match against a state rated kid and only lost the match by two points.

Rocori struck twice more before Paynesville would get on the board. They recorded two majors, one at 112 and one at 119.

At 125, David Kerzman stepped out on the mat and beat his opponent in the third period by teachnical fall. The score of the match was now 11-5.

At 130 and 135, both Josh Schreifels and Justin Mueller received major decisions in their matches. Both matches were very important in the overall score of the match.

At 140 and 145, the team of Chris Welle and Joe Hiltner picked up 10 points for the team. Both wrestlers recorded technical falls for Paynesville.

Chris Sogge wrestled at 152, and he recorded a 1:12 pin for Paynesville. The score of the match was now 29-11 in Paynesvilleís favor.

Shaun Fleischhacker wrestled at 160, and took on a very tough opponent. He managed to keep the match close and only let Rocori get four points.

At 171, Karl Sanborn stepped out and received a major. The score of his match was 13-0.

At 189 and heavyweight, Rocori bounced back and recorded two pins for the team. The Kraemer brothers from Rocori picked them up. Josh Bork wrestled the younger one and Matt wrestled the older one.

At the end of the match, Paynesville was too far ahead to get beaten by the two pins. The final score was 33-27, and Paynesville now advanced to the finals.


Dassel-Cokato
At 8 p.m., on Friday night the gym started to pack with fans from Dassel-Cokato, Paynesville, Litchfield, and Rocori to see what team would represent Section 5AA in the state tournament.

Nathan Glenz started off the match at 103. With the whole gym cheering for two wrestlers, it was very hard for the wrestlers to hear their coaches. Glenz, in spite of that, recorded a major in his match putting the Bulldogs ahead.

Jeremy Sogge pinned his opponent at 112 to bring the score to 10-0.

Max Meagher wrestled at 119 against a very tough opponent. He wrestled a great match and only lost the match by a decision.

At 125, a weight Paynesville relies on for points was struck down in this match. David Kerzman wrestled a fierce opponent and lost the match by four. Paynesville was shocked by this, but they knew they had to make up for it.

At 130, Josh Schreifels wrestled a very tough opponent, too. DC was able to record a technical fall in the match.

Paynesville was now behind in the match 10-11, but the next six matches would go in favor of Paynesville much to everyoneís surprise.

Justin Mueller, Joe Hiltner, and Chris Welle all picked up majors for the team against three very tough opponents. Chris Sogge and Shaun Fleischhacker both pinned their opponents at 152 and 160. Shaun wrestled a great match at 160, and even though he wasnít favored at the beginning came up with a pin.

At 171, Karl Sanborn knew that if he won it would be impossible for Dassel to come back. Karl recorded a technical fall in his match to bring the score to 39-11.

At 189 and heavyweight, DC struck back and recorded nine more points. At 189, Josh Bork wrestled a great match and lost to a very tough wrestler by four points. Bork left the match with a big cut by his hairline. At heavyweight, Brauchler wrestled a tough match and was caught in a pinning hold in the first period.

The Paynesville fans were screaming and hollering after the heavyweight match was done, but the DC fans just sat there stunned by the loss of their team, the defending state champions. Paynesville advanced to state with the final score of the match at 39-20.

This Friday, Feb. 19, the Paynesville wrestlers will all be competing for state in the individual tournament at Albany. There will be a couple rounds Friday night and the rest will be completed Saturday.
---