The Pierz Pioneers defended their Section 6A wrestling title on Friday night in Ogilvie, beating the Bulldogs 51-15 in the section final to advance to state and attempt to defend their Class A state title.

Pierz has won the Section 6A title for the past four years. They have beaten the Dogs in the section finals the past two years. The last time Pierz was denied a state berth was in 2001 by the Bulldogs. (Paynesville wrestled in Class AA in 2001-02 and 2002-03.)

The Dogs, seeded second, beat third-seeded Mille Lacs 43-21 in the section semifinals on Friday while top-seeded Pierz blanked fourth-seeded Rush City 70-0 in the other semifinal.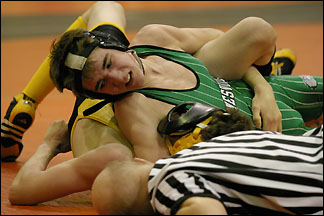 The Dogs kept the final close this year, unlike last year when Pierz rolled to a 35-0 lead and won 54-11. The Dogs trailed for most of the match against Pierz this year, but the Pioneers' lead was less than ten until 171.
Eighth grader Jon Kerzman got a key pin for the Dogs against Mille Lacs on Friday night in the Section 6A semifinal. The Dogs beat Mille Lacs 43-21 but lost in the final to Pierz, the defending state champ, 51-15.
Still, the Dogs' only lead came after the 103-pound match, where ninth grader Jordan Christian won a 7-2 decision.
After Pierz went ahead 11-3, senior Todd Thielen got the Dogs back within two points, at 11-9, with their lone pin in the final at 125.
The section rivals traded the next five weights, with Pierz winning three but the Dogs getting decisions from junior Joel Kerzman at 135 and junior Sean Glenz at 145. Glenz's win made the score 20-15, but those were the last team points for the Dogs, as Pierz won the final six weight classes, including a forfeit at 160, making the final 51-15.
Pierz, which also won the Class AA football title this fall, had seven state-rated wrestlers in its lineup on Friday night: sophomore Hank Virnig (112), junior Kyle Bednar (119), senior Jon Andres (130), senior Nathan Britz (152), junior Kyle Girtz (160), senior Jesse Zajac (189), and junior Cody Luberts (215). Another state-rated wrestler, junior Warren Gall (145), is injured, and another former state-placewinner is also injured.
The Dogs advanced to the section final in wrestling for the 26th time in the past 29 years. They have advanced to state 17 times during the past 29 years and won four state titles. Since 1977, they have failed to make the section finals only in 1984, 1985, and 1995.
In the section semifinal this year, the Dogs jumped to a 28-4 lead against Mille Lacs and defeated the Raiders for the second straight year. The final margin this year (43-21) was 15 points larger than last year (a 38-31 victory for the Dogs).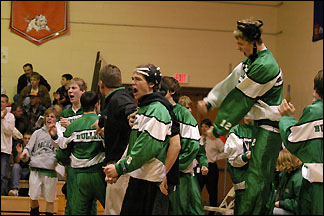 The Dogs got a key pin against Mille Lacs from eighth grader Jon Kerzman at 119. Kerzman trailed in his match before hitting a five-point reversal and near fall to end the second period. Then he hit a granby roll again to start the third period and pinned his opponent, giving the Dogs a 15-0 lead. (Mille Lacs started by forfeiting at 103, and then junior Joe Sheridan won a decision at 112.)
The Bulldogs' bench erupted after Jon Kerzman's pin at 119 against Mille Lacs on Friday night.
After Mille Lacs got their first points at 125, junior A.J. Christian won by major decision at 130, Joel Kerzman added a pin at 135, and junior Keith Klein claimed a decision at 140 to give the Dogs a 28-4 lead. After winning at 145, Mille Lacs forfeited to Glenz at 152 to increase the Dogs' lead to 34-8.
Senior Jack Mueller sealed the victory with a near-disaster, come-from-behind 10-8 decision at 160. Mueller led 6-3 with 15 seconds to go but yielded a five-point move and suddenly trailed 8-6. But he got a reversal in the final ten seconds to tie the score and then turned his opponent in the last five seconds and got a two-count for a near fall just before the buzzer to win 10-8.
Mille Lacs, with three state-rated wrestlers, won three of the last four weights, but senior Josh Tebben got a pin for the Dogs at 215, making the final score 43-21.
The Dogs ended the season 17-15, the same team record as last year.
The Dogs will vie for individual berths for state at the Section 6A tournament at Braham on Friday and Saturday this week. On Friday, the preliminaries, quarterfinals, and wrestlebacks start at 4 p.m. On Saturday, the semifinals and more wrestlebacks start at 12 noon with the finals scheduled for 3:30 p.m.
Paynesville 43, Mille Lacs 21
103-Jordan Christian (P) won by forfeit; 112-Joe Sheridan (P) dec. Rob Olson, 9-5; 119-Jon Kerzman (P) pinned Pat Sullivan, 4:35; 125-Nick Pfaff (ML) maj. dec. Todd Thielen, 16-6; 130-A.J. Christian (P) maj. dec. William Ellies, 12-3; 135-Joel Kerzman (P) pinned Paul Thompson, 2:43; 140-Keith Klein (P) dec. Kyle Prickett, 5-1; 145-Luke Gingery (ML) maj. dec. Aaron Burris, 18-9; 152-Sean Glenz (P) won by forfeit; 160-Jack Mueller (P) dec. Joe Odle, 10-8; 171-Tyler Walter (ML) dec. Kevin Klein, 5-2; 189-Nolan Boucher (ML) maj. dec. Jordan Spaeth, 11-0; 215-Josh Tebben (P) pinned Donny Boucher, 3:06; 275-Jon Odle (ML) pinned Jimmy Jansen, 0:59.
Pierz 51, Paynesville 15
103-Jordan Christian (Pay) dec. Tanner Tetrick, 7-2; 112-Hank Virnig (Pz) pinned Joe Sheridan, 0:36; 119-Kyle Bednar (Pz) tech. falled Jon Kerzman, 16-0; 125-Todd Thielen (P) pinned Isaac Gruber, 2:30; 130-Jon Andres (Pz) pinned A.J. Christian, 3:09; 135-Joel Kerzman (P) dec. Charles Boser, 7-5; 140-Nick Gruber (Pz) dec. Keith Klein, 6-4; 145-Sean Glenz (P) dec. Joe Hyatt, 11-6; 152-Nathan Britz (Pz) maj. dec. Jack Mueller, 13-2; 160-Kyle Girtz (Pz) won by forfeit; 171-Zach Solinger (Pz) dec. Kevin Klein, 4-0; 189-Jesse Zajac (Pz) pinned Josh Tebben, 3:57; 215-Cody Luberts (Pz) pinned Jimmy Jansen, 1:11; 275-Matt Mrnak (Pz) pinned Cody Flanders, 0:40.
Paynesville 70, Ogilvie 6
The second-seeded Bulldogs easily defeated seventh-seeded Ogilvie 70-6 in the Section 6A quarterfinals on Tuesday, Feb. 8, hosted by Paynesville.
The Dogs won 13 of the 14 weights and got eight pins and two technical falls in the lopsided victory. They built a 25-0 lead by winning the first five weights and then, after Ogilvie's lone win, won the final eight weights.
Recording pins for the Dogs were junior A.J. Christian (130), junior Joel Kerzman (140), junior Keith Klein (145), junior Sean Glenz (152), senion Jack Mueller (160), senior Jimmy Jansen (215), and senior Cody Flanders (275). Junior Joey Sheridan (112) and eighth grader Jon Kerzman (119) added technical falls, and ninth grader Jordan Christian (103) and ninth grader Kevin Klein (171) added decisions.
Ogilvie (5-12), seeded seventh, had beaten tenth-seeded BBE 54-23 in the first round of sections at PAHS on Tuesday. Mille Lacs also beat Royalton 48-28 on Tuesday, advancing to the section semifinals against Paynesville on Friday.
Paynesville 70, Ogilvie 6
103-Jordan Christian (P) dec. Colton Johnston, 8-1; 112-Joe Sheridan (P) pinned Steven Shoumaker, 3:39; 119-Jon Kerzman (P) tech. falled Chris Arnold, 17-1; 125-Todd Thielen (P) tech. falled Levi Berg, 15-0; 130-A.J. Christian (P) pinned Jake Sjodin, 1:31; 135-Josh Golden (O) pinned Cody Block, 2:35; 140-Joel Kerzman (P) pinned Ben Pladsen, 1:03; 145-Keith Klein (P) pinned Scott Bruggman, 5:15; 152-Sean Glenz (P) pinned Eric Olson, 1:13; 160-Jack Mueller (P) pinned Logan Burroughs, 2:13; 171-Kevin Klein (P) dec. Tony Sello, 11-6; 189-Jordan Spaeth (P) won by forfeit; 215-Jimmy Jansen (P) pinned Jerich Burk, 0:33; 275-Cody Flanders (P) pinned Curtis Holm, 0:44.
---
Contact the author at editor@paynesvillepress.com • Return to Sports
Home | Marketplace | Community
---