Sartell scored the winning goal three minutes into the third period, breaking a 1-1 tie, and added an empty-net goal in the final minute to beat the River Lakes Stars boys' hockey team 3-1 in Sartell on Tuesday, Feb. 8.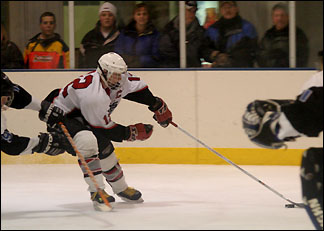 The Stars took a 1-0 lead when junior defenseman Zach Johnson scored midway through the first period, assisted by senior forward Ryan Weber.
Junior Jamie Paul scored the Stars' only goal in their 6-1 loss to Alexandria on Thursday, the Stars' last regular season game. The boys' hockey team started the section playoffs on Tuesday with a game at Roseau.
Sartell tied the game at 1-1 with a short-handed goal midway through the second period. They took a 2-1 lead three minutes into the third period and added an empty-net goal with 36 seconds to go.
The Stars outshot Sartell 33-30, but Sartell's goalie stopped 32 shots. This week, the Stars traveled to Roseau for a section quarterfinal against the Rams on Tuesday, Feb. 15. Section 8AA seedings were: (1) Moorhead; (2) Roseau; (3) St. Cloud Tech; (4) Alexandria; (5) Bemidji; (6) St. Cloud Apollo; (7) River Lakes; and (8) Monticello.
If the Stars (7-14-2) upset Roseau, they would play in the section semifinals against either Alexandria or Bemidji on Saturday, Feb. 19, at 7 p.m. at the Municipal Athletic Complex in St. Cloud.
| | | | | |
| --- | --- | --- | --- | --- |
| River Lakes-- | 1 | 0 | 0 | - 1 |
| Sartell-- | 0 | 1 | 2 | - 3 |
Scoring Summary
First Period: RL-Zach Johnson (Ryan Weber), 7:16;
Second Period: S-Dustin Parker, 7:08 (sh);
Third Period: S-Parker (Charlie Binsfeld, Jason Moir), 13:41; S-Zach Upgren (Sean Bryant), 0:36 (en).
Alexandria 6, River Lakes 1
Alexandria broke a 1-1 tie with a goal with two minutes left in the second period and then scored four goals in the third period as the Stars rested their top lines.
The game turned chippy, so coach Jeff Boonstra rested his top players in the final period, he said, with section playoffs starting this week.
Junior center Jamie Paul scored the lone goal for the Stars in the first period. Paul got a rebound goal after junior defenseman Zach Johnson shot from the point and sophomore wing Alex Naujokas' first rebound attempt was also stopped. Both Johnson and Naujokas got assists on Paul's goal.
| | | | | |
| --- | --- | --- | --- | --- |
| River Lakes-- | 1 | 0 | 0 | - 1 |
| Alexandria-- | 1 | 1 | 4 | - 6 |
---
Contact the author at editor@paynesvillepress.com • Return to Sports
Home | Marketplace | Community
---