Cheerleaders hold competition in Paynesville
This article submitted by Michael Jacobson on 2/16/00.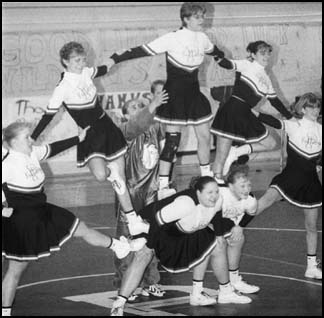 The Paynesville basketball cheerleaders won first place for their school song routine at their first cheerleading competition on Saturday afternoon in the elementary school gymnasium.

A squad of cheerleaders from Rocori won all three divisions in which they were entered and the overall champion-ship. Paynesville and Atwater-Cosmos-Grove City each had a first place. The competition had five divisions overall.

Six area teams competed Saturday, from ACGC, Eden Valley-Watkins, Melrose, New London-Spicer, Paynes-ville, and Rocori. In all, 58 cheerleaders participated.

Paynesville basketball cheerleaders who competed Saturday were (pictured from left, crouching) Mallory Mackedanz and Lynn Niewind; (standing) Heidi Steinhofer, Sally Heitke, mascot Susie Pelzer, Candice Utsch, Jacqie Utsch, and Kandace Bengtson. Another member of the squad, Hannah Philabaum, was unable to compete Saturday. The basketball cheerleaders are coached by Sheri Wegner.

The judges and spotters for the competiton were from Planet Spirit, a Twin Cities cheerleading company. After the competition ended, the spotters led a "Jump Off,"╩where the high school cheerleaders tried to emulate jumps made by the spotters.

Wegner said the event drew 89 spectators. It was emceed by a St. Cloud disc jockey.

"All the coaches felt like it was really successful," Wegner said, "So we'll definitely do it again next year."
---