Stars fall to Sauk Centre in overtime
This article submitted by Chris Jacobson on 2/16/00.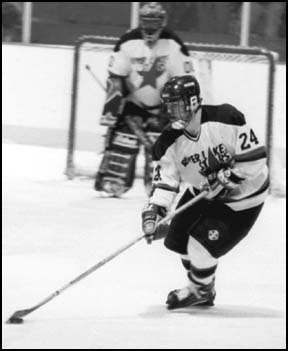 The Stars played two games in the past week. Both games were at home, but on Thursday the Stars played at the River Lakes Arena in Richmond against Sauk Centre, and then on Saturday the Stars hosted Sleepy Eye at the Koronis Civic Arena in Paynesville.

The game against Sauk Centre was a good hockey game until the end. In the first period, senior Eric Hartfiel scored with one second remaining in the period.

Senior Eric Habben heads out of the Stars' zone into the neutral zone during Saturday's game with Sleepy Eye. Star goalie Adam Harfiel watches.

In the second period, Sauk Centre scored on a power play to start their three-goal streak that put them ahead by two, 3-1. Then, senior Eric Habben put one in and fired the team up to score another goal, tying the game at 3-3.

Sauk Centre scored the last goal in the high-scoring second period to take a 4-3 lead.

The Stars' Derek Dahlen scored to tie the game in the third period and forced overtime. Unfortunately, Sauk Centre scored first, ending the sudden death period and the game.

Stars' goalie Adam Hartfiel had 34 saves for the night.
| | | | | | |
| --- | --- | --- | --- | --- | --- |
| River Lakes-- | 1 | 2 | 1 | 0 | - 4 |
| Sauk Centre-- | 0 | 4 | 0 | 1 | - 5 |
First Period: RL- Eric Hartfiel (Brett Theisen);
Second Period: SC-Nathan Sunderman (Robert Konnight, Adam Moritz); SC- Moritz (Sundermann, Konnight); SC- Moritz (Konnight, Eric Freeman); RL- Eric Habben (Scott Fritz, David Schramel); RL-Theisen (Andrew Schmitt, Mike Stang); SC-Nathan Miller (Shannon Ellering);
Third Period: RL-Derek Dahlen (Theisen, Darren Stommes);
Overtime: SC-Moritz (Engeldinger).
Penalties: RL- five for 10 minutes; SC-one for two minutes.
Shots on goal: River Lakes, 40; Sauk Centre, 39.
Saves: River Lakes, Adam Hartfiel, 34; Sauk Centre, 39.
Sleepy Eye
River Lakes 2
The Stars game against Sleepy Eye on Saturday did not go well. Sleepy Eye has the leading scorer in the state of Minnesota on their team.
The first goal went to the Stars 14 seconds into the game, but, from that point on, it was all Sleepy Eye. They scored later in the period to tie and twice within the final minute of the period to take a 3-1 lead.
Sleepy Eye added two goals in the second period and four in the third as part of a nine-goal run. Loren Havermeier added to his state leading totals with three goals and two assists.
River Lakes did score late in the third period to make the final 9-2.
Garrett McCain and Derek Dahlen had assists for the Stars.
Goalie Adam Hartfiel managed an incredible 41 saves against Sleepy Eye.
| | | | | |
| --- | --- | --- | --- | --- |
| Sleepy Eye-- | 3 | 2 | 4 | - 9 |
| River Lakes-- | 1 | 0 | 1 | - 2 |
First Period: RL-Mike Losinski (Scott Fritz, Garret McCain); SE-Stu Krinz (Isaac Rasmus, Loren Havermeier); SE-Harvermeier (unassisted); SE- Rasmus (Jason Hoffmann);
Second Period: SE-Rasmus (Havermeier); SE-Dave Halla (Loren Beltz, Krenz);
Third Period: SE-Beltz (Krenz, Rasmus); SE-Havermeier (Ryan Weiss); SE-Havermeier (Weiss); SE-Adam Armbruster (Halla); RL-Brett Theisen (Derek Dahlen, Andrew Schmitt).
Penalties: RL-eight for 16 minutes; SE-eight for 16 minutes.
Shots on goal: River Lakes, 18; Sleepy Eye, 50.
Saves: River Lakes, Adam Hartfiel, 34; Sleepy Eye, 16.
---