The River Lakes Stars girls' hockey team was eliminated from the Section 8AA playoffs in the quarterfinals by Elk River for the third year in a row on Saturday.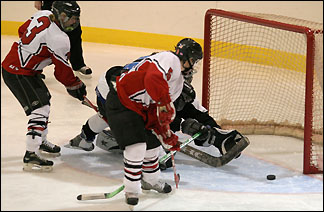 The seventh-seeded Stars played second-seeded Elk River even for most of the game, losing 1-0.
Elk River, the Class AA champ in 2004, beat the Stars 7-0 last year and 14-1 in 2004.
Eighth grader Jenn Paul (5) of Paynesville tied for the team lead with 19 assists this winter, scoring 25 points in all for the River Lakes Stars. Senior Marie Omman (3) of Rocori led the team with 21 goals and 37 points, including two goals and three points last week as the Stars beat North Wright County 3-2.
This time, Elk River scored only once, late in the first period, to take a 1-0 lead. The Stars held Elk River scoreless for the remaining two periods but could not score themselves, losing by the narrowest margin in hockey.
Elk River outshot the Stars 37-26, and ninth grader Tracy Skluzacek made 36 saves for the Stars in net.
Elk River advances to face third-seeded Moorhead this week in the section semifinal, while top-seeded Bemidji will play fifth-seeded Sartell/Sauk Rapids in the other Section 8AA semifinal.
With the loss, the Stars finished their season with a record of 13-11-3. For the season, senior Marie Omann led the Stars in goals, scoring 21, one more than senior Amber Schulzetenberge who had 20. Eighth grader Jenn Paul and sophomore Abbie Rhoda led the team with 19 assists apiece.
Leading scorers for the Stars this year - based on statistics from 24 of the Stars' 25 games - were (Goals-Assists=Total Points): Marie Omann (21-16=37); Schulzetenberge (20-16=36); sophomore Kenzie Novak (17-15=32); Rhoda (12-19=31); senior Abbie Stalboerger (18-7=25); Paul (6-19=25); and sophomore Greta Omann (2-13=15).
Other scorers were (G-A=TP): junior Shannon Smith (4-4=8); ninth grader Gina Athmann (2-5=7); junior Tori Aretz (3-3=6); sophomore Alyssa Kemper (2-3=5); junior Ellyn Kinzer (0-4=4); sophomore Emma Schott (0-4=4); junior Katie Stang (0-2=2); eighth grader Kelsey Athmann (0-1=1); sophomore Shannon Blomker (0-1=1); ninth grader Tia Dockendorf (0-1=1); ninth grader Courtney Schirmers (0-1=1); sophomore Lindsey Schmitt (1-0=1); Blythe Sjoberg (1-0=1); ninth grader Traci Thielen (0-1=1); and eighth grader Sara Wenner (0-1=1).
River Lakes 0 0 0 - 0 Elk River 1 0 0 - 1 Scoring Summary First Period: ER-Holly Reinking (Kristi Ellis, Jenna Sattarelli), 2:35;
Second Period: No scoring;
Third Period: No scoring.
Stars 3, North Wright County 2 The Stars advanced to the Section 8AA quarterfinals by defeating North Wright County 3-2 at the River Lakes Arena in Richmond on Thursday. The Stars were seeded seventh in Section 8AA while North Wright County was seeded tenth.
Senior Marie Omann scored two goals for the Stars, including the game-winner late in the second period. Omann broke a scoreless tie ten minutes into the game with her first goal.
But North Wright County - a co-op program with Annandale, Monticello, and St. Michael-Albertville - tied the score in the second period.
Senior Allie Stalboerger scored less than 30 seconds later for the Stars to regain a 2-1 lead. Marie Omann scored the eventual game-winning goal on a power play with three minutes to go in the second period, giving the Stars a 3-1 lead.
North Wright County scored the only goal of the third period, cutting the Stars' lead to 3-2 midway through the period.
Both River Lakes and North Wright County had 32 shots on goal, but junior goalie Kacey Nyberg made 30 saves, one more than North Wright County, in the 3-2 win.
Last year, the Wright County Blades won Section 8AA and placed fourth in Class AA. But they split into two teams this year: North Wright County and Buffalo, with Delano, Maple Lake, Rockford, and Howard Lake-Waverly.
N. Wright Co. 0 1 1 - 2 River Lakes 1 2 0 - 3 Scoring Summary First Period: RL-Marie Omann (Tori Aretz, Ellyn Kinzer), 7:10;
Second Period: NWC-Brook Maier, 9:30; RL-Allie Stalboerger (Greta Omann, Alyssa Kemper), 9:02; RL-Marie Omann (Greta Omann, Shannon Smith), 3:12 (pp);
Third Period: NWC-Natasha Bame (Megan Dingley), 8:15.
---
Contact the author at editor@paynesvillepress.com • Return to Sports
Home | Marketplace | Community
---