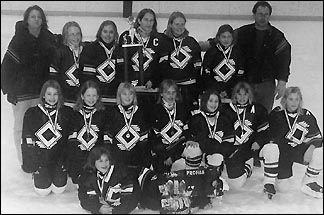 The Paynesville-New London-Spicer (PNLS) Lakers girls' 12 and under hockey team won three games and took first place at a four-team round-robin tournament in Waseca on Jan. 5-6.

The team: (front from left) goalie Jordan Spaulding; (middle) Leah Grossman, Taylor Haag, Greta Keller, Ashley Meyer, Stephanie Lucas, Jennifer Paul, and Blythe Sjoberg; (back) coach Ann Anderson, Whitney Woehler, Jayna Flanders, Kaila Hartmann, Kylie Nelson, Meghan Anderson, and coach Pat Anderson.

PNLS got off to a strong start by defeating Luverne 12-2. The team was led by the triple threat of Blythe Sjoberg, Meghan Anderson, and Jennifer Paul. Each girl recorded a hat trick by scoring three goals.

Taylor Haag, Jayna Flanders, and Kaila Hartmann added a goal each.

Sjoberg and Paul assisted on three goals each; Anderson assisted on two, and Ashley Meyer and Haag had one assist each.

Mankato defeated Austin in the first game, but fell to the Lakers 11-1 in the second round. Sjoberg scored four goals and added three assists. Paul scored three times and had three assists.

Anderson and Haag had a goal and an assist apiece, and Hartmann and Flanders each scored a goal.

In the final game, the Lakers faced Austin with similar results, a 11-1 Laker victory. Again Sjoberg scored four goals and Paul scored three. Also scoring were Meyer, Flanders, and Anderson.

Anderson and Paul had two assists each, while Sjoberg, Flanders, Hartmann, Greta Keller, and Stephanie Lucas had an assist apiece.

Jordan Spaulding provided excellent goaltending during the entire tournament. She made 15 saves while allowing only four goals in three games.

The Lakers outshot their opponents for the tournament 79-19.
---
Contact the author at paypress@lkdllink.net • Return to Sports
Home | Marketplace | Community
---