Sophomore Sean Glenz became the 26th Paynesville wrestler to earn 100 career wins on Saturday, keeping his perfect record for the season. Glenz reached the career milestone earlier in his career than any other PAHS wrestler.
Glenz, the son of Mike and Deb Glenz, is now 30-0 this season and 101-54 for his career. With part of this season to go, and with two full years of eligibility remaining, he could challenge the career victory record held by two-time state champ David Kerzman (178-21).
Sophomore Sean Glenz, 30-0 this season, won his 100th match on Saturday against a Renville County West opponent.
Glenz comes from a wrestling family: his brother Ryan graduated last year with 95 career wins in three varsity seasons, his dad is a youth coach, his sisters were cheerleaders, and his mom is a devoted fan. Sean started wrestling in kindergarten and thinks wrestling is a fun sport: fun to compete, fun to watch, fun to win. His favorite part of wrestling is the competition and he hates to lose.
Glenz broke into the varsity wrestling lineup as a seventh grader and went 17-31 at 103, helping the Bulldogs go to state as a team. As an eighth grader, he went 25-11 at 112, earning his first trip to state individually, and becoming the first eighth grader to do so for the Dogs.
Last year, as a ninth grader, he was 29-12 and went to state at 125.
This year, he is 31-0, wrestling mostly at 140, but also going up a weight or two to help the team.
According to coach Virg Vagle, Glenz should become the first six-year varsity regular for the Dogs. Vagle said Glenz is a hard worker, a focused wrestler who has improved every year, and a coachable kid.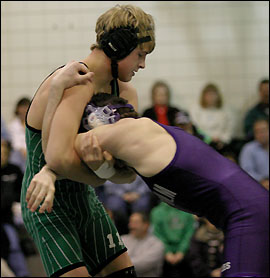 Both Vagle and Glenz attributed Glenz's success this year to his improvement on his feet. Glenz said improving on takedowns has been his focus during freestyle wrestling in the spring, at wrestling camps in the summer, and in his workouts against good training partners in practice. He knows that to do well at state, which is his goal this year, he will need to get takedowns against the best wrestlers he faces.
Sophomore Sean Glenz earned the 100th win of his career on Saturday with two wins. He is the earliest PAHS wrestler to reach the 100th mark.
Topping Kerzman's record, and becoming a state champion himself, are two of Glenz's career goals. To do that, he plans to continue to work hard in practice, to wrestle in the offseason, and to lift weights. He also would like to wrestle in college.
He wanted to reach 100 career wins this year, but he was not sure it would happen. "It was one of my big goals to do. I didn't think I'd get it this year, but I'm happy I did," he said. He wants to place at state individually, and he wants the team to reach the section finals and have a shot against Pierz, though Glenz knows that the top-rated Pioneers will be a big challenge for the Dogs.
In addition to recording his 100th career win last week, Glenz also recorded perhaps his most impressive win of the season: beating Osseo's Josh Hammer, rated #8 in Class AAA, by technical fall. Glenz said it was his best match this year.
Vagle said that Glenz, who is the most experience varsity wrestler on the team this year, has become a real stopper for the team. Of his 30 wins this season, 22 have been either pins or technical falls.
His teammates have nicknamed Glenz "Mr. Perfect." This year, Glenz's record is perfect, said eighth grader Cory Spanier.
Glenz, added Spanier, is the hardest worker on the wrestling team, always finishing his laps first. The messages he sets by his example, and his perfect record, said Spanier, is that "the harder you work, the better you are."
---
Contact the author at editor@paynesvillepress.com • Return to Sports
Home | Marketplace | Community
---