The River Lakes Stars boys' hockey team evened their season record with a 5-1 victory over Holy Family Catholic on Tuesday, Feb. 3. It was the Stars' last game of the season at the Koronis Civic Arena in Paynesville.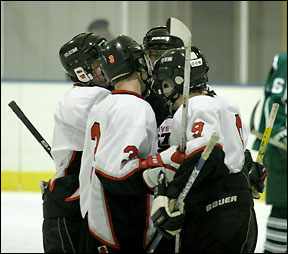 The Stars buried Holy Family - a Catholic school in Victoria that combines with Mayer Lutheran and Waconia for hockey - by scoring three goals in the first nine minutes of the second period, turning a 2-1 lead into a 5-1 advantage.
Ninth grader Blake Williamson (9) is congratulated by teammates after his first-period goal gave the Stars a 2-1 lead last week.
Sophomore center Jamie Paul converted on the power play, just 20 seconds into the period, to start the scoring barrage. Junior Andy Schramel scored four minutes later, and junior Nick Dahlen scored midway through the period, ending the scoring for the game.
The Stars took the lead two minutes into the game when junior Kurt Peterson scored from in front of the net on his first shift of the game. Holy Family, though, tied the score at 1-1 a minute later with a rebound goal during a 2-on-1 rush.
Ninth grader Blake Williamson gave the Stars the lead for good with a goal on a shot from the point with four minutes left in the first period.
Dahlen, Peterson, and Schramel also had assists to tally two points each for the Stars, whose record now stands at 9-9.
Senior goalie John Chance stopped 25 of 26 shots to earn the victory in net for the Stars, who outshot Holy Family 45-26.
This week, the Stars hosted Sartell in Richmond on Tuesday. They will host St. Cloud Tech at Richmond on Thursday and will host Sauk Centre on Saturday for an afternoon game. Next week, the Stars will play at Minneapolis Edison on Tuesday, Feb. 17.
| | | | | |
| --- | --- | --- | --- | --- |
| Holy Family-- | 1 | 0 | 0 | - 1 |
| River Lakes-- | 2 | 3 | 0 | - 5 |
Scoring Summary
First Period: RL-Kurt Peterson (Alex Naujokas); HF-Nick Matheson (Ben Smothers); RL-Blake Williamson (Peterson);
Second Period: RL-Jamie Paul (Nick Dahlen); RL-Andy Schramel (Mark Peterson); RL-Dahlen (Schramel);
Third Period: No scoring.
---
Contact the author at editor@paynesvillepress.com • Return to Sports
Home | Marketplace | Community
---