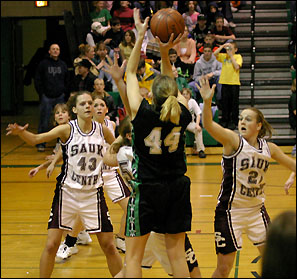 Growing up with three brothers - all wrestlers - Amanda Glenz wanted, more than anything when she was young, to be a wrestling cheerleader in high school.

Luckily for the hoops program, when she tried basketball as a fifth grader, she liked it, and her love for basketball trumped her desire to become a wrestler cheerleader.

Senior Amanda Glenz became the eighth Bulldog basketball player to score 1,000 career points, hitting this 12-foot turnaround jumper against Sauk Centre on Thursday. She is averaging 21 points per game this year for the Bulldogs, who are now 13-5 for the season.

Instead, last week, Glenz became the eighth basketball player in PAHS history to score 1,000 points in a high school career, joining her cousin in the elite club.

Glenz - a senior who is averaging 21 points per game this year, leading both the St. Cloud and Willmar areas in scoring - reached the career milestone on Thursday against Sauk Centre, hitting a turnaround 12-foot jumper a minute into the second half. She finished the game with 1,003 career points.

Reaching 1,000 career points was a personal goal this season for Glenz, the daughter of Brad and Debbie Glenz. "Ever since I started varsity, I wanted to do it," she said about scoring 1,000 career points.

Her first cousin, Tanya Lieser, was the last Bulldogs basketball player to score 1,000 career points, reaching the milestone her senior year, when Amanda was an eighth grader.

PAHS 1,000 Point Club

| | | |
| --- | --- | --- |
| | Years | Total |
| Player | Played | Points |
| Don Liestman | 1955-58 | 1,286 |
| Angie Deegan | 1990-94 | 1,249 |
| JoAnn Kraemer | 1979-82 | 1,103 |
| Tom Notch | 1988-90 | 1,028 |
| Tanya Lieser | 1996-00 | 1,026 |
| Dave Hartmann | 1967-70 | 1,017 |
| Ron Hood | 1949-52 | 1,007 |
| Amanda Glenz | 2001-04 | 1,003* |
*Glenz has at least four games to play in her senior season.
Actually, Glenz would like to beat her cousin, too. "That'd be awesome," said Glenz, who was encouraged by Lieser to reach 1,000 but teased by her not to top her scoring mark. "Just to get on the list is pretty cool."
The list of PAHS players who have scored 1,000 career points is topped by Don Liestman, who scored 1,286 points from 1955-58. The leading scorer in girls' basketball at PAHS is Angie Deegan, who finished her career in 1994 with 1,249 points.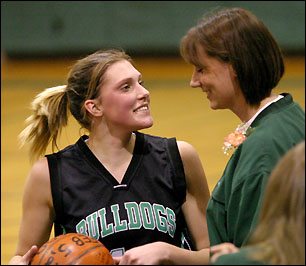 With at least four games to play - three regular season games and at least one playoff game - Glenz could finish in the top five of all-time scorers at PAHS, possibly even higher depending on how well she and the team fare in the playoffs.
Senior Amanda Glenz receives a game ball to mark her career milestone from first-year head coach Jackie Parsley. With 10 points on Thursday Glenz now has 1,003 for her career.
Glenz has played on the varsity for three years. She played with her grade in seventh, eighth, and ninth grade and played a couple games with the junior varsity as a tenth grader. But soon she was moved to the varsity and she averaged 10.6 points per game as a sophomore, tallying 243 points that year.
Last year, as a junior, Glenz averaged 18.1 points per game, scoring 379 points. She had 622 points entering her senior season and has scored 381 points in 18 games so far this season, totaling 1,003 points.
On Thursday, Glenz entered the game against Sauk with 993 career points, needing just seven to reach 1,000. She scored three quick lay-ups in the first quarter, but then Sauk's defense on her tightened. Sauk started double- and triple-teaming her in the second quarter.
"Last night, all I heard was 'Watch 44. Watch 44,' " said Glenz, who wears uniform #44 for the Bulldogs, about Sauk Centre's defense targeting her. "It's like: 'Hey, stop it. I want to play, too.' "
Her only chances to score in the second quarter were an off-balance fastbreak lay-up, which rolled off the rim, and another lay-up where she was fouled, but she missed both free throws. (Glenz still remembers her cousin Tanya scoring her 1,000th career point on a free throw against Albany.)
In the third quarter, Sauk shifted to a zone defense around Glenz, who stepped outside to make the turn-around jumper.
After she made the shot, fans unveiled dozens of signs, and the game was stopped so Glenz could get a game ball, noting her career mark.
Amanda #44 salutes the cheering, banner-waving crowd after reaching her career milestone.
Amanda's dad and her boyfriend Adam Kampsen, a standout on the boys' basketball team, made 56 signs saying, "1,000," which they distributed to fans at Thursday's game. Amanda was completely surprised by their signs. "That was so cool," she said. "I just turned around and all I could see were signs. I couldn't even see people's faces."
She later added a 15-foot jumper against the zone. (Her cousin Brittany Lieser, Tanya's younger sister, helped the Bulldogs beat Sauk Centre by scoring 11 points in the second half.)
With the girls' team now sporting a 13-5 record, their best in years, Glenz has accomplished both of her goals for the season: reaching 1,000 career points and helping the team finish above .500. The team could do much better than that. This week, on Friday, the girls will play at St. Cloud Cathedral; if they win, they will finish second in the conference, behind Albany.
Glenz is relieved to have reached 1,000 points, so she will not have to worry about being so close and not reaching the mark. "It's nice not to worry about scoring anymore," said Glenz. Now, she added, she can focus solely on helping the team.
Glenz thanked coach Jackie Parsley for insuring that she had scoring chances and stayed on pace to reach 1,000 points; her parents for all their support, including two straight years of perfect attendance; and all the fans, especially the die-hard ones in the front row.
Glenz has given a verbal commitment to play basketball next year at Northern State University in Aberdeen, S.D. She will receive a partial scholarship to attend Northern State, which plays in Division II and in the Northern Sun Intercollegiate Conference.
At school, Glenz is also a peer helper, peer tutor, honor roll student, and member of the National Honor Society. She is the vice president of the student council this year and was the Homecoming queen last fall. Her other hobbies include swimming in the summer, hanging out with friends, and keeping the books for her brother's business.
---
Contact the author at editor@paynesvillepress.com • Return to Sports
Home | Marketplace | Community
---