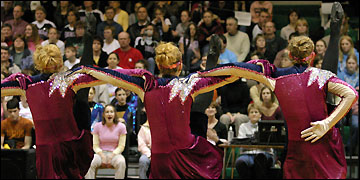 The Paynesville Bullettes - the varsity danceline at Paynesville Area High School - hosted the West Central Conference for what is believed to be the first time on Thursday, Feb. 3.

Senior captain Val Callenius, sophomore Tawny Bengtson, and senior Michelle Magedanz display their high kicks to the crowd on Thursday night at PAHS.

Originally, the conference meet was scheduled for Saturday, Jan. 22, at Montevideo, but it was postponed due to bad weather that day and rescheduled for last week at PAHS.

Over 400 spectators filled one side of the gymnasium bleacers for the conference meet, which featured seven teams. The Bullettes placed fifth in the conference.

The St. Cloud Cathedral Crusaderettes took first, the Montevideo Gold Dusters took second, the Lac Qui Parle Valley Shadows finished third, the Melrose Rosettes took fourth, the Bullettes finished fifth, the New London-Spicer Blackcats took sixth, and the Albany Pawettes were seventh.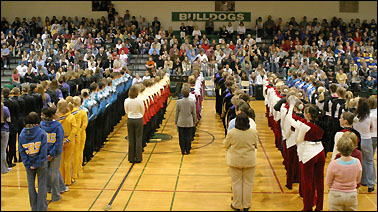 "We are in a tough conference, and we are better because of it," said coaches Jeanne Virant and Barb Werlinger.
Senior captains Val Callenius and Katie Holtzclaw earned All Conference honors for Paynesville. Junior Amanda Skalicky was named honorable mention. All three served as choreographers for the Bullettes' routine, which is performed to "Walk This Way Medley."
Seven teams and probably 400 fans - filling half of the gymnasium - attended the WCC meet at PAHS on Thursday.
Last week, the PAHS danceline also did its annual guy-girl dance on Tuesday, Feb. 1, and this week, the team celebrated parents' night on Monday, Feb. 7.
PAHS danceline team members this year are sophomore Tawny Bengtson, junior Katie Bertram, senior captain Val Callenius, ninth grader Bre Engler, junior Maggie Frieler, junior Kelly Herzberg, senior captain Katie Holtzclaw, sophomore Amanda Lieser, senior Michelle Magedanz, ninth grader Ashley Ogdahl, junior Megan Reeck, sophomore Kayla Rohe, junior Amanda Skalicky, and junior Kacie Wander.
This week, the Dogs will challenge for a state berth at their section meet at Montevideo on Saturday, Feb. 12.
---
Contact the author at editor@paynesvillepress.com • Return to Sports
Home | Marketplace | Community
---