Rally falls short against EV-W
This article submitted by Tanya Lieser on 2/9/00.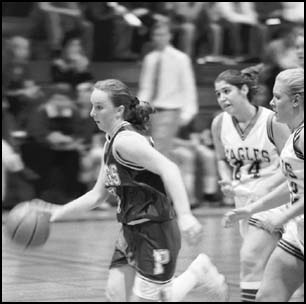 On Tuesday, Feb. 1, Eden Valley-Watkins traveled to Paynesville to play a nonconference game. Down the stretch, EV-W pulled out a win 50-48.

Everything was clicking for the Bulldogs in the first half. They moved the ball around on offense, which led to six assists by four different people.

Steph Krupke had a good half scoring 13 of her team leading 16 points. The Bulldogs had the lead at halftime 28-24.

In the second half, however, the Eagles came out hot and scored 17 points in the third quarter, while the Bulldogs were held to 10.

The Eagles built a 49-40 lead in the fourth quarter, but the Bulldogs managed to rally in the final minutes.

With seven seconds remaining and the Bulldogs trailing 50-48, Carrie Hemmesch drove to the basket, made the shot, and was fouled. The girls and the crowd were fired up, but the call was that the foul was on the floor. The basket was disallowed, and instead of shooting one free throw for the lead, Hemmesch faced a one-and-one, needing both to tie. Hemmesch missed, her only miss from the free throw line, and the Eagles went on to win 50-48.

Leading the Bulldogs was Steph Krupke with 16 points and five assists. Carin Frenchick had 13 points, and Tanya Lieser added 11.

Sophomore guard Stacy Lieser races up the court with the ball, chased by two EV-W defenders.
| | | | | | |
| --- | --- | --- | --- | --- | --- |
| EV-W-- | 14 | 10 | 17 | 9 | - 50 |
| Paynesville-- | 15 | 13 | 10 | 10 | - 48 |
Paynesville 58
LPGE 44
On Friday night, the LPGE Thunder came to town to face the Bulldogs. Paynesville played a good all around game and won 58-44.
In the first quarter, five people scored for Paynesville as they took a 15-11 lead. The Bulldogs increased their lead to double digits in the second quarter by scoring 17 points to the Thunders' 10. The Bulldogs had an 11-point lead at halftime, 32-21.
LPGE came within eight points in the third, but that was as close as it got. Paynesville went on to win 58-44 with four people in double figures.
Leading the Bulldogs was Carrie Hemmesch with a season high 13 points. Carin Frenchick netted 12 points. Stacy Lieser and Tanya Lieser both added 10 points a piece.
Paynesville's next game is at Melrose on Thursday night. Next Tuesday, Feb. 15, they will host Litchfield.
| | | | | | |
| --- | --- | --- | --- | --- | --- |
| LPGE-- | 11 | 10 | 10 | 13 | - 44 |
| Paynesville-- | 15 | 17 | 10 | 16 | - 58 |
---