Stars lose to Morris 4-3
This article submitted by Chris Jacobson on 2/9/00.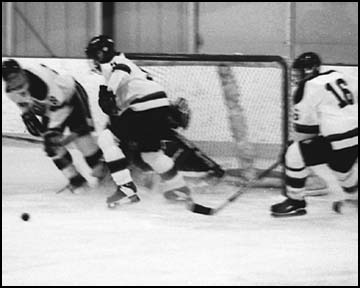 The Stars continued their season with two games this past week, against Sartell on Feb.1, and Morris on Feb. 3. Both games were played away.

The first game against Sartell didn't go very well, but after the first period it was only one to zero, because of a power play goal by Sartell. In the second period, Sartell scored five goals. The Stars didn't get on the scoreboard until the last period, with a goal by Andrew Schmitt. Goalie Adam Hartfiel made 22 saves that night.

Dave Schramel (8), Derek Dahlen (5), and Brett Theisen (16) attempt to break out of the Stars' defensive zone.
| | | | | |
| --- | --- | --- | --- | --- |
| River Lakes-- | 0 | 0 | 1 | - 1 |
| Sartell-- | 1 | 5 | 2 | - 8 |
First Period: S-Nate Araskog ( Jo Lang, Jon Schwenzfeir);
Second Period: S-Steve Costley (Schwenzfeir, Mike Binsfield); S-Araskog (Mike Plombon); S-Araskog (Schwenz-feir, Plombon); S-Plumbon (Stephan Stobe); Costley (Stobe);
Third Period: S-Dan Popowski (Lang, Schwenzfeir; S-Plumbom (Schwenzfeir ,Lang); RL-Andrew Schmitt (Brett Theisen, Derek Dahlen).
Penalties: S-4 for 8 minutes; RL-7 for 34 minutes.
Total shots on goal: River Lakes: 11; Sartell: 30.
Saves: River Lakes: Adam Hartfiel 22; Sartell: 10.
Morris 4, River Lakes 3
The second game of the week went a little better for the Stars. Although the final outcome was a loss, it was a much better, closer, more fun to watch game.
It started off when Junior Brett Theisen scored two goals within the first five minutes of the game. Morris then came back with two to finish off the first period.
Nothing went on the scoreboard in the second period, and in the third, Morris scored two right away to put them in the lead. The Stars scored once with under a minute to play.
Then the Stars had a powerplay opportunity at the end of the game, and in addition, pulled the goalie to make it six on three. But the Tigers managed to hold off the attempt and put the game away, four to three, in favor of the Tigers.
Senior Eric Hartfiel had two assists, junior Brett Theisen had two goals and one assist, and goalie Adam Hartfiel had 15 saves.
The next three games in the Stars' schedule are all at home. This Thursday at Richmond, and the next two are in Paynesville on Feb. 12 and 16, so show your team spirit and join in on the fun!
| | | | | |
| --- | --- | --- | --- | --- |
| River Lakes-- | 2 | 0 | 1 | - 3 |
| Morris-- | 2 | 0 | 2 | - 4 |
First Period: RL-Brett Theisen (unassisted);, RL-Brett Theisen (Eric Hartfiel); M-Erkren (McNally, Johnson); M-Ziener (unassisted);
Second Period: no scoring;
Third Period: M-Johnson ( McNally, Ekren); M-Mohr (Kukla, Kieffer); RL-Dave Schramel (Hartfiel, Theisen).
Penalties: RL-7 for 14 minutes; M-9 for 18 minutes.
Total shots on goal: River Lakes: 29; Moris: 19.
Saves: River Lakes: Adam Hartfiel 15; Morris: 26.
---