The Bulldogs boys' basketball team put a scare into state-rated New London-Spicer last week, before falling to the conference-leading Wildcats 60-47 on Tuesday, Jan. 31.

After a high-scoring, up-and-down-the-court first half, the Cats led 39-37. They pulled away in a low-scoring second half, limiting the Dogs to 10 points and winning 60-47.

Junior Cory Nietfeld scored a putback basket for the Dogs on their first possession of the second half, tying the game 39-39, but the Dogs went without scoring for the next seven minutes, as the Wildcats slowly built their lead to 44-39.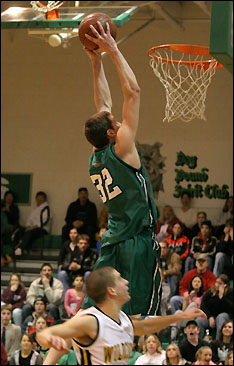 Nietfeld made a free throw, and senior Derek Stanger made a putback basket after a missed free throw with just over 10 minutes to play to get the Dogs within 44-42. From there, though, the Wildcats limited the Dogs to one point over the next eight minutes to rebuild their lead to 52-43 before Nietfeld completed a three-point play with two minutes to go.
Junior Cory Nietfeld got his second dunk of the season on Tuesday, Jan. 31, highlighting a 14-0 run by the Dogs in the first half against NL-S. The Dogs, however, lost to the Wildcats, rated fifth in Class AA, 60-47.
The Dogs had a chance to cut into the Wildcats' six-point lead at that point after an NL-S turnover but promptly turned the ball back over to the Wildcats, who went four for four on free throws and added two layups to win 60-47.
"The second half was different for both teams. They scored 21 points, but we only managed 10 going three for 18 from the field," said coach Phil Carlson. "The game was tight throughout the second half until they hit some key free throws and shots to seal it. We were disappointed to let this game get away, but we will come back strong from this."
The Cats played most of the second half without star senior Todd Hermann, who was in foul trouble before fouling out with 90 seconds to play. The Bulldogs, however, missed junior Ben Moser, who sprained his ankle, in the second half, and senior Aaron Braun fouled out with just under seven minutes to play (as did junior Elliott Wall in the final minute).
In the first half, the Bulldogs had a 7-0 run to take an 8-2 lead, but the Wildcats, rated fifth in Class AA, responded with a 17-2 run to take a 19-10 lead.
NL-S increased that lead to 30-15 midway through the first half.
The Bulldogs answered with a 14-0 run of their own, highlighted by a dunk from Nietfeld with just over seven minutes to play in the half. That cut NL-S's lead to 30-19, and the Dogs followed with ten straight points, holding NL-S scoreless for five minutes.
NL-S led 32-29 after breaking the Dogs' scoring run, but then the Dogs scored two straight hoops to take a 33-32 lead, concluding an 18-2 run for the Dogs. NL-S, though, finished the half with a 7-4 run and ended the first half leading 39-37.
"We came out strong," Carlson said, "then dug a hole, then roared back to take the lead. It was an exciting first half with lots of action. We got some excellent play from (junior) Elliott Wall, (senior) Mark Andrie, and (senior) Aaron Braun to spark our team not to mention a huge dunk by Cory Nietfeld that ignited everyone."
Nietfeld scored a game-high 17 points against NL-S.
The Wildcats also beat the Dogs 80-59 at NL-S in December.
This week, the Dogs (6-9) hosted Howard Lake-Waverly on Tuesday. They will also host St. Cloud Cathedral on Thursday in another conference game. Next week, the Dogs will travel to Long Prairie to play LPGE on Tuesday, Feb. 14.
| | | | |
| --- | --- | --- | --- |
| NL-S-- | 39 | 21 | - 60 |
| Paynesville-- | 37 | 10 | - 47 |
SCORING: (FG-FT/FTA-PTS)
New London-Spicer 60 - Brian Pieh 3-3/5-11; Tim Dreier 3-4/5-10; Nick Carlson 4-1/2-9; Todd Herman 4-0/1-9; Wade Wessling 4-1/2-9; Justin Haats 2-2/5-6; Mike Danielson 2-0/0-4; Ben Sletta 0-2/2-2; TOTALS: FG 22, FT 13/22, 3's 3.
Paynesville 47 - Cory Nietfeld 7-3/8-17; Aaron Braun 3-2/2-8; Elliott Wall 4-0/2-8; Mark Andrie 2-0/0-5; Ben Moser 2-0/0-5; Derek Stanger 1-1/2-3; Nathan Nietfeld 0-1/2-1; TOTALS: FG 19/49, FT 7/16, 3's 2.
STATISTICS: 3-pointers - 2 Andrie 1; Moser 1; Rebounds - 31 Cory Nietfeld 8; Braun 7; Stanger 5; Assists - 10 Andrie 3; Wall 3; Steals - 8 Wall 3; Moser 2; Cory Nietfeld 2; Blocks - 4 Cory Nietfeld 3.
Melrose 80, Paynesville 62
Melrose outscored the Bulldogs 48-19 in the first half and beat the Dogs in a conference game on Friday in Melrose 80-62.
The Dogs outscored Melrose 43-32 in the second half but still lost 80-62. "Melrose had a great first half, and we did not," said coach Phil Carlson. "We settled down in the second half and played better, but it was too late."
Melrose, in second place in the West Central Conference North behind NL-S, swept the season series from the Dogs, having beaten them 74-50 in early January.
Junior Cory Nietfeld led the Dogs with 20 points and 10 rebounds. Senior Derek Stanger added 12 points for the Dogs, who fell to 3-7 in the WCC North.
| | | | |
| --- | --- | --- | --- |
| Paynesville-- | 19 | 43 | - 60 |
| Melrose-- | 48 | 32 | - 80 |
SCORING: (FG-FT/FTA-PTS)
Paynesville 62 - Cory Nietfeld 8-4/6-20; Derek Stanger 4-3/5-12; Nathan Nietfeld 3-1/2-9; Mark Andrie 1-4/4-6; Sam Bayer 1-2/2-4; Elliott Wall 2-0/0-4; Aaron Braun 1-1/1-3; Trent Hansen 1-0/0-2; Ted Hoffman 0-2/2-2; TOTALS: FG 21/60, FT 17/22, 3's 3.
Melrose 80 - Curt Bertram 8-4/4-20; Seth Gieske 3-4/4-13; Isaac Barten 5-0/1-12; Matt Moorman 4-3/4-11; Josh Meyer 2-1/1-5; Danny Beste 2-0/2-4; Jaron Van Drehle 2-0/0-4; Brad Weihoff 2-0/0-4; Justin Weisbrich 0-4/4-4; James Rosen 1-0/0-2; Peter Herkenhoff 0-1/2-1; TOTALS: FG 29, FT 17/22, 3's 5.
STATISTICS: 3-pointers - 3 Nathan Nietfeld 2; Stanger 1; Rebounds - 37 Cory Nietfeld 10; Bayer 6; Stanger 5; Wall 5; Assists - 15 Nathan Nietfeld 3; Stanger 3; Steals - 16 Cory Nietfeld 3; Nathan Nietfeld 3; Wall 3; Andrie 2; Blocks - 5 Braun 3.
---
Contact the author at editor@paynesvillepress.com • Return to Sports
Home | Marketplace | Community
---