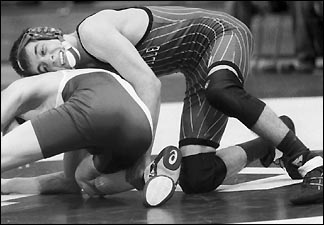 Senior wrestler Jeremy Sogge moved into second place on the Bulldogs' career victory list on Saturday morning in impressive fashion, pinning state-rated Adam Bertram of West Central Area. The victory was Sogge's 29th of the season and 158th of his career, moving him past Greg Schwartz ('91) into second on the all-time victory list.

Senior Jeremy Sogge beat Sauk Centre's Kurt Haakinson by major decision for his 159th career victory on Saturday. Sogge now has career 160 victories, second all-time and trailing only his former teammate, David Kerzman.

Sogge (31-2) added two more victories on Saturday as the Bulldogs won the Paynesville Duals, and now has 160 for his career. He trails only David Kerzman ('01), who had 178 victories.

Sogge broke into the varsity lineup as an eighth grader at 103 and started his senior season with 129 wins. His career record is now 160-37, but he's not counting.

"I'm not in it for the records," he explained. "I'm just out there to have fun and, hopefully, help the team. The records don't mean much. It's all about the team."

Jeremy, the son of Jim and Kathleen Sogge, has helped the Dogs to a 26-2 record this year and to the #2 rating in Class AA in the state. He placed third individually in Class A as a sophomore at 119 and second as a junior at 125 last year.

During his five years on the varsity, Jeremy has participated on three state teams, including the Bulldogs' championship team in 2000. He hopes to help the team back to state in 2002. "Everybody means the same to the team," he said. "Records don't win you matches." Doing well individually, though, and helping the team can lead to career records, he admits.

Jeremy started wrestling at home, literally before he could walk. His dad wrestled for Sauk Centre in high school, where he was an individual state entrant. "All his brothers were wrestlers. It was a family thing," explained Jeremy.

It became a family thing for Jeremy and his older brother Chris, too. Jeremy started going to youth wrestling practices in Litchfield with Chris, when Chris was five and Jeremy was three. Jim was a volunteer coach, and Jeremy got a two-year head start on wrestlers his age.

His wrestling education continued at home as well, against Chris. "Whenever we'd wrestle at home, we'd always go really hard," said Jeremy. "We'd half wrestle and half fight. In Jaycee wrestling if I had a tough guy, my dad would tell me to pretend it was Chris so I would work harder."

Younger siblings get tougher by competing against older siblings, Jeremy said. Jeremy credits Chris, an individual state placewinner as well, for always pushing him.

Jeremy, like Chris, uses an aggressive style and never-say-die attitude to great success on the wrestling match. "He'll do anything to find a way to win," explained coach Virg Vagle. "He's very competitive."

Jeremy and Chris were both fearless on the mat, according to Vagle, always wrestling aggressively. It may have cost them at times, but proved to be a winning style overall.

"He's been an outstanding wrestler all through the years," said Vagle, who added that Jeremy is very likeable and has been fun to coach.

For the past two years, Jeremy has been one of the vocal leaders on the wrestling team. Often he can be seen cheering on his teammates, whether from the bench in a team dual or by the coaches' side during an individual tournament. "When I was younger, it always meant a lot to me to have an older guy help me," he explained. "So I just remember how I felt and help someone else. I try to lead by example."

"He's the fireball," agreed Vagle of Jeremy's vocal role on the team. "He'll lay it on the line himself and expects others to do the same."

Jeremy moved to Paynesville with his family in kindergarten. "Paynesville has always had a real good wrestling program," he said. "I was just lucky to move here and fall into it." His family - parents, brother Chris, sister Rachel, and even grandparents Jerry and Anne - can be seen at most of his meets supporting him these days, support which he appreciates greatly.

Wrestling takes commitment. "Virg pushes us to where we almost want to give up," he said, "but in the end it just makes us tougher."

"That's what wrestling is," he added. "You work hard for months and go out and win or lose in a matter of seconds."

Besides his more immediate goals for this wrestling season, Jeremy hasn't decided on his future plans. He is considering attending college and might want to become a teacher and coach. Or he might join his dad and his brother in the family construction business.

And as for those wrestling matches in the family living room, these days wrestling between the full-grown Sogge brothers poses a great danger to the house, and their mother is quick to stop it, according to Jeremy. "Now we don't even get into the first period and my mom is already yelling at us," he said. "It's usually a tie score when we wrestle at home."
---
Contact the author at paypress@lkdllink.net • Return to Sports
Home | Marketplace | Community
---