Senior wrestler Adam Christian reached 100 career wins on Saturday, fulfilling the personal goal he has held for four years.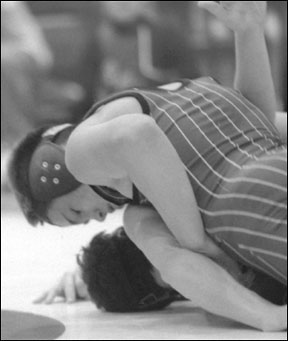 As a ninth grader, Christian saw then senior Chris Welle reach 100 career wins and set that as a goal for himself. "I really wanted it after that," said Christian.
Christian, now 23-2 for the season, got his 100th victory on Saturday in his first match at the Paynesville Duals. He pinned Mike Rygh of Milaca's junior varsity in 1:56 for his 100th win, then added his 101st and 102nd wins as the Bulldogs went undefeated and took first place.
Senior Adam Christian got his 100th career wrestling victory on Saturday. Christian, now 23-2 for the season, is 102-46 for his career.
He became the 25th Bulldog wrestler to reach 100 career wins. "I was waiting for it," said Christian, who entered his senior season with a record of 79-44 and is now 102-46 for his career. "That was my main goal (this season)."
Christian, the son of Pat and Vonda Christian, has wrestled for four years on varsity, starting at 103 pounds as a ninth grader during the 1999-2000 season. Since he did not start wrestling until the fifth grade and then made the jump from junior high to varsity as a ninth grader, it was a difficult move, he said. He went 19-23 with nine pins, but helped that team win the school's fourth state title in wrestling.
As a sophomore, Christian wrestled at 112 and helped the team earn another state berth, placing fourth in Class A. He went 32-14 with 19 pins and earned a state berth individually at 112 but did not place.
"His sophomore year, he just made a remarkable improvement," said head coach Virg Vagle. "He got a lot of wins and became a mainstay in our lineup."
Last year, as a junior, Christian wrestled at 125 and 130 and placed third in sections at 130. He was 28-7 with 15 pins as a junior.
He is currently ranked 10th in the state in Class AA at 135 pounds and has his sights set on another state trip, both as an individual and a team.
"I really want to go back to state as an individual," he said. "I think we have the ability to go to state as a team; it's just how we wrestle against Litch."
The Bulldogs are rated #3 in Class AA but face a tough section with Litchfield, rated #5 in Class AA, and Dassel-Cokato, rated #15.
Vagle describes Christian as an aggressive wrestler whose strength is on his feet. Vagle said he is extremely quick, strong, and balanced with lots of natural ability.
He has three brothers who also wrestle: ninth grader Andrew, seventh grader Jordan, and first grader Jonah.
Christian is the second wrestler to reach 100 career wins this season. Senior Marty Engen reached 100 wins in December. Senior Ryan Glenz, who is 18-6 so far this year, started the season with 66 wins and would need 16 more this season to reach 100 career wins, which he could reach at state, depending on how he does individually and how the Bulldogs fare as a team.
---
Contact the author at editor@paynesvillepress.com • Return to Sports
Home | Marketplace | Community
---