Sophomores Sean Glenz and Joel Kerzman earned individual conference championships as the Bulldogs wrestling team finished third in the combined conference meet on Saturday at NL-S.

In previous years, both the north and the south divisions have held separate conference tournaments in wrestling, but this year all 11 teams combined to have one meet.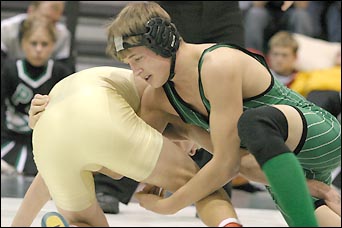 Minnewaska, the dual meet champ in the south, won the tournament with 213.5 points. Sauk Centre, the north champion, was second with 190.5. Both are state ranked in Class AA.
Paynesville was third with 156.5 points, followed by LPGE and Morris Area.
Sophomore Sean Glenz (25-0) won the West Central Conference title at 140, pinning all three of his opponents on Saturday at NL-S. He earned All Conference honors for the second straight year.
The larger tournament provided tougher competition. Last year, in the five-team north tournament, 13 of 14 Bulldogs placed third or better and nine earned All Conference honors by placing second or first.
This year, six Paynesville wrestlers earned All Conference honors: Glenz, Joel Kerzman, senior Matt Kerzman, senior Pat Utsch, junior Josh Tebben, and senior Derek Burris.
Kerzman, now 21-4, won three matches at 135, one by pin, to claim his title. Glenz, still undefeated at 25-0, recorded pins in all three matches to win at 140.
Both earned All Conference honors a year ago, too, by finishing as runners-up, Glenz at 130 and Kerzman wrestling up at 152.
Three Bulldogs finished third, also earning All Conference honors. Matt Kerzman won three of four matches at 145, losing 11-10 in the semifinals, and took third. Tebben, at 215, and Burris, at 275, rebounded from opening losses and each won three matches in the consolation bracket to take third.
Utsch was fourth at 189 to earn All Conference honors.
In all, nine Bulldogs placed in the tournament. Junior Jack Mueller was fifth at 130, junior Todd Thielen was sixth at 119 and sophomore Keith Klein was sixth at 152.
This week, the Bulldogs will wrestle at Osseo on Thursday. They will host the Paynesville Duals on Saturday with three rounds of wrestling starting at 9:30 a.m. Participating teams are ACGC, Hutchinson, Milaca, New Ulm, Paynesville, Perham, Renville County West, and Sauk Centre.
Team scores
1. Minnewaska 213.5
2. Sauk Centre 190.5
3. Paynesville 156.5
4. LPGE 131.0
5. Morris Area 123.5
6. Benson 118.0
7. Montevideo 103.5
8. Albany 91.0
9. Lac Qui Parle Valley 89.0
10. Melrose 72.5
11. New London-Spicer 40.0
Individual Results
103-Jordan Christian (P)...lost 12-0 to Brock Kanstrup (LQPV)...won 17-0 by tech. fall over Kyle Feuchtenberger (Mor) ... lost 7-5 to David Bond (Min)...Did Not Place;
112-Andrew Christian (P) ...pinned by Joe Swartz (Min), 1:44 ...won 4-1 over Kyle Wensmann (Mel)... lost 8-0 to Brady Lee (B)...Did Not Place;
119-Todd Thielen (P)...lost 17-7 to Jacob Nohl (Mor)...won 8-4 over Tyler Kanten (Mon)...pinned by Alex Plantenburg (A), 2:01...lost by default to Brad Hartigan (SC)...Sixth Place;
125-Aaron Burris (P)...lost 15-0 to Eric Schoenberg (Mel)...pinned Brady Pearson (NL-S), 1:54...lost 14-5 to Cass Kreitlow (Min)...Did Not Place;
130-Jack Mueller (P)...lost 3-1 to Adam Luberts (NL-S)...pinned Kyle Tadd (Mon), 3:34...lost 7-0 to Alex Nelson (Mor)...pinned Kurt Schlangen (A), 2:49...Fifth Place;
135-Joel Kerzman (P)...pinned Kody Kramer (Mor), 0:54... won 8-2 over Jake Zeis (LPGE)...won 6-4 over David Carruth (LQPV)...First Place;
140-Sean Glenz (P)...pinned Tyler Toop (Min), 1:06...pinned Mike Hoffman (Mor), 2:36...pinned Kevin Wersinger (B), 3:50...First Place;
145-Matt Kerzman (P)...pinned Tim Pillatzki (B), 0:42...lost 11-10 to Cody Pahan (Min)...pinned Patrick Williamson (Mon), 0:14...pinned Mike Eveslage (Mel), 2:17...Third Place;
152-Keith Klein (P)...won 6-2 over James Gallagher (Mon)...lost 14-4 to Mitch Ainaloi (LPGE)...pinned Glen Voit (Mel), 4:02...pinned Joe Stenzel (NL-S), 0:33...lost 7-0 to Jake Uphus (SC)...lost 1-0 to Ainaloi...Sixth Place;
160-Aaron Bachman (P)...pinned by Scott Thompson (B), 2:55...won 13-0 over Jordan Baldwin (Mon)...lost 9-3 to Matt Meyer (A)...Did Not Place;
171-Jordan Spaeth (P)...pinned Lee Norstedt (NL-S), 3:03...pinned by Tom Pauling (Mon), 1:50...lost 4-3 to Justin Foote (Mel)...Did Not Place;
189-Pat Utsch (P)...pinned Trent Lustfield (B), 3:11...lost 4-2 (OT) to Aaron Blackmore (A)...won 1-0 over Brain Croatt (LPGE) ...lost 5-4 to Casey Boutain (Min) ...Fourth Place;
215-Josh Tebben (P)...pinned by Nathan Stoen (Min), 1:35...won by default over Tyler Giese (B)...pinned Josh Pesta (LPGE), 4:57... pinned Weston Wander (SC), 1:27...Third Place;
275-Derek Burris (P)...pinned by Jeff Dirkes (A), 2:17...pinned Lance Holden (NL-S), 1:16...pinned Matt Groetsch (SC), 4:16...pinned Abe Jergenson (Min), 1:25...Third Place.
---
Contact the author at editor@paynesvillepress.com • Return to Sports
Home | Marketplace | Community
---