Wrestlers lose to state power; win WCC championship
This article submitted by Zac Spates on 2/4/99.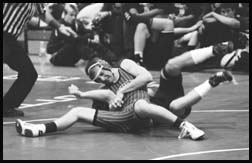 On Saturday, Jan. 30, the Paynesville Bulldogs hosted their last tournament of the season. With state-rated teams like Milaca, St. James, and Paynesville, the tournament sure was going to be exciting.

Milaca got the first seed in the tournament, and Paynesville got the second. With this news, Paynesville knew they had to get through a tough St. James squad before they faced Milaca.

Paynesville - 55
Kimball - 03
For the first round, Paynesville faced Kimball. At 103 and 112, Nate Glenz and Jeremy Sogge started the team off with a couple of first period pins. Soggeís opponent was 21-2 for the season, but dropped to Sogge in 1:16.

At 119, Max Meagher continued the Paynesville domination and decisioned his opponent 6-2.

David Kerzman pinned his opponent at 125, and Josh Schreifels and Justin Mueller recorded a decision and a major at 130 and 135, respectively.

Chris Welle came in at 140 defeating his opponent 17-7. Welleís opponent was also 21-2; a brother to the 112 pound wrestler that Sogge pinned.

At 145, Joe Hiltner wrestled a very tough opponent and only lost 4-1. Hiltnerís wrestler was state rated, like Welleís opponent.

At 152 and 160, Chris Sogge and Zac Spates both defeated their opponents, with Sogge recording a pin and Spates a decision.

Karl Sanborn wrestled at 171 and defeated his opponent 13-2. Josh Bork followed at 189 recording the same major decision, 13-2.

Matt Brauchler finished the team off with a :30 second pin and leaving Paynesville with a 55-3 win. This advanced Paynesville to the semifinals against St. James.

Paynesville - 30
St James - 20
In the second round against St. James, Nate Glenz and Jeremy Sogge once again started Paynesville off with two wins. Glenz recorded a 6-1 decision, and Sogge recorded a 5-0 decision.

At 119 and 125, St. James struck back and recorded a technical fall and a decision, to lead 8-6. At 125, David Kerzman wrestled a very tough wrestler and only lost by one point. This match stunned Paynesville, since Kerzman is one of Paynesvilleís toughest.

At 130, St. James recorded a pin, but at 135 Paynesville struck back with Justin Mueller recording a decision.

Joe Hiltner went out at 140 and recorded an 8-2 decision bringing Paynesville within two points of St. James. St. James struck back at 145, with Chris Welle losing to a fierce opponent 3-2. With Chris Welle and David Kerzman both with losses, Paynesville was starting to sweat.

With five matches left and Paynesville behind 17-12; the Bulldogs knew they had to get at least three of the next five matches.

Chris Sogge started it off at 152, recording a :45 second pin for Paynesville.

St. James struck back at 160, beating Zac Spates in a 4-3 decision. At 171, Karl Sanborn defeated a very tough St. James opponent to bring the score to 21-20 in favor of Paynesville.

At 189 and Hwt., Josh Bork and Matt Brauchler both came through with two very important wins. Bork defeated his opponent 2-0, and Matt pinned his in one minute. These two wins boosted Paynesville to a great victory over St. James. The end result of that match was 30-20.

Paynesville just got done with a tense match, their future opponents didnít have such a tough time. Milaca defeated their opponents 36-17, and Paynesville knew this was going to be a tough match.

Paynesville - 26
Milaca - 28
At 103 and 112, Nate Glenz and Jeremy Sogge started it off for the Bulldogs once again with two wins. Both Glenz and Sogge were undefeated for the day. Glenz recorded a major decision and Sogge a pin.

At 119, Max wrestled a tough opponent, but saved Paynesville some points; he kept the match to a decision, leaving Milaca with only three points.

At 125, David Kerzman pinned his opponent, but Milaca struck back at 130 with a decision. Josh Schreifels wrestled a great match, leaving Milaca once again with only three points.

At 135, Justin Mueller wrestled Josh Woodworth. Woodworth was un-defeated for the year, and Justin gave him a run for his money. Justin barely lost the match 6-5.

At 140, Chris Welle decisioned his opponent 9-4. This brought the team score to 19-9.

Paynesville was ahead by ten points, but they knew that the next six matches were going to be tough. At 145, Joe Hiltner wrestled a state-rated kid and only let Milaca record a major.

At 152, Chris Sogge bounced back for Paynesville and recorded a 11-2 major decision. Milaca would not let Paynesville get too far, and they recorded a pin at 160, with one of their state-rated kids.

At 171, Karl Sanborn took on a tough wrestler and decisioned his opponent 4-2. Josh Bork, at 189, wrestled very tough and lost his match only by three points.

With the team score of 26-22 at the end of 189, Paynesville knew they definitely needed this match at heavyweight to win the tournament.

Matt Brauchler went out at heavyweight and wrestled great. He was beating his opponent by 13 points before he got caught on a roll through. He struggled to get out and was caught with a pin. Milaca edged out Paynesville 28-26, but not without sweating bullets.

Paynesville had a fine showing, leaving the tournament with second place. The undefeated wrestlers for the day were Nate Glenz, Jeremy Sogge, Chris Sogge, and Karl Sanborn.

West Central Conference Championship
On Thursday night, Jan. 28, the Paynesville Bulldogs hosted the West Central Conference Team Championship. With Paynesville the West Central North winners, they faced the Southís winners, Minnewaska.

Paynesville wrestled great against a tough Minnewaska squad, leaving Waska stunned with a loss by 19 points to Paynesville. Paynesville recorded 40 points compared to Minnewaskaís 21.

---