Two state champions in Supershot contest
This article submitted by Michael Jacobson on 2/4/99.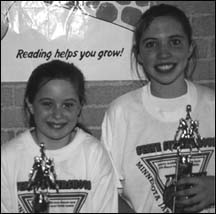 In the state Supershot competition in Buffalo Saturday, two Paynesville girls took first place in their grade.

Kirsten Miller (left), daughter of Steve and Amy Miller, was the fourth grade girls champion with a score of 24. Marissa Mackedanz took seventh place in the same grade with a score of 11.

Brooke Schmitz (right), daughter of Jim and Brenda Schmitz, was the other state champion from Paynesville. Competing in the fifth grade girls division, Brooke did not miss a shot and scored 35, the highest score in grades four through seven. Leann Nepsund placed tenth in that division with a score of 13.

Paynesville placed two boys in both sixth and seventh grade. Mitchell Mackedanz placed tenth in the sixth grade by scoring 23. Chris Beier, despite a broken finger, placed 12th with 12 points.

In seventh grade, Trevor Stanger placed seventh with 28 points. Ross Jaeger placed 13th with 17 points.

The Supershot competition uses a weighted scoring system, depending on the distance of the shot. The event is timed, and athletes must shoot at least once from seven locations.
---