On Friday, senior Sean Glenz broke the school record for most career wrestling victories. Glenz, now 28-1 this year, has 179 wins in six varsity seasons, breaking the record set by David Kerzman in 2001.

Kerzman, a two-time state champ and now an assistant coach, finished his five-year varsity career with a record of 178-21. Glenz is now 179-49, with 15 to 20 matches to go this season, depending on how he and the team fare come playoff time.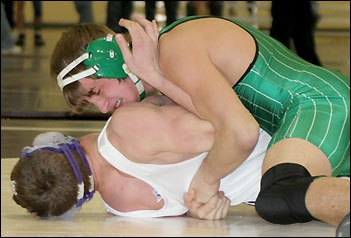 "It's like time flew past really fast. It seems like yesterday that I was a seventh grader getting my butt kicked and now I break Dave's record," said Glenz. "I don't have words to describe it."
Senior Sean Glenz broke the school's career record for wrestling victories on Friday night by pinning his way to the WCC North title at 152. With six seasons on varsity, his career record now stands at 179-49, passing assistant coach David Kerzman's old record of 178 wins. It also was Glenz's 100th pin in the finals on Friday.
It was nice having Kerzman - his teammate as a seventh grader - at the conference meet in Albany when he broke the record, said Sean. Kerzman did not say much - just "proud of you" and "good job" - said Sean, who admitted teasing his coach a little as the record approached.
The record "got closer and closer," he explained. "I couldn't believe it." Now he is ranked atop the career victory leaderboard, with "guys I've looked up to my whole life," he said. "Guys that I wanted to be."
Sean grew up in a wrestling family: his dad Mike is a longtime youth coach, his mother Deb is a longtime wrestling club supporter, his older sisters Michelle and Julie were wrestling cheerleaders, and his older brother Ryan was a standout wrestler for the Bulldogs.
Sean started wrestling before kindergarten, and he has always thought it was fun. He played hockey, too, but soon quit because he liked wrestling so much better.
"He's dedicated to the sport," said head coach Tim Woehler. "He's spent most of his life doing it."
Sean still wrestles with his father and brother in the house, he said, mostly in the living room but there are really no boundaries. "There's not a day that goes by that we're not wrestling," he explained.
Woehler praised Glenz's aggressive style, his wrestling smarts, his variety of moves, and his mat sense as keys to his success. His agressive stylem is fun to watch, and Glenz has really improved in wrestling on his feet, he added.
That aggressive style didn't come right away on the varsity mat, and Glenz credits it for much of his success. As a seventh grader, Glenz had a tough year on varsity, despite the team making it to state. Weighing 95 pounds, wrestling at 103, going 17-21 on varsity, "I learned a lot that year," Sean said.
"They say you learn more from a loss than a win," he continued. Looking back, he thinks his lack of confidence was just as much a hindrance as his limited arsenal of moves as a seventh grader. He'd be afraid of opponents, and "that's how I'd lose."
Now he describes his style as being aggressive, using a variety of moves, and trying to stay one step ahead of his opponent. "When you are scared, you have no chance to win," he said, recalling his younger days. "Once (opponents) fear you, the match is over."
He learned lots of defense as a seventh grader and started to get more aggressive as an eighth and ninth grader. He went 29-12 as an eighth grader at 112 and qualified for state, and he went 25-11 as a ninth grader at 125 and qualified for state. As a sophomore, he was undefeated (39-0) until the state tournament and finished 41-2 at 145.
Last year, as a junior, Sean went 39-2 and was the Class A state champ at 145, becoming the ninth wrestling state champion for the Dogs.
Winning the state title last year is his favorite individual memory from wrestling. As a team, it's watching his teammates improve and going to state with five teammates last year, he said.
This year, he wants to make it back to state again and win another individual title (which would match Kerzman with two state titles), and he would either like the team to get to state or as many individuals as they can, so his friends can experience how cool it is to wrestle "in front of 10,000 people," he said.
If he makes it back to state this year, he will be the first wrestler to qualify for state individually five times. (He also will have wrestled at state all six years of his varsity career, having been a team member as a seventh grader.)
For Glenz, wrestling combines the opportunity to excel as an individual and to be part of a team.
The other wrestlers, he said, are like having another family. Wrestlers not only rely on their teammates for practice - unlike, say, basketball where you can practice your shooting and dribbling skills by yourself, to practice wrestling moves you need a partner - but for moral support during the long season, whether after a loss or while cutting weight.
Out on the mat, though, is a chance for individual success. "You're out on the mat alone. If you lose, there's no one to blame but yourself," he explained. "You're doing something on your own. You can't beat the feeling of winning and going back to the team, who are just as excited."
Sean describes himself as very competitive, hating to lose, even in practice. "You have to have that (edge)," he said. "If you never want to lose, that's the best thing you can have." Then, even if you do lose, he explained, you will strive to improve so you can avoid it the next time.
Glenz wants to thank his family for always being there for him, his friends and fans for supporting him, and his teammates and coaches for making him better. He has also been fortunate to have stayed healthy throughout his career.
The cancellation of the conference tournament last year probably cost Glenz a chance at 200 wins, said Woehler. Glenz is at the top or near the top of the school records in a number of categories, including pins. He recorded his 99th, 100th, and 101st career pins on Friday, and now is one behind 2002 grad Jeremy Sogge and 12 behind Kerzman.
Prior to Kerzman holding the career victory record among Bulldog wrestlers, 1991 grad Greg Schwartz (157-29-5) held the mark for a decade. Before that, 1978 grad Tim Burr and 1979 grad Steve Fuchs (120-16-3) held the school record for 11 years and 12 years respectively.
Without his seventh grade season (17-21), Glenz's winning percentage would rank first in school history among the 26 wrestlers who have won 100 career matches, Woehler added. Without his seventh grade season, he would be 162-18 for a winning percentage of .900, topping current leaders Kerzman (.894) and 1992 grad Brad Fenske (.891). And Glenz would still have a chance to break the school record for career wins.
Instead, at 179-49, Glenz has a winning percentage of .785 so far.
Glenz - who plans to wrestle in college but is waiting until after the state tournament to pick a school (hopefully with a scholarship offer) - said he hopes somebody will break his record someday, as that means the PAHS wrestling program is continuing to do well. "The more records that get broke the better," Glenz said.
---
Contact the author at editor@paynesvillepress.com • Return to Sports
Home | Marketplace | Community
---