The River Lakes Stars girls' hockey team evened their season record with a 4-1 nonconference victory over Fergus Falls on Thursday in Paynesville.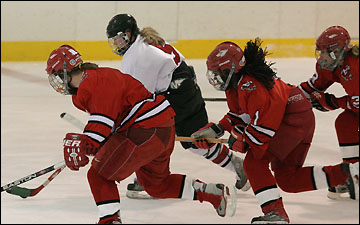 The Stars never trailed in the game, building a 4-0 lead before allowing the visiting Otters to score late in the third period.
Eighth grader Jenn Paul eludes a host of defenders while bringing the puck through center ice in January for the River Lakes Stars. Last week, Paul had four assists, three in a 4-1 win over Fergus Falls and one in a 4-4 tie with Sartell/Sauk Rapids.
Senior center Amber Schulzeten-berge scored the first two goals for the Stars, giving River Lakes a 1-0 lead with a goal with two minutes left in the first period and then scoring again midway through the second period.
Sophomore forward Abbie Rhoda also scored for the Stars in the second period, increasing their lead to 3-0.
Senior center Allie Stalboerger completed the Stars' scoring with a power-play goal with seven minutes to play, making it 4-0.
Fergus Falls finally found the net with four minutes to play.
Junior goalie Kacey Nyberg stopped 24 of 25 shots for the Stars in net.
Schulzetenberge (two goals and an assist), Rhoda (a goal and two assists), and eighth grader Jenn Paul (three assists) led the Stars with three points each.
With the win, the Stars improved to 10-10-3 this season.
This week, the Stars hosted Alexandria in their last conference game on Tuesday at the River Lakes Arena in Richmond. On Thursday, the Stars will play at Litchfield.
| | | | | |
| --- | --- | --- | --- | --- |
| Fergus Falls-- | 0 | 0 | 1 | - 1 |
| River Lakes-- | 1 | 2 | 1 | - 4 |
Scoring Summary
First Period: RL-Amber Schulzeten-berge (Marie Omann), 1:43;
Second Period: RL-Schulzetenberge (Abbie Rhoda, Jenn Paul), 10:03; RL-Rhoda (Paul, Schulzetenberge), 3:52;
Third Period: RL-Allie Stalboerger (Paul, Rhoda), 7:20 (pp); FF-Megan Sjolie, 3:59 (pp).
River Lakes 4, Sartell/SR 4
Senior center Marie Omann scored with two seconds left in regulation to give the Stars a 4-4 tie with Sartell/Sauk Rapids on Tuesday, Jan. 24.
The Stars trailed 4-3 after Sartell/ Sauk Rapids scored with seven minutes to play. Omann's power-play goal in the waning seconds tied the road game for the Stars, who had to settle for a tie after playing a scoreless overtime period.
The tie was the Star's third of the season, all against conference opponents. Sartell/Sauk Rapids and River Lakes also played to a 3-3 tie in December in their first conference game.
After Sartell/Sauk Rapids scored the first goal midway through the first period, Omann scored a power-play goal with six minutes to play in the first period, tying the game at 1-1.
Sophomore Alyssa Kemper and junior Tori Aretz two minutes apart early in the second period to give the Stars a 3-1 lead (with Omann having assists on both scores). But Sartell/Sauk Rapids scored twice in a 20-second span later in the period to tie the game at 3-3.
With the tie, the Stars' conference record now stands at 5-5-3 with one conference game remaining (versus Alexandria next week).
| | | | | | |
| --- | --- | --- | --- | --- | --- |
| River Lakes-- | 1 | 2 | 1 | 0 | - 4 |
| Sartell/SR-- | 1 | 2 | 1 | 0 | - 4 |
Scoring Summary
First Period: S/SR-Becca Kern (Kayla Hendrickson, Nikki Kothenbutel), 9:50; RL-Marie Omann (Jenn Paul), 5:57 (pp);
Second Period: RL-Alyssa Kemper (Omann), 14:24; RL-Tori Aretz (Omann, Shannon Smith), 12:20; S/SR- Kothenbutel (Heather Trobec), 6:37; S/SR-Kothenbutel (Hendrickson, 6:17;
Third Period: S/SR-Trobec, 6:54 (sh); RL-Omann (Allie Stalboerger, Abbie Rhoda), 0:02 (pp);
Overtime: No scoring.
---
Contact the author at editor@paynesvillepress.com • Return to Sports
Home | Marketplace | Community
---