Senior wrestler breaks career victory mark
This article submitted by Michael Jacobson on 1/31/01.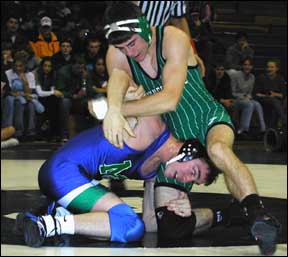 His goal since he took to the varsity wrestling mat in eighth grade was to be the best, and with a couple months left in his high school career David Kerzman is making a pretty good case for himself.

When he walks off the wrestling mat for the final time this season -maybe as an individual state champion and member of the team champion again - he will have a claim to the greatest wrestling career at Paynesville Area High School.

With 16 state appearances in the past quarter century, four state titles, and ten top three finishes, the Bulldog fans can list entire rosters of stellar wrestlers. The career records of former state champions like Greg Schwartz, Brad Fenske, Lee Hiltner, and Steve Fuchs have now been eclipsed by Kerzman.

On Friday, Kerzman kept his undefeated senior season going with three victories at the conference meet, where he won the title at 130. Those victories gave him 159 for his career, breaking Schwartz's previous career record of 157.

He tied the record with a pin in the opening round of the tournament, broke it with a 26-9 technical fall in the semifinals, and added to the record with a pin in the finals.

Kerzman started the season in fifth place all time, trailing Schwartz, Fenske, Tim Roberg, and Chris Welle. He would have broken the record sooner, but a rib injury kept him out of action for all but one match before Christmas.

Since returning to the lineup, though, he has been dominating, winning 21 matches, all by either technical fall or pin. He earned the January Wrestler of the Month Award for Class A at 130 from the Guillotine.

Kerzman added another win on Saturday against Minnewaska, raising his career total to 160. He has chances to wrestle another dozen or more matches, depending on how he and the team fare in sections and state.

David - the son of Bob and Sherrill Kerzman - got started in wrestling early. Bob, who wrestled for Eden Valley-Watkins in high school, brought David as a kid to watch high school matches and taught him the basic moves at home.

David cracked the varsity lineup as an eighth grader at 103, won 29 matches, placed fifth in a tough sectional individually, and helped the Bulldogs to the state tournament.

As a freshman, he advanced to his first state tournament individually and placed fourth at 119. He went to state again as a sophomore, both individually and with the team, but a tough draw saw him eliminated after two matches.

Last year, Kerzman won the state title at 125 and helped Paynesville win the team title. He joined Schwartz as the only wrestler to win an individual state title and team title in the same year.

Quiet and reserved by nature, Kerzman doesn't shy from the spotlight on the mat. He likes "the fact that you're on your own. You don't have to depend on anyone else, yet it's a team sport."

He has always been an intense, feisty competitor on the mat, said head coach Virg Vagle. Because of his great ability, his potential was recognized early, but in the last few years he has polished his skills and raised his performance to an elite level.

"He has a lot of strength and explosiveness and balance," said Vagle. "He's able to do things that other wrestlers aren't able to do."

"It's just a thrill to coach someone with that ability and technique," Vagle added. Kerzman attributes his success to dedication and sweat. "I worked hard in practice, and I had good practice partners," he explained. "Guys like (Chris) Welle. I just got there through hard work."

A year ago, Kerzman decided to concentrate on his ability to wrestle on his feet. "When I was younger, I wasn't really all that good at takedowns," he said. "Last year I decided if I was going to be good I needed to get better at takedowns."

The result was a new style of wrestling on his feet, of taking down his opponent for two points, releasing him for one, and gaining a point with every transaction. Kerzman can build a lead for a technical fall, and still be ready to go for a pin when the opportunity arises.

Kerzman also has broken several other career records and is poised to break several more. He has already eclipsed Welle's record for most takedowns in a career, for most dual match points in a career, and for most bonus points in a career.

Kerzman wants to "break as many records as I can" and to "set them as high as I can." With another state tournament to come, he could become the first repeat state champion in PAHS history. That's his goal, to win another title and go through his senior season unbeaten.

The stiffest obstacle to that could be Matt Jones of Lake Crystal-Wellcome Memorial, a state champion two years ago who is rated first in Class A at 130. Kerzman is rated second.

Kerzman could end his PAHS career with another important record: highest winning percentage. Right now, Fenske leads this category among wrestlers with at least 60 wins at 89.1 percent, but Kerzman has moved into second at 88.9 percent. Rounding out the top five are Gerald Garvick (88.6), Schwartz (88.1), and Fuchs (87.4). Kerzman would like to see the team advance back to state and challenge for another title, too. The team lost a lot of experience with the graduation of six seniors last year, but the youthful lineup has shown considerable improvement in recent weeks.

Kerzman attended private school until seventh grade and has been home schooled since eighth grade. He is interested in wrestling in college but has no definite plans.

Meant to be broken
"Records are made to be broken," said Vagle, who has a unique perspective on all this because Schwartz not only wrestled for him, but was his stepson. "You always hope someone else will come along."

A couple of factors unite the leaders on Paynesville's all-time victory list, according to Vagle.

First, most of the leaders broke into the varsity lineup at the lower weights while still in junior high. For instance, Joe Hiltner - the other senior on the wrestling team this winter - is 25-2 this year, giving him 87 career victories. But he didn't crack the varsity lineup until later because of his size.

The career top ten list in victories (see the shaded box) includes only one heavyweight, Lee Hiltner, but he also broke into the lineup early in his career.

Second, the expansion of the schedule in recent years gives wrestlers nowadays more opportunities. A quarter century ago, wrestlers would get 20 matches a year, Vagle said. Now they can get more than 40.

In 1979, Steve Fuchs - now an assistant coach for Paynesville - won the school's first state title in 1979 and tied the career victory record set by Tim Burr a year earlier. Their record lasted for a decade, but in the 1990s they have been passed nine times. Now they cling to the top ten.

Junior Jeremy Sogge - who got his 100th win a few weeks ago - figures to be the next Bulldog to pass them.

"That's progress," said Vagle. "That's the way it should be."

"If we weren't breaking records, it would mean we weren't as good as we were in the past."

By the numbers
David Kerzman set a new school record in career wrestling wins over the weekend. He now has 159 wins in his five-year career, two more than the previous record.

Here is his record by year.
| | | | |
| --- | --- | --- | --- |
| | Weight | Record | Finish |
| 96-97 | 103 | 29-7 | 5th in section |
| 97-98 | 119 | 35-5 | 4th in state |
| 98-99 | 125 | 34-6 | State entrant |
| 99-00 | 125 | 40-2 | 1st in state |
| 00-01 | 130 | 22-0 | ??? |
| TOTAL | | 160-20 | |
Top Ten Career Wins
1) David Kerzman ('01) 160-20*
2) Greg Schwartz ('91) 157-29-5
3) Brad Fenske ('92) 153-16-6
4) Tim Roberg ('97) 146-29
5) Chris Welle ('00) 140-34
6) Steve Bast ('92) 132-36-2
7) David Bast ('91) 129-26-7
8) Lee Hiltner ('97) 124-32
9) Jason Mages ('91) 124-25
10) Steve Fuchs ('79) 120-16-3
10) Tim Burr ('78) 120-28-2
*Through Saturday, Jan. 27
---