Stars routed by Litchfield, 7-0
This article submitted by Chris Jacobson on 1/31/01.
The River Lakes Stars boys' hockey team played two games again this past week, losing on the road against Litchfield and at home against Marshall in Paynesville.

The first game against Litchfield/Dassel-Cokato on Tuesday, Jan. 23, went about as well as to be expected. LDC scored four goals in the first period, two in the second, and one in the third to blank the Stars 7-0.

The talented LDC team outshot the Stars 55-5.

The real downfall of the game had to be the penalties. The Stars had a total of 42 minutes in penalties, including two 10-minute majors plus game misconducts.

The Stars host Benson-Morris tomorrow night in Paynesville at the Koronis Civic Arena. They host Sartell on Saturday at the River Lakes Arena in Richmond.
| | | | | |
| --- | --- | --- | --- | --- |
| River Lakes-- | 0 | 0 | 0 | - 0 |
| LDC-- | 4 | 2 | 1 | - 7 |
First Period: Goals (assists): LDC-Shaun Larson (Chad Bibeau); LDC-Bibeau (Ryan Adams, Matt Valaint); LDC-Eric Anderson (Brent Holmquist, Jeremy Jordin); LDC-Valiant (unassisted);
Second Period: LDC-Holmquist (Luke Huggett; LDC- Bibeau (Grant Raisanen);
Third Period: LDC- Bryce Berggren (unassisted).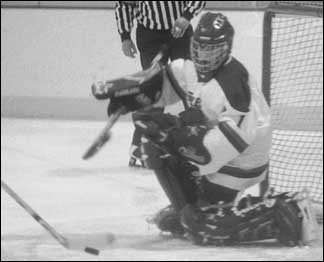 Marshall 6
River Lakes 2
The Stars played shorthanded against Marshall on Saturday night at the Koronis Civic Arena and lost 6-2.
Due to the two game misconducts in the Litchfield game, the Stars were missing some team leaders against Marshall. Also, senior Brett Theisen is out with an injury.
The first period was really close. Marshall came out first with a power play goal against the Stars, but Mike Anderson answered back for the Stars. Marshall then scored again to finish the period with a 2-1 lead.
The Tigers came out again in the second period with another goal to put them up by two. This time, Justin Turkowski scored for the Stars, narrowing their lead to one again at 3-2. The Tigers scored another in the second and two more in the third to beat the Stars 6-2.
Sophomore Justin Hartfiel (pictured at right) faced 28 shots in goal for the Stars and made 22 saves. He played the whole game and also saw some shots in the previous Litchfield game.
| | | | | |
| --- | --- | --- | --- | --- |
| Marshall-- | 2 | 2 | 2 | - 6 |
| River Lakes-- | 1 | 1 | 0 | - 2 |
First Period: Goals (assists): M- Shane Maithys (Thomas Kost); RL-Mike Anderson (Darren Stommes); M-Kost (Wes Baumitie);
Second Period: M-Jeff Jacobs (Baumitie); RL- Justin Turkowski (Kyle Curran); M-Maithys (Todd Clark);
Third Period: M-Maithys (unassisted); M-Clark (Baumitie, Jacobs).
---