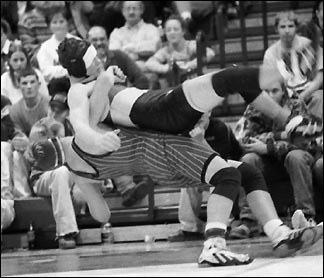 The Bulldog wrestling team rallied to beat state-rated Minnewaska 28-26 on Saturday night in the West Central Conference playoff match.

Minnewaska, the champion of the south half and rated seventh in Class AA, led 22-15 with four matches to go, but Paynesville, the north champion and rated second in Class AA, won three straight from 160 to 189 to win.

Senior Max Meagher started the run with a 10-0 major decision at 160 that cut the Lakers' lead to 22-19.

Junior Ryan Glenz lifts Melrose's Matt Imdieke to keep him from escaping during their conference final at 171. Glenz won 6-2.

Junior Ryan Glenz followed that with a 6-5 victory over sophomore Jacob Bryce, the top-rated Class AA wrestler at 171, to tie the match at 22-22. (Over the weekend, Glenz, now ranked eighth in state, defeated three state-rated wrestlers and improved to 21-6 for the season.)

Junior Marty Engen, now ranked third in state, followed with a pin at 189 that gave Paynesville the lead, 28-22.

Minnewaska's Nathan Stoen won a major decision at heavyweight, but the Bulldogs' Brad Person sealed the victory by yielding only takedowns when the Lakers needed a pin to win.

The Bulldogs actually won only six matches against the Lakers but used bonus points to win as a team. The Dogs got three pins to the Lakers' one, which offset the extra victory for Minnewaska.

Of the seven matches the Lakers won, four were mere decisions. Of the Lakers' four state-rated wrestlers, only two won their matches: senior Wes Tessman got a 5-0 victory over Sean Glenz at 112 and senior Craig Cihlar majored junior Justin Reeck at 140.

Senior Nathan Glenz recorded his 100th victory with a 7-4 decision over state-rated Doug Noyes at 135.

After Minnewaska jumped to a 9-0 lead, junior Pat Noonan and senior Jeremy Sogge got the Dogs going with consecutive pins at 119 and 125. After Minnewaska tied the match, Glenz beat Noyes to give Paynesville a short-lived 15-12 lead.

Minnewaska then won three straight to build a 22-15 lead before the Dogs rallied.

The Bulldogs hosted Rocori and Annandale-Maple Lake in a triangular on Tuesday night.

The Dogs will host Canby on Friday night, starting at 6 p.m., and the Paynesville Duals on Saturday, starting at 9:30 a.m. Eight teams will come for the Duals: Hutchinson, Mankato West, Milaca, Perham, Renville County West, Sauk Centre, and West Central Area. There will be three junior varsity and varsity rounds of team dual matches.

Paynesville 28, Minnewaska 26
103-Joe Swartz (M) pinned Cory Christenson, 2:59; 112-Wes Tessman (M) dec. Sean Glenz, 5-0; 119-Pat Noonan (P) pinned Tyler Toop, 1:22; 125-Jeremy Sogge (P) pinned Mark Mitchell, 5:35; 130-Brett Braaten (M) dec. Adam Christian, 9-5; 135-Nathan Glenz (P) dec. Doug Noyes, 7-4; 140-Craig Cihlar (M) maj. dec. Justin Reeck, 11-3; 145-Cory Cihlar (M) dec. Jeremy Fuchs, 8-4; 152-Jeremy Macho (M) dec. Josh Kerzman, 9-4; 160-Max Meagher (P) maj. dec. Matt Mitchell, 10-0; 171-Ryan Glenz (P) dec. Jacob Bryce, 6-5; 189-Marty Engen (P) pinned Casey Bautein, 3:52; HWT-Nathan Stoen (M) maj. dec. Brad Person, 11-2.

WCC Tourney
The Litchfield Dragons had seven individual champions and beat the Bulldogs 230-214 in the West Central Conference North Tournament on Friday night in Paynesville.

The Bulldogs had five conference champions: senior Jeremy Sogge (125), junior Adam Christian (130), senior Nathan Glenz (135), junior Ryan Glenz (171), and junior Marty Engen (189).

Seniors Jeremy Fuchs (140), Josh Schreifels (145), and Max Meagher (160) took second for Paynesville.

The Bulldogs and Dragons split four head-to-head matchups in the championship round. Sogge, ranked second in state, beat A.J. Werner 12-6 in the first one at 125, and Christian, now ranked tenth in state, beat Joe Buschette 8-7 in double overtime when Christian escaped.

The Dragons, though, won the last two matchups. State-rated senior Erik Flowers beat Fuchs 9-4 for the title at 140, and senior Joel Werner beat Schreifels 6-3 in the finals at 145. Schreifels hurt his knee in the third period of the match, but continued to wrestle the last 80 seconds despite the injury.

Ryan Glenz prevailed in the toughest bracket in the conference. The 171-pound weight class featured four state-rated wrestlers. Albany's Adam Goebel and Melrose's Matt Imdieke went to state last year and started the year ranked second and third in state. Now Glenz and Sauk Centre's Ethan Vogt have moved into the state rankings as well.

Glenz pinned Vogt in their semifinals and then beat Imdieke 6-2 in the final.

Engen won the 189-pound weight class, winning by pin twice and then 14-2 in the final.

The only conference champion not from Litchfield or Paynesville was Sauk Centre's Chad Minette, rated second in the state at 160. He beat Meagher in the final.

Despite Litchfield's team victory in the individual tournament, the Bulldogs claimed the overall conference title on the basis of their undefeated record in team duals, including a 33-20 victory at Litch, and their second-place finish on Friday.

Team Scores
1) Litchfield - 230
2) Paynesville - 214
3) Sauk Centre - 141
4) LPGE - 134
5) Albany - 129.5
6) Melrose - 75

Individual Results
103-Cody Christensen (P) pinned by Brad Majeski (A), 1:14...lost 13-0 to Eric Schoenberg (M)...dec. 9-6 Jozy Olson (SC)...fifth place;
112-Sean Glenz (P) lost 10-6 to Travis Pesta (LPGE)...pinned Brian Ruegemer (SC), 1:20...dec. 11-6 Plantenberg (A)... Third place;
119-Pat Noonan (P) pinned by Jake Ziegler (L), 1:55...won by injury default over Adam Doll (A) ...lost by injury default to Zach Winter (SC)...Fourth place;
125-Jeremy Sogge (P)...tech. falled K Haakinson (SC), 5:28...dec. 12-6 A.J. Werner (L) ...First place;
130-Adam Christian (P) ...pinned Al Rasmussen (LPGE), 2:55...dec. 6-3 Kris Doll (A)...dec. 8-7 (OT-2) Joe Buschette (L)...First place;
135-Nathan Glenz (P) maj. dec. 13-3 Jake Zierden (A)...pinned Cody Olson (SC), 4:47...First place;
140-Jeremy Fuchs pinned Chris Goebel (M)... pinned Chris Rothstein (A), 4:15...lost 9-5 to Erik Flowers (L) ...Second place;
145-Josh Schreifels (P) pinned Josh Hoppe (M), 2:36... dec. 6-5 Joe Arens (SC)...lost 6-3 to Joel Werner (L) ...Second place;
152-Josh Kerzman (P)...lost 9-3 to Zac Zierden (A)...lost 6-4 to Bromenshenkl (SC)... pinned Harold Buschmann (M), 2:23...Fifth place;
160-Max Meagher (P)...tech. falled Paul Rieland (M), 4:28...dec. 6-5 Adam Blakmore (A)... lost 16-0 to Chad Minette (SC)...Second place;
171-Ryan Glenz (P)...pinned Ethan Vogt (SC), 3:19...dec. 6-2 Matt Imdieke (M)...First place;
189-Marty Engen (P) ...pinned Bromenshenkl (SC), 4:47...pinned Ben Peterson (M), 3:31...maj. dec. 14-2 S Twardowski (LPGE)...First place;
HWT-Brad Person (P)...lost 3-2 (OT) to A Kleinfehn (M)...dec. 13-8 Kurt Jenkins (M)...dec. 2-0 Matt Mrnak (SC)...Third place.

Charter bus to sections
A charter bus is being organized to go to the team section final on Friday, Feb. 15, in Watertown. The Section 5A wrestling finals are in Watertown, not Cokato as is listed on the sports schedules.

The bus will leave the high school around 4:15 p.m. and stay for both matches. The cost is $7.50 per person. Call Debbie Meagher at 320-276-8211 to sign up.
---
Contact the author at paypress@lkdllink.net • Return to Sports
Home | Marketplace | Community
---