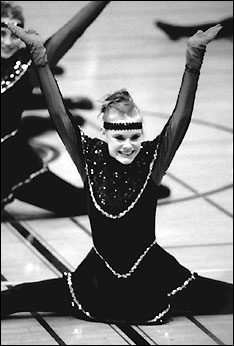 The Paynesville Bullettes - the high school danceline - showed well, taking fourth place at the conference meet on Saturday at St. Cloud Cathedral.

The team performed at their personal best so far this year, said coach Jeanne Virant, and there is still time to perfect details before the sectional competition in Montevideo on Saturday, Feb. 15.

The team is also encouraged to be competitive against Class A schools, said Virant. The competition on Saturday put all teams in one class, so Paynesville faced stiff challenges from large school programs.

Rachel Hanson strikes a pose during the Bullettes' routine during a performance at halftime on Friday night.

Seven teams were represented at the conference meet, with the St. Cloud Cathedral Crusaderettes taking first place. The Crusaderettes will be dueling with the Paynesville Bullettes during halftime of the boys' basketball game at Paynesville on Monday, Feb. 3. The public is invited to see this remarkable visiting dance team as well as cheer on the Bullettes as they continue their progress to the section meet.

Second place was awarded to Montevideo and third to Melrose. The Melrose Rosettes will also duel with the Paynesville Bullettes this week on Thursday at halftime of the boys' basketball game at PAHS.

Each week, the Bullettes perfect their routine by making slight changes in response to judging critiques. The dance team needs its home crowd performances to test the changes and secure memorization of the routine.

Members of the danceline this year are: Ashley Ahrens, Holly Bennett, Katie Bertram, Laura Buermann, Amanda Burlingame, Valerie Callenius, Christine Christian, Rachel Hanson, Katie Holtzclaw, Nicole Schlangen, Kelly Schultz, Amanda Skalicky, Britanny Stang, Nichole Utsch, Jessica Virant, and Angie Wunsch.

Captains are Burlingame and Virant, who also choreographed this year's routine.

The Bullettes are coached by Barb Werlinger and Jeanne Virant.
---
Contact the author at editor@paynesvillepress.com • Return to Sports
Home | Marketplace | Community
---