The Bullettes - the varsity danceline at Paynesville Area High School - took fourth place in the West Central Conference Meet at Lac Qui Parle Valley High School on Saturday.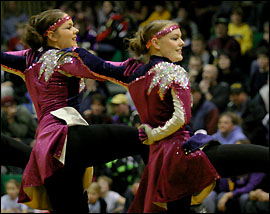 The Bulldogs finished fourth out of seven teams at the meet.
The team recorded its highest score of the season, which team members and coaches see as a sign of steady progress. The Bullettes have improved their scores at every competition this year.
Danceline members Val Callenius and Rachel Hansen perform with the Bullettes during a halftime performance at school.
The team was pleased to come in fourth after St Cloud Cathedral, Montevideo, and Melrose, teams that have junior varsity programs and schools with larger enrollments. At the conference meet, all schools are judged together.
The Bullettes were pleased to beat New London-Spicer, Lac Qui Parle Valley, and Albany, three teams that are organized along the same lines as Paynesville.
Danceline members are: Holly Bennett, Amanda Burlingame, Val Callenius, Maggie Frieler, Amanda Halvorson, Rachel Hanson, Katie Holtzclaw, Michelle Magedanz, Megan Reeck, Amanda Skalicky, Brittany Stang, Jessie Virant, Angie Wunsch, and Carrie Zirbes.
Coaches are Jeanne Virant and Barb Werlinger.
This week, the Bullettes performed at halftime of the boys' basketball game on Tuesday night. They do not have another competition scheduled until Saturday, Feb. 7, at Irondale.
---
Contact the author at editor@paynesvillepress.com • Return to Sports
Home | Marketplace | Community
---