8th grade girls basketball finished their season
This article submitted by Lynne Jacobson on 1/26/99.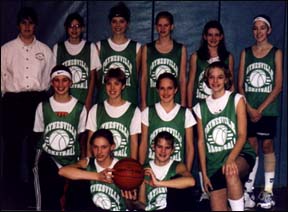 The eighth grade girls basketball team ended their season with a 20-8 record.

ďThis yearís team showed a positive attitude and dedication to the sport,Ē said coach Lori Nepsund. This helped them show a marked improvement over the season. The girls worked hard every day and played well together as a team.

They also played in two tournaments this season. The Lady Bulldogs went 2-1 in the Paynesville tournament and also played in a Minnewaska tournament where they were 4-2.

Coach Nepsund would like to thank the team for all their hard work and dedication throughout the season. She would also like to extend a thank you to the parents and fans who supported the team throughout the season.

The girls ended the season with a banquet at Hill Top Restaurant.
---