The Bulldogs gymnastics team lost despite scoring a season high of 116.6 at New London-Spicer on Tuesday, Jan. 18.

The team's goal this year is to average 115 points and to reach 120 for a team score. Against NL-S, they surpassed 116 in their team score for the first time this winter.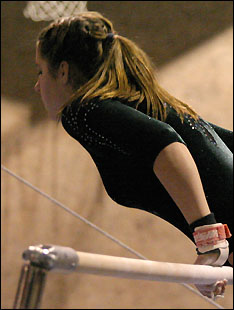 The Dogs were edged on the balance beam by four tenths of a point, on the vault by eight tenths of a point, and on the uneven bars by 2.2 points. But the Wildcats defeated the Dogs by 4.7 points on the floor exercise, more than half of their margin of victory in the 123.8 to 116.6 win.
Sophomore Tanis Beireis recorded a personal best on the uneven bars last week at NL-S, scoring 5.35 and being the Dogs' fourth scorer in the event. Beireis has added new skills on the bars in recent weeks, adding to the degree of difficulty of her routine and improving her score.
Sophomore Kacy Nehowig took first place on the vault and bars and won the all around against the Wildcats. She was also second on the beam and third on the floor.
Eighth grader Anna Kotten was the only other varsity gymnast to place. She took third on the beam, fourth on the bars, and fifth on the floor and placed fourth in the all around, topping 30 points again.
Both Kotten and sophomore Tanis Beireis had personal bests on the uneven bars, noted coach Deb Nehowig. Kotten scored 7.8 in taking fourth, and Beireis, who has added new skills, scored 5.35.
This week, the Dogs will host Morris on Thursday, Jan. 27, at the Lake Koronis Assembly Grounds.
| | |
| --- | --- |
| New London-Spicer-- | 123.8 |
| Paynesville-- | 116.6 |
Individual Results
Vault: Kacy Nehowig (1) 8.75; Anna Kotten 8.2; Brittney Spanier 8.0; Cassey Lund 7.8; Tanis Beireis 7.35; TOTAL: Pay - 32.75; NL-S - 33.55;
Uneven bars: Nehowig (1) 8.3; Kotten (4) 7.8; Spanier 6.15; Beireis 5.35; Abby Lindeman 4.2; TOTAL: Pay - 27.6; NL-S - 29.9;
Balance beam: Nehowig (2) 7.6; Kotten (3) 7.25; Kayla Nelson 6.4; Christine Spanier 6.2; Celia Frieler 6.1; TOTAL: Pay - 27.45; NL-S - 27.85;
Floor: Nehowig (3) 8.2; Kotten (5) 7.6; Nelson 7.0; Lund 6.0; Christine Spanier 5.9; TOTAL: Pay - 28.8; NL-S - 32.5;
All around: Nehowig (1) 32.85; Kotten (4) 30.85.
---
Contact the author at editor@paynesvillepress.com • Return to Sports
Home | Marketplace | Community
---