Melrose, Annandale run past the Bulldogs
This article submitted by Michael Jacobson on 1/26/00.
The Melrose Dutchmen outscored the Bulldogs 27-7 in the third period Saturday afternoon on their way to an 82-52 conference victory.

The Bulldogs trailed 15-7 after the first quarter. Melrose erupted for 25 points in the second to lead at the half 40-22.

The Minnesota Timberwolves mascot, Crunch, performed at halftime, but the Bulldogs were flat in the third period, as Melrose built a nearly 40-point lead. The Bulldogs outscored the Dutchmen's reserves 23-15 in the fourth quarter to cut the final margin to 30.

The Bulldogs shot terrible, just 36 percent from the floor (21 of 58), while the visiting Dutchmen converted 52 percent of their shots. The Bulldogs made only three of 17 three-pointers, while Melrose made five in 12 attempts. The Dutchmen also outscored the Bulldogs at the free throw line, 21-7. The Bulldogs made just 39 percent of their free throws (7 for 18).

T.J. Schultz led the Bulldogs with 13 points, on six of eight shooting. He scored 27 points in two games last week, a strong offensive performance. He added nine rebounds against Melrose. J.T. Koehn added 12 points and nine rebounds to the Bulldogs' cause, and Luc Trees had 12 points and four steals.
| | | | | | |
| --- | --- | --- | --- | --- | --- |
| Melrose-- | 15 | 25 | 27 | 15 | - 82 |
| Paynesville-- | 7 | 15 | 7 | 23 | - 52 |
Annandale 97
Paynesville 69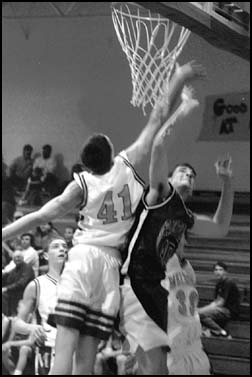 On Tuesday, Jan. 18, the Bulldogs traveled to Annandale and lost to the high-scoring Cardinals 97-69.
The Cardinals, who returned seven top players from last season, were on fire from the outside in the first half, making seven three-pointers. They also tried to push the ball in transition and scored a number of layups on the fast break.
After a slow start, the Bulldogs had cut the Cardinals' lead to seven near the end of the first quarter, but the Cardinals hit a three-pointer to push the lead back to ten. Then they outscored the Bulldogs 25-11 in the second period to open a 24-point lead. The Bulldogs scored 24 points in the third quarter, but the Cards had 30.
The Bulldogs' 72 shot attempts show the fast pace of the contest. The Bulldogs, however, only made 38 percent of their shots.
Trees led the Bulldogs with 22 points. Schultz added 15 points and eight rebounds, and Koehn 13, including four three-pointers. He also had six assists and five blocks. Logan Louis was the assist leader with eight, and Ryan Wall (pictured at left going for one of his 10 rebounds) had 10 rebounds and four blocked shots.
The Bulldogs played at Albany yesterday. They will host St. Cloud Cathedral on Friday.
| | | | | | |
| --- | --- | --- | --- | --- | --- |
| Paynesville-- | 18 | 11 | 24 | 16 | - 69 |
| Annandale-- | 28 | 25 | 30 | 14 | - 97 |
---