The Bulldogs gymnastics team scored its season high and reached its team goal to surpass 120 points but lost to a strong New London-Spicer team on Thursday, Jan. 19, at the Lake Koronis Assembly Grounds. The Wildcats won the conference meet 133.85-121.05.

"The girls scored a season high of 121.05 and reached the team goal set at the beginning of the season," said coach Deb Nehowig. "The team has now surpassed all scores from last year. The highest team score in the last ten years is marked at 123.5 from the conference meet in 2002. We would like to reach that mark before the season is through."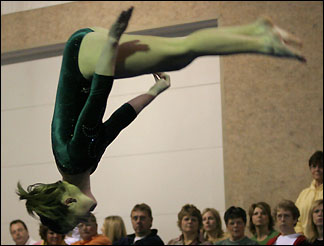 In reaching their season high, the Dogs recorded team season highs on the balance beam (28.55), floor exercise (31.35), and vault (33.45). Their score on the uneven bars (27.7) was within a half point of their season high as well.
Junior Kacy Nehowig's return to the gymnastics lineup helped the team score a season high last week against NL-S. Nehowig placed fourth on the vault and fifth on the floor (shown), bars, and in the all around.
Despite their strong scores, the Dogs were defeated on each apparatus by the Cats.
The Dogs found it hard to place individually as well. Ninth grader Anna Kotten led the Dogs by placing second on the uneven bars, third on the floor exercise, and fourth in the all around. Junior Kacy Nehowig was fourth on the vault, fifth on the bars, fifth on floor, and fifth in the all around. Senior Kayla Nelson was the only other Bulldog to place, taking fifth on the balance beam.
NL-S had a 1-2-3-4 finish on the balance beam; 1-2-3 finish on vault; 1-2-4 finish on the floor; and 1-3-4 finish on the bars. The Dogs came closest to NL-S on the vault, losing that apparatus by 2.1 points.
This week, the Dogs (1-10) hosted Dassel-Cokato on Tuesday night. On Friday, the Dogs will travel for a meet at Morris.
| | |
| --- | --- |
| New London-Spicer-- | 133.85 |
| Paynesville-- | 121.05 |
Individual Results
Vault: Kacy Nehowig (4) 8.75; Anna Kotten 8.4; Brittney Spanier 8.15; Megan Wuertz 8.15; Caitlyn Gottwald 7.95; TOTAL: Pay - 33.45; NL-S - 35.55;
Uneven bars: Kotten (2) 8.05; Nehowig (5) 7.3; Spanier 7.1; Wuertz 5.25; Celia Frieler 4.85; TOTAL: Pay - 27.7; NL-S - 31.05;
Balance beam: Kayla Nelson (5) 7.55; Kotten 7.2; Nehowig 7.05; Frieler 6.75; Spanier 6.7; TOTAL: Pay - 28.55; NL-S - 33.25;
Floor: Kotten (3) 8.45; Nehowig (5) 8.1; Nelson 7.5; Gottwald 7.3; Cassey Lund 7.05; TOTAL: Pay - 31.35; NL-S - 34.0;
All around: Kotten (4) 32.1; Nehowig (5) 31.2.
---
Contact the author at editor@paynesvillepress.com • Return to Sports
Home | Marketplace | Community
---