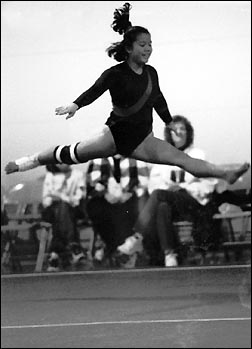 The Paynesville Bulldogs gymnastics team put up a good fight against Morris on Thursday but despite their efforts they still lost, 121.10-112.30.

The team was disappointed in the scoring of their routines. "When your team score has been improving and you score a season low at the peak of your season, something is said about the judging," said head coach Deb Nehowig. "It was a frustrating night for the coaches as well as for the gymnasts. The judges were inconsistent in their scoring."

Senior Rachel Koehn placed fourth in the floor exercise at Morris last week.

On the uneven bars, seventh grader Kacy Nehowig placed second with a 7.55 and senior Rachel Koehn placed fourth.

Nehowig was the only gymnast able to place on vault. She scored a 8.15 for fifth place.

Senior Amy Mueller placed third for the Bulldogs on the floor exercise. Koehn placed fourth, and Nehowig placed fifth.

Mueller had a very nice routine on the balance beam, earning her third place. She was the only Bulldog to place on that event.

In the all-around competition, Nehowig placed third and Mueller placed fifth.

Coach Nehowig didn't think the difference between the two teams was as large as the score made it seem. "I predicted the meet to be a one-point swing either way, but to lose by nine points is inconceivable," she said about her frustration with the scoring.

The gymnasts hosted Howard Lake-Waverly/Maple Lake on Tuesday. They will host Melrose on Thursday at 6:30 p.m. at the Lake Koronis Assembly Grounds. They will also compete at Kimball on Saturday at noon.
| | |
| --- | --- |
| Paynesville-- | 112.3 |
| Morris-- | 121.1 |
Vault: Ashley Karger 7.4; Amy Mueller 8.0; Tessa Miller 8.0; Kacy Nehowig (5) 8.15; TOTAL 31.55.
Uneven bars: Mandy Mayer 6.05; Miller 6.1; Rachel Koehn (4) 6.6; Nehowig (2) 7.55; TOTAL 26.3.
Balance beam: Mayer 6.0; Koehn 6.4; Nehowig 6.4; Mueller (3) 7.0; TOTAL 25.8.
Floor: Miller 6.55; Nehowig (5) 6.7; Koehn (4) 7.3; Mueller (3) 8.1; TOTAL 28.65.
All around: Mueller (5) 27.5; Nehowig (3) 28.8.
---
Contact the author at paypress@lkdllink.net • Return to Sports
Home | Marketplace | Community
---