To lose wasn't an option for the Bulldogs girls' basketball team, who improved their winning streak to six games with a nail-biting win over the host St. Cloud Cathedral Crusaders on Friday.

The Bulldogs rallied to beat Cathedral with a big fourth quarter, outscoring the Crusaders 24-14 in the final frame and winning 53-48.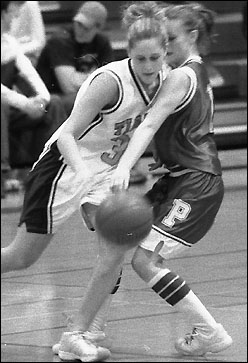 Sophomore guard Kim Hess secured the win for the Dogs, making two clutch free throws with 12 seconds left in the game to put the Dogs up by four. Seconds later, senior Ann Stalboerger made another free throw to make the final score 53-48.
Sophomore guard Kendra Johnson had four steals last week as the Bulldogs beat St. Cloud Cathedral 53-48 on Friday night.
The Bulldogs had battled back from a ten-point deficit early in the second quarter. With three minutes left to play in the game, Stalboerger netted a key three-pointer that tied the game 43-43 and gave the momentum back to the Dogs.
An easy bucket by junior Amanda Glenz gave the Dogs a three-point advantage with 50 seconds remaining, but Cathedral answered with two points on the opposite end of the court. With 20 seconds to go, Hess made a free throw to put the Dogs in control by two. She then made two more free throws with 12 seconds to play.
"We really wanted to win this game. In the last couple minutes of play we just kept telling each other that we weren't going to lose," said Glenz.
According to coach Ric Koehn, the atmosphere at Cathedral is not an easy one to win in and should be a huge confidence boost for this team. "The team showed a tremendous amount of spirit coming back, first in the second quarter and then again in the fourth, never quitting, always working hard, and believing in themselves," said Koehn.
Glenz racked up yet another double-double, scoring 16 points and grabbing an amazing 17 rebounds. Stalboerger contributed to the offensive drive, netting 15 points, and senior Danny Lieser helped Glenz bring down the house with 13 rebounds of her own. Hess added 12 points, and sophomore Kendra Johnson showed her defensive skills with four steals.
The Bulldogs are now 2-2 in the West Central Conference North and 6-5 overall.
This week, the Bulldogs hosted New London-Spicer, the defending state champion, on Tuesday. They will play at Albany, ranked #2 in Class AA, on Thursday, starting at 6:15 p.m. They will also play at Maple Lake on Monday, Jan. 27, and will host LPGE on Tuesday, Jan. 28.
| | | | | | |
| --- | --- | --- | --- | --- | --- |
| Paynesville-- | 6 | 11 | 12 | 24 | - 53 |
| Cathedral-- | 7 | 13 | 14 | 14 | - 48 |
SCORING: (FG-FT/FTA-PTS)
Paynesville 53 - Amanda Glenz 6-4/8-16; Ann Stalboerger 5-3/4-15; Kim Hess 3-4/6-12; Danny Lieser 1-1/3-4; Hannah Braun 2-0/0-4; Kendra Johnson 1-0/0-2; Bridgette Johnson 0-0/0-0; TOTALS: FG 18/61, FT 12/21.
STATISTICS: 3-pointers - 5 Hess 2; Stalboerger 2; Lieser 1; Rebounds - 39 Glenz 17; Lieser 13; Assists - 6 Hess 3; Steals - 16 Kendra Johnson 4; Hess 3; Stalboerger 3; Braun 2; Glenz 2; Lieser 2; Blocks - 5 Glenz 3; Lieser 2.
---
Contact the author at editor@paynesvillepress.com • Return to Sports
Home | Marketplace | Community
---