Koronis Hills Golf Club has hired Cindy Fuchs as their new manager. Fuchs replaces golf professional Ron Rebrovich, who accepted a job with the Alexandria Country Club for 2003.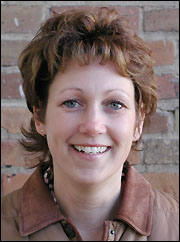 The club's board of directors started advertising for the position this fall, according to president Tom Ramler, and received 20 applications, of which about three-quarters were from golf professionals. They interviewed five candidates by phone, Ramler said.
The board's philosophy, according to Ramler, was to pick the best candidate for Koronis Hills. When the board discussed their search at their meeting on Monday, Jan. 6, a concensus emerged to hire Fuchs and the board voted unanimously to do so, said Ramler. Other board members are Jack Binsfeld, Deb Glenz, Keith Hemmesch, Todd Johnson, and Mark Malingen.
Fuchs has worked in the clubhouse at Koronis Hills for the past ten years, starting as a part-time worker and working full time for the past seven years. In recent years, she has run couple's league and been responsible for ordering and displaying merchandise.
She said that she was interested in being the clubhouse manager because she loves the challenge of working at the course, loves seeing the people when they come to golf, likes the variety of tasks, and was eager to have more responsibility.
Fuchs has a golfing family. Her husband Steve, son Nick, 19, daughter Heather, 17, and son Zach, 12, are all avid golfers.
With Fuchs' hiring, the club will be without a golf professional. But Rebrovich's six-year stint at the course was the only time the club has had a licensed professional. The club will be able to hire a teaching professional to offer lessons as needed, said Fuchs. A hired professional or a rules committee will likely be used for tournaments.
Both Ramler and Fuchs agreed that the course needs to be more aggressive at promoting itself. Golf courses in recent years have faced tight times financially, and Koronis Hills - which nearly broke even last year after running two years in the red - will need to look at getting additional revenue.
Ways to boost revenue have been identified as more outings, improved leagues, and more green fees. Ron Fuchs, Cindy's brother-in-law, will run junior league on Monday afternoons, while couple's league will continue to be held on Monday nights.
This year, Doris Wendlandt will be providing food on Monday nights for couple's league and Thursday nights for men's league.
Senior league will continue to be held on Tuesday mornings, and women's league will be held on Wednesdays. Fuchs said she hopes improved leagues will help the camaraderie between members at the club.
Ramler, who is a golf superintendent in St. Cloud and has worked in the golf industry for 25 years, noted that there are lots of courses in central Minnesota, all looking to boost their revenue. "You have to fight for the dollar more than you have in the past. It's been tight times," he said.
"I think Cindy is going to be a good promoter of the golf course," he added.
Last winter, the tight times caused the board to put off discussion about a project to build a new clubhouse and to improve the course's sprinkling system. This winter, the club is conducting a fund-raising campaign to finance tarring the front parking lot. The cost of the project is $25,000, with around $19,000 needed in donations to make the project feasible. The club is offering a chance in a golf cart raffle for every $100 donated.
Fuchs will be working at home until March, when she hopes to get into the clubhouse. She plans to redecorate and paint in the clubhouse and get the merchandise ready for spring. Until then, any member with questions can call her at home at 320-243-7522.
---
Contact the author at editor@paynesvillepress.com • Return to Sports
Home | Marketplace | Community
---