The River Lakes Stars girls' hockey team blitzed winless Little Falls on Thursday, beating the Flyers 9-0 in Little Falls.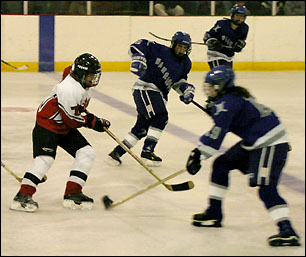 The Stars scored three goals in the first period, four in the second, and two in the third to win 9-0.
The Stars outshot Little Falls 53-5, meaning senior goalie Trish Wendlandt needed to make only five saves to record the shutout victory.
Ninth grader Tori Aretz (7) scored two goals as the River Lakes Stars beat Little Falls last week 9-0.
Eighth grader Abbie Rhoda scored a goal and had two assists for the Stars, and ninth grader Shannon Smith had three assists. Ninth grader Tori Aretz scored two goals for the Stars, who improved their season record to 6-7-1 with the victory. The Stars are now 2-5-1 in the Central Lakes Conference.
This week, the Stars played at Litchfield on Tuesday. They will play St. Cloud Apollo on Thursday at the Municipal Athletic Complex in St. Cloud. Next week, they will host Willmar at the Koronis Civic Arena in Paynesville on Tuesday, Jan. 27.
| | | | | |
| --- | --- | --- | --- | --- |
| River Lakes-- | 3 | 4 | 2 | - 9 |
| River Lakes-- | 0 | 0 | 0 | - 0 |
Scoring Summary
First Period: RL-Amber Schulzeten-berge (Abbie Rhoda); RL-Kenzie Novak (Rhoda, Shannon Smith); RL-Allie Stalboerger;
Second Period: RL-Rhoda (Smith); RL-Tori Aretz (Kayla Nepsund); RL-Aretz; RL-Unknown;
Third Period: RL-Ellyn Kinzer (Smith); RL-Amy Moschkau.
Tech 9, River Lakes 1
St. Cloud Tech scored five goals in the first period and rolled to a 9-1 victory over the Stars on Tuesday, Jan. 13, in Richmond.
Sophomore Marie Omann scored the only goal for the Stars, assisted by eighth grader Kenzie Novak, in the second period.
Senior goalie Trish Wendlandt made 31 saves for the Stars, who were outshot 40-17.
| | | | | |
| --- | --- | --- | --- | --- |
| St. Cloud Tech-- | 5 | 3 | 1 | - 9 |
| River Lakes-- | 0 | 1 | 0 | - 1 |
---
Contact the author at editor@paynesvillepress.com • Return to Sports
Home | Marketplace | Community
---