Wrestling coaches Virg Vagle and Steve Fuchs announced to the wrestling team last week that this will be their last year as the varsity coaches.

Vagle, in his 38th year, has a career record of 657-139-6, the most victories in Minnesota high school history. He has led the Bulldogs to 17 state tournaments as a team.

Fuchs - the first individual state champion in PHS history, winning the Class A title at 119 in 1979 - is in his 18th year as the varsity assistant coach, having started in 1987, when the Bulldogs won their first team title. The Bulldogs have won state titles in 1987, 1990, 1991, and 2000.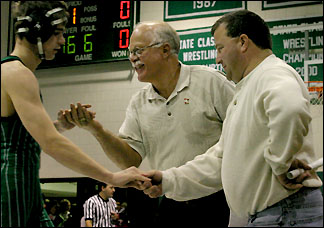 Retiring after that last team title in 2000 might have been logical, said Vagle, who also retired from teaching that same year. But neither he nor Fuchs was ready to quit at that time, he said.
Head coach Virg Vagle (center) and assistant coach Steve Fuchs (right) congratulate senior Matt Kerzman after he won a match on Saturday. Vagle and Fuchs announced to the team last week that they plan to retire from coaching wrestling after this season.
Since then, Vagle and Fuchs have talked about retiring together and made their decision - either to keep coaching or to retire - on a year-to-year basis. Vagle said they thought hard about retiring after last season, when the Bulldogs graduated eight seniors but both decided to return. This fall, he said, they both knew it was time.

Coaching while not teaching entails extra work and extra effort, said Vagle, who will turn 61 before this season ends. He said it was time for him to move on and that the wrestling program needed younger blood and new energy.
There is never an easy time to retire, to let go, according to Vagle. There are always young kids whom you would like to continue to coach. "No matter when, there's always going to be young kids that you miss. Certainly, we're going to miss (coaching)," said Vagle.
Knowing this is their last year, the coaches have completed some projects to prepare for the coaching turnover, such as building a floor for the wrestling room, ordering new singlets for the elementary program, and hanging pictures in the wrestling room of all their individual state entrants.
The coaches decided to tell the team after their strong performance at the Farmington Tournament, said Vagle. They debated announcing their decision, not wanting it to be a distraction, but also wanting to be honest with their wrestlers and wanting the kids to hear the decision from them. High school athletics, after all, is about the athletes, not the coaches, said Vagle.
Vagle hopes the focus will remain on the wrestling team this winter. The coaches are pleased with the progress that the team, which started the year with little varsity experience, is making this winter, as they try to earn another trip to state and to qualify individuals for the state tournament, said Vagle.
---
Contact the author at editor@paynesvillepress.com • Return to Sports
Home | Marketplace | Community
---